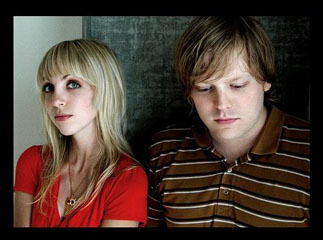 Fomerly of D.C.-based trio Q and Not U, frontman John Davis steers an enjoyable debut with his partner in crime, keyboardist/vocalist Laura Burhenn. Avoiding most aspects of "cutesy" stereotypical male-female pop duos, the result is generally refreshing with plenty of engaging pop hooks to keep the casual listener satisfied.
Georgie James
Places
(Saddle Creek)
US release date:Â 25 September 2007
My Review on PopMatters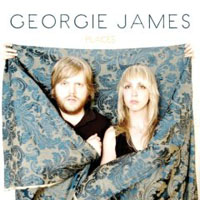 by Mike Mineo
John Davis and Laura Burhenn were likely aware of the troubling stereotypes attributed to male-female indie-pop duos when they formed Georgie James. Whether the most suitable example is Mates of State, the Rosebuds or Starberry, such amiable duos have had to endure critics tagging their music as too cute or lovey-dovey for much of their early careers, encouraging stylistic changes or, as tragic as it seems, a literal change of heart. As beautiful as romantic relationships can be, it seems that sometimes an entire album devoted to one in particular can come off as tiresome. Davis, formerly the drummer of dance-punk trio Q and Not U, and Burhenn, also a solo artist with four albums under her belt, manage to avoid this cliché in nearly all forms of their harmonious approach. How did they manage to pull it off? Perhaps it is because Davis and Burhenn are not bonded together by holy matrimony, or maybe it is because the collective experience of the two makes for a rather impressive résumé. But whether their strengths are most viably indicated by their personal chemistry, songwriting experience or abundance of gleeful hooks, the result is largely compelling and stylistically distinctive.
One of Saddle Creek's newest additions to their continually expanding lineup, Georgie James is also one of the most initially accessible. Their songs present an airy form of indie power-pop fueled by an alluring blend of chirpy guitar riffs and vibrantly animated keyboards, with both the singular and dueling vocal accompaniments split nearly evenly between Davis and Burhenn. The two reportedly formed the band in 2005 after they discovered a mutual love for pop from the '60s and '70s, arguably the most prominent throwback influence that that appears frequently and conspicuously throughout their appealing debut, Places. Though on singularly dominant songs like "Cake Parade", "Long Week", and "Look Me Up" one member exhibits the majority of the instrumental and vocal dexterity, overall Places is a shared joint effort where both Davis and Burhenn craft vigorous pop hooks with ease.
One of the most refreshing aspects of the album is the tendency of each member to demonstrate their separate forms of participation toward each song. While Davis is the clear instrumental whiz, playing many forms of guitars, bass, and percussion on the album, Burhenn's role remains vital in crafting all the melodies originated from Wurlitzer keyboards and pianos. Burhenn's shining moment in the delectable "Cake Parade" finds her steering the melodic and vocal core of the song with seaming ease. As Davis backs with a bouncy rhythm section, Burhenn lends her angelic vocals toward an ingenuously contagious melody with equally enjoyable lyrical commentary. For such an innocently presented song, it sports some sharp-witted political jabs. From the first line onwards, the anti-war statements are highly evident and highly justified. "The sun is up, looks like a perfect day to put our soldiers on a cake parade," she sings over a pulsating keyboard, "We can line them up and march them down the hall, where they can play at guns and we don't have to look at all." As the song progresses, Burhenn makes the swift emotional transition from plastic action figures to actual calculable human beings. "The sun is gone, looks like a perfect day to put our soldiers in an early grave," she now concludes over a busier progression, "We can line them up and lay them on the lawn with all their purple hearts and badges of courage on." So much for the lovey-dovey stereotype.
As for the other half of the duo, Davis' most prominently singular moments on Places are more reminiscent of his past work with Q and Not U.  Where Burhenn is focused on charming keys and weightless vocal melodies, Davis' personal style is a more energetic form of power-pop where immodest guitar riffs and active percussion are first and foremost in the equally appealing result. The opening track on Places, "Look Me Up", is a suitable example of Davis' approach, and one of the catchiest tracks on the album. While later tracks in Davis' typical style, particularly the repetitively dull "Only 'Cause You're Young", are lacking in the liveliness that makes the earlier songs on Places wildly appealing, it is customary to expect at least one or two hiccups on an otherwise accomplished debut.
Considering both of Davis' and Burhenn's unique strengths are conveniently intertwined for a satisfying outcome, it comes at hardly any surprise that the duets on Places are generally the most fulfilling songs on the album. The duo is in top form on both "Need Your Needs" and "Henry and Hanzy", gliding seamlessly through imaginative key changes and the hooks that originate from them. While Georgie James should stay clear of the acoustical folk arrangements of "Hard Feelings" and the overbearing distortion of "Only 'Cause You're Young" for their eventual sophomore follow-up, there is no denying the sheer power of tracks like "Cake Parade", "Look Me Up", and "Need Your Needs" on Places: a pleasing debut whose first half contains some of the most infectious songs you are likely to hear this year. 6.0/10.0
——————————————————————————————-
——————————————————————————————-
——————————————————————————————-
——————————————————————————————-