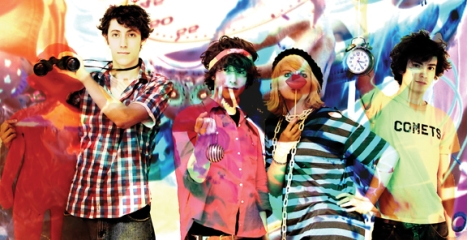 Imagine what it would be like growing up in the '60s and '70s as the offspring of a folk musician. With all kinds of people, from hippies to philosophers, gathering at various folk circuits and festivals, you would likely know more about the world at age 10 than a suburban-based individual would at age 25. This is a reality for three out of the four members in the Toronto-based Spiral Beach. Proudly calling themselves "folkie offspring", they wear it on their sleeves proudly even if their music is hardly classifiable as folk. If anything, their eclectic mixture of electronica, dance, rock, and punk is a result of their years exposed to a variety of diverse musicians. The songwriting core of the four-piece revolves around brothers Daniel and Airick Woodhead, sons of folk songwriter David Woodhead. With their father known prominently around folk circles for his sought-after production skills, bass work, and compositions for films and commercials, it would not be entirely unrealistic to expect a lot from the sibling duo. With Airick taking guitar and occassional vocal duties combined with Daniel's percussive skills, the group is rounded out by lead vocalist/keyboardist Madddy Wilde and bassist Dorian Thornton. Wilde just happens to be the daughter of Nancy White, the Canadian comedian and singer-songwriter known for her humorously satirical dealing with mostly politically-oriented topics. She was a radio favorite on CBC Radio One from 1976 to 1994.
Rarely can you get such a gratifying result from talking about the parents of band members. It can widely be attributed to the fact that, simply, the offspring of musicians hardly pan out. As they either get discouraged after seeing no initial success or fear that they will always remain in the shadow of their elder, it is rare to see a group like Spiral Beach where three of the members are successful musicians who have actually had accomplished musicians as parents. Alright, alright – enough about their parents. Let's get down to what makes Spiral Beach so damn irresistible. If I were simple-minded I would easily say that it is may very well be because I have not heard a catchier Canadian band all year. I will elaborate a bit though. Spiral Beach consistently incorporates the use of outstanding keyboard melodics with pulsating synths, fastidious guitar progressions, and steady rhythm to create a sound that is never tireless or dull. Their structural diversity contained in each and every song remains an impressive aspect that most contemporary bands only strive to succeed in. While the majority of their songs are not even 3 minutes in length, each one is filled with enough enjoyable quirks and brilliantly executed hooks to accomplish the rare feat of involving both ingenuity and and stylistic diversity to create a sound that remains very impressionable from the first listen onwards.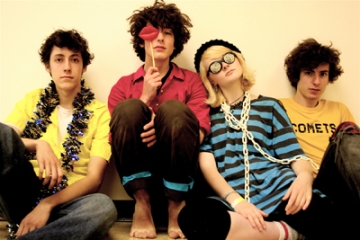 Released this past Tuesday, Ball is the second album from Spiral Beach. Following their impressive but widely overlooked self-titled debut, this is appears destined to be the album that will thrust the band into the spotlight throughout Canada and elsewhere. After playing with popular acts like the Hidden Cameras and Sloan since their formation in February 2003, their fan following is getting larger by the day. The group formed at, where else, at a folk festival. "We've been together with these four members the whole way so far," the brothers express proudly in unison, "There's a whole lot more we can do together." Co-produced and engineered by The Hidden Cameras' cellist Mike Olsen, the majority of the material for Ball was recorded during the month of February in a barn outside of Hamilton. It surprised me when I read that the album was recorded live, as the songs are extremely organized and polished. This simply translates to the fact that Spiral Beach is, by all means, a very tight band. "It was like a document of what the band actually sounded like at that moment," Daniel said as he recalled the recording process, "We just wanted to perfect the sound we already had."
"Man Moon" beckons back to the days of quality Brit-pop. Actually, if I had to choose, the dark and neon-like tone of the song reminds me most of a more recent output in Damon Albarn and his Gorillaz project. With it being the only track on Ball where Wilde is not in full control of the vocals, it instead contains vocal collaboration between both her and Airick, resulting in an excitable track led by Daniel's boisterous guitar progressions and Wilde's sensational keyboard-based melodies. "Red Shoes" rides the suave chill of a keyboard with lyrics that, while risqué, are fascinatingly brilliant. "If you go find a nickel, I can get you high," Wilde sings over the sensual push of a concise rhythm section; it is remarkable in how much the tinge of psychedelia in this song reflects the lyrical output. An excellent track, regardless how you look at it. Either way, it is an exceptional song. With even quickies like "CLT" and the exotic "Two Black Eyes" making a lasting impression in less than a minute. With fast-paced gems like "Casual T" and the Mega Man-induced guitar riffs of "Made of Stone" clashing cohesively on the album with tracks of a more relaxed pace, the group manages to change tempos and initial stylistic representations with ease. "We Saw Ghosts" is just as the title implies – a haunting piece where Wilde's vocals shine prominently over the whispering tone of keys, reverb, and distorted guitars. With such stunners, Ball is easily one of the more impressive albums of the year.
——————————————————————————————
——————————————————————————————
——————————————————————————————
——————————————————————————————