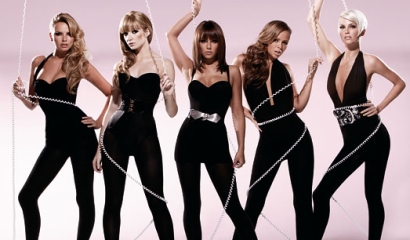 Ah, guilty pleasures. It is an aspect of life where the specifications are usually determined by the demographic in which it is presented to. For instance, take a look at chocolate. In Belgium, it is eaten morning, noon, and night with delight and little worry. In the United States? Well, it is just a temptation that adds some cushion to your midsection. A guilty pleasure overseas indeed, but here it is merely a staple of weight gain and guilty contemplation. I always thought it was just a self-control issue with some people. Anyway, music tends to be less culturally bounded. No matter where someone was born, they develop music tastes at their own pace and leisure, with it being their choice to embrace the social norms or go out on a whim and discover their own. The certain types can certainly be fun to poke fun at too, from the the baggy-shirt wearing hip-hop wannabes to everyone's favorite fashion gurus: hipsters. Honestly, I usually try to avoid using the the word "hipster" at all costs. Being a web site covering independent music, the absence can sometimes be glaring. Even so, I am sure you have met at least one person in the last few years who has subtly mocked your artistic taste because it does not resound similarly to theirs. They do this while on their sixth day of non-religious fasting (to fit into those jeans!), generally contradicting any baseless stylistic opinions they throw at you. So, you know, when I heard someone like this attempt to bash Girls Aloud, I just had to prove them wrong…
Without a doubt, Girls Aloud is the most critically successful group to originate from a formulated television show. While the profitable candidates of American Idol have had their share of success due to the show's heavily commercialization and widespread popularity, the five talented gals in Girls Aloud have an even more notable penchant for consistency and rousing success. Ever since they won the popular British television show, Popstars: The Rivals, in 2002, they have been going nowhere but up. Only three albums into their promising careers, Girls Aloud have already made the record books. They basically did the unspeakable in amassing sixteen consecutive Top 10 singles, a record-breaking effort that earned them a spot in Guinness World Records. Destiny's Child and The Spice Girls could not even touch that. Hell, no British pop band ever could. So, this likely leads to one question you are asking yourself: Why the hell would I feature Girls Aloud if this site focuses on independent artists? Well, I truly believe that Girls Aloud is one of the few mainstream acts that deserve all the success they can get. They remain fairly unnoticed in the USA as well. Though the five girls are not participants in the songwriting aspect of their craft, only a fool would call them strictly eye-candy. They deliver a melodic comprehensibility that is difficult to compare within contemporary pop music, a dying genre that breathes a big sigh of relief when a group like Girls Aloud comes along.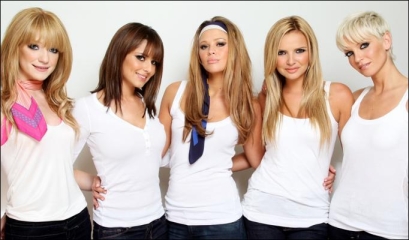 Behind the pretty faces and powerful voices of Girls Aloud sits a songwriting team that could easily be classified as the most successful of the decade. Formed by writer and producer Brian Higgins, the UK-based songwriting team of Xenomania is comprised of Higgins, Miranda Cooper, Nick Coler, Niara Scarlett, Lisa Cowling, and Tim Powell. They are responsible for the majority of Girls Aloud's tracks, notably all 16 singles that reached the Top 10. The Xenomania team first jumped on board with Sound of the Underground, Girls Aloud's debut in 2003. Though it ran 20 weeks on the charts, it was marginal compared to the great things to come for the group. Expectedly, their next two albums, What Will the Neighbours Say? and Chemistry, were the ones that brought Girls Aloud glorified fame in the UK. With both finding rampant success in Europe by reaching a variety of Top 10 charts and end-of-year lists, massively popular singles like "The Show" and "Biology" validated Girls Aloud's presence as a domineering force in the dance-pop industry. The Xenomania worked flawlessly with the five-piece's melodic capabilities, churning out hits in a seemingly effortless manner. 16 Top 10 singles in less than 4 years? That speaks for itself.
As Girls Aloud seems to improve upon each release, I remain very excited for the release of their fourth album, Tangled Up, on November 19th. With the group's sixteenth single, "Sexy! No No No…" being the first single from Tangled Up, the second was chosen wisely to be the album's exciting opener, "Call the Shots". With impeccable dance arrangements peaking through with synths and eruptious rhythm sections, such styles remain an enjoyable trademark of the Xenomania team. You are always likely to find an outstanding chorus supplemented by a verse and bridge that appears just as effectively. As simple as these 3 to 4 minute songs are, they are resoundingly memorable in being a few of the best pop songs of the year. Though my words may sound giddy, calling "Girl Overboard" the best pop song of the year would not be much of an exaggeration. With a series of arps and pulsating synths flowing over the steady pace of bass and percussion, the vocal work is outstanding in addition to the expertly crafted arrangement. "Girl overboard! I thought I had it but I tumbled," the girls sing in near unison, capitalizing on an absolutely stunning chorus. Keeping in mind the extensively impressive back catalog of Girls Aloud, "Girl Overboard" is the catchiest song I have ever heard from either Xenomania or Girls Aloud. "Can't Speak French" is up there as well, being an absolutely irresistible track that is sure to shake up the European dance floors. But hey, maybe American will start . If you are going to listen to modern pop music's "guilty pleasures", at least listen to the best of the best. In that particular field, there are not many better than Girls Aloud.
——————————————————————————————
——————————————————————————————
Girls Aloud – Can't Speak French
[audio:https://obscuresound.com/mp3b/galoud-can.mp3]
——————————————————————————————
——————————————————————————————
Do you love discovering new bands and artists?  Become a musician yourself!   If you're considering buying guitar amplifier, then head on over to the Internet. Shopping for musical equipment such as a fender strat or keyboards on the internet can end up saving you a bundle. So next time you want to purchase electric guitars, check online!