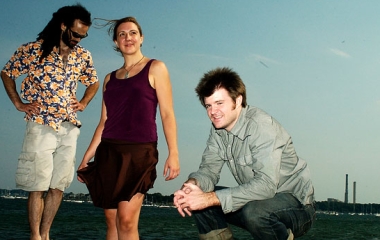 Yo La Tengo had the grace and ability to demonstrate that even a band from central New Jersey founded by a bunch of white guys could pull off a Spanish name. Though it certainly helped that their name ("I have it") derived from the all-American game of baseball, the translated phrase of "very tired" for the up-and-coming trio Muy Cansado remains to be an aspect that we can all universally relate to: exhaustion. We all get it, especially this time of year. Mid-terms looming, the shopping rush, cold weather, holiday commercialization… the list goes on and on. Though the name does not roll off the tongue as smoothly as Yo La Tengo, Muy Cansado's music is just as enjoyably accessible. Ironically enough, the Massachusetts-based trio capitalizes on similar strengths to their bilingually named predecessors. With a knack for glimmering guitar hooks, dreamy melodies, and snarling vocals with ostensible angst, one might be reminded more of the Pixies when listening to Muy Cansado. Suitably enough, their MySpace lists their hometown as "Future City". Though their influences from the past are shown aplenty, Muy Cansado's contemporary methods of production remain very noteworthy. If this is what the future sounds like, I'm in.
Like many bands I have come across, the three members in Muy Cansado met while studying at the same university. The two founding members, David Fine and Lisa Libera, ran into each other at the University of Massachussetts and immediately became best friends over a mutual love for music. As familiar as that seems, it often seems the formula for success. Bands founded by a natural bond for music is, in most cases, a resounding success. Wonder why boy bands only last a few months at most? Apart from generic songwriting, they are all bounded financially and chosen by top-tier executives. Natural pairing is what music was made for. It is always nice to see this ideology stay alive; it is one of the reasons why indie music continues to dominate in terms of innovation. As for the rest of Muy Cansado, the two ran into the third member, Chris Mulvey, when they made the move to Somerville ("Future City"?). Mulvey was a veteran of the Boston music scene and had plenty of experience to share with Fine and Libera, not to mention him being an impressive lead guitarist and vocalist. With Mulvey on guitar and vocals, Libera on bass and occasional vocals, and Fine handling the percussion, Muy Cansado's adept lineup was solidified last year.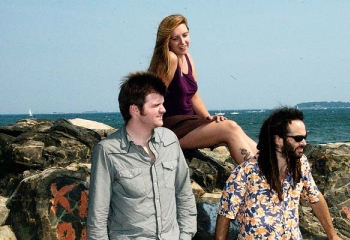 Occasionally, when writing about a new artist, I find myself in a dilemma when attempting to choose which songs I should post. Considering that I never post something that I personally find to be lacking in quality, this is always a delightful situation. It applies to Muy Cansado; from their available songs, all are of equal complacency. Though the trio has yet to release an album or even an EP, they have five songs available as a free download on their web site. The band states that the songs available are merely demos and that they are now in the studio working on final versions for the majority of them. They are in the midst of a selection process for their currently untitled debut album, choosing which songs to include and improve upon. Judging by the consistency of their eight available songs (3 more are available on their MySpace), Muy Cansado's debut could be something special. Though I consider "Riding High", "The Other Night", and "Erased" to be the cream of the crop, "Couldn't Have Said it Better" and "Soul Song" are equally as good (both available exclusively via MySpace). Those two songs, "The Other Night", and "Kiss the World" were included on a sampler collection, Amuses Bouche, that serves as an anticipation for their big full-length debut in 2008. Their band name is in Spanish and their releases (so far) are in French; it makes sense that their music is as open-minded as their global outlook.
To keep things somewhat straightforward, I usually post three songs per post. I had to make an exception with Muy Cansado though; I wanted to expose their cumulative stylistic diversity in three songs but it proved impossible. Though they stray on similar grounds of late '80s and early '90s college-rock and alternative, the influences are merely one of many factors as the vocal, rhythmic, and melodic presentations differ significantly in substance. The diversity is a breath of fresh air, especially with each song being of near equal quality. "Riding High" is definitely my favorite out of the bunch, with Pixies comparisons ringing prominently and proudly. Mulvey has a similar tone of snarling angst to Frank Black, with the tone and emotional output being eerily similar. Though it may sound bold, he pulls it off just as well. The chorus-led hook of the song is driven by a series of pulsating guitar riffs that are followed by an impressive solo, much like a more repetitive version of Sonic Youth or Yo La Tengo. In comparison, the catchy "The Other Night" is led by Mulvey's vocal melody and Libera's enthralling bass line. The guitar progression is touched with tinges of ska and reggae, though the Sublime comparisons are found primarily in the guitar's rhythmic pattern alone.
"Soul Song" is a very impressive effort, with the duet between Mulvey and Libera in the chorus serving as one of Muy Cansado's most touching moments. "You've got your soul and I ain't got no," they sing over an acoustic and electric guitar clashing simultaneously, with Mulvey letting out a perfectly timed melodic yelp as the bridge between the chorus and verse. Libera's vocal ability is further demonstrated in the woozy "Erased". Though she ocassionally reaches an awkward off-key moment, her ardent clamors and howls during the song's chorus are excellent displays of her potential. It is nice to see Muy Cansado utilize the vocal collaboration between her and Mulvey. They are both quite talented in both their instrumental and vocal aspects, reminding me of the great Frank Black-Kim Deal duo in numerous ways. Let's not forget David Fine either; his percussion work in every song thus far is precise and near flawless. If Muy Cansado calls songs of these quality demos, I can't wait to hear the final versions. If they stay true to their tested approach, Muy Cansado's upcoming album should be outstanding.
——————————————————————————————
——————————————————————————————
——————————————————————————————
——————————————————————————————
——————————————————————————————