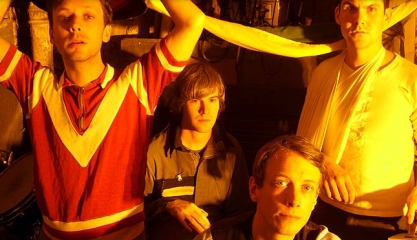 The "sophomore slump" is a term that has been applied a countless number of times for musicians, with indie-rock artists arguably being in that recent undesirable majority. It often proves difficult to attempt to pinpoint the cause for such drop-offs in quality, though I believe much of it can be accredited to the amount of pressure an artist receives from their label, the press, and the masses of fans who follow in their every step. Believe it or not, unless one is as stiff as a double shot of absinthe, even wildly successful artists can get distracted by overpowering emotions, just like the rest of us. Several indie-rock artists this decade have ridden the hype train, with some surviving and others vanishing without a trace. Though their talent and ability have and will continue to carry acts like Interpol, Arcade Fire, and Franz Ferdinand to the top for the next several years, they are just a few major names whose sophomore releases I found to be distinctively inadequate compared to its preceding debut release. Now, keep in mind, none of those artist's second album were bad by any means. Instead, they were simply not up to par with the band's potential displayed in the debut. Additionally, though quality is often deemed to be determined by one's own personal taste, the introduction to a band's style is inarguably vital. First impressions are usually the most memorable, often making debuts either a rampant cause for acclaim or distaste. Sophomore albums are often a slight indication of whether or not the artist can hold their own with future releases. However, for many artists, it takes more than just one successive release to get the ball rolling again.
In regard to British Sea Power, I admit that they initially set my expectations at a nearly insurmountable high. I consider their fantastic 2003 debut, The Decline of British Sea Power, to be one of the best debuts of this decade and I continue to give it a listen every so often. It is one of those albums that never seems to get tiring, with absolute stunners like "Carrion" and "Fear of Drowning" nearing tireless, astonishing perfection. With their incorporation of post-punk, garage rock, and Brit-pop reigning supreme in most cases throughout the album, British Sea Power quickly escalated into indie-rock favorites. Though they may not have been as commercially successful as many of their contemporaries, I truly believe that The Decline of British Sea Power competes with indisputable classic debuts of the decade like Interpol's Turn on the Bright Lights and The Strokes' Is This It. They released their second album, Open Season, in 2005; the result was not something I was too personally enamored with. Like the aforementioned artists above, it was certainly not a bad follow-up by any means. It was just simply a step back, the complete opposite of what the band intended to do.
Shortly after the release of Open Season, keyboardist Eamon Hamilton left British Sea Power to focus on his own group (The Brakes). Despite the loss, the band trekked onward as a four-piece and released an EP, Krankenhaus?, in October. The five-track EP eventually served as a teaser for their third and most recent album, the appropriately titled Do You Like Rock Music?, featuring two songs from the upcoming album in "Atom" and "Down on the Ground". As we near the newest album's UK release date of January 14th (February 12th in the US), I cannot hold my excitement in much longer. This is a complete return to form, reminding me what astonishing potential British Sea Power displayed in their powerful debut.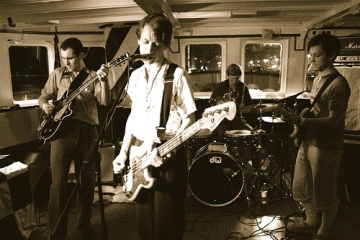 Wasted potential is always depressing and I feared, with the release of Open Season, that British Sea Power would either attempt to reinvent their sound or tread in mediocrity for the remainder of their careers. However, as I have learned, artistic pessimism hardly ever leads to satisfaction. With Do You Like Rock Music?, the album's title seems hypothetical in relation to the brilliant content it conveys. With it, I have once again regained hope that British Sea Power could indeed be one of the most inventive indie-rock bands of the decade. It all begins suitably with "All In It", a brooding build-up where a choral vocal accompaniment sings reflectively over the steady beat of a snare drum. Once the song begins to subtly fade out and the murmur of a church organ is the only audible presence, a burst of percussion and high-pitched guitar effects collapse onto one another, creating a monumental hook that sets the tone for the rest of Do You Like Rock Music?. The brilliant "Waving Flags" is the best song that British Sea Power have written since the classic "Carrion", crafting their trademark sound of epic, guitar-oriented rock into a state of pure bliss. Once the ardently grandiose chorus kicks in, any skeptics of the Brighton-based four-piece will likely cower away. Scott (Yan) Wilkinson's vocals remain a domineering force throughout the song, only taking a break when the chorus hits and the song's introductory melody is repeated in new full-fledged form by shrilly executed guitars. Unlike the majority of indie-rock acts, the structure remains unpredictable with a flurry of newly utilized guitar progressions and vocal-led arrangements constantly being implemented to provide a sensation of quick-witted brilliance. The best song of 2008 so far? Though we have over a year for other entries, it very well may be at this point.
Though the structure remains more consistent and the instrumentation more simplistic, the glimmering "Canvey Island" once again finds its strength in a explosive chorus, fully cemented by a preceding verse and bridge where the murmur of strings are presented over the slight strumming of an electric guitar. Depicting the great North Sea flood of 1953, the suitably named British Sea Power carry the song in full force, touching on feelings on disastrous disbelief as Wilkinson resoundly croons, "Don't you think its strange, you know, the way it all works out? Brace yourself for storms and summer drought." Wilkinson's voice always personally reminded me of a powerful fusion of Ian Curtis and Bruce Springsteen, though his transitioning range really makes comparisons dependent on the particular song. Nonetheless, "Canvey Island" is a very enjoyable track that depicts elements of patriotism tinged with past anecdotes, fully bolstered by British Sea Power's ceaselessly exciting arrangements and melodically efficacious harmonies. I just mentioned yesterday how Beach House's Devotion was my premature favorite album of 2008 so far. Well, Do You Like Rock Music? has just nudged it softly into the #2 slot.
Grouped in with guitar-based epics like the several-parted, 6-minute "Lights Out for Darker Skies" and the sheer distorted force of "Atom", the beautiful "No Need to Cry" rounds off the album very nicely. Being somewhat of a new approach for British Sea Power, they pull off the sympathetic throwback love ballad with ease. Wilkinson turns his vocal intensity down a notch but compensates it with a lush assortment of guitars, subdued percussion, and cooing backing vocals. Unlike the stadium-sized intensity of the choruses in excellent tracks like "Waving Flags" and "Canvey Island", "No Need to Cry" uses a more subtle approach in being uplifted by a simplistic sprinkling of keys. Regardless, the result is stunningly beautiful when a violin cleverly emerges from the layers of delicately crafted sound during the song's final few moments. Once the concluding track, "We Close Our Eyes", ends after being merely an excellent expansion of the opening "All In It". Do You Like Rock Music? opens, continues, and concludes in the same way: with complete quality. So, if for some reason, the question of "Do you like rock music?" remains etched in your head, it should be quite easy to answer. In regard to this specific album, the answer is an unhesitant "yes".
——————————————————————————————
British Sea Power – Waving Flags*

[audio:http://mineorecords.com/mp3/bspower-wav.mp3]
——————————————————————————————
British Sea Power – Canvey Island*
[audio:http://mineorecords.com/mp3/bspower-can.mp3]
——————————————————————————————
British Sea Power – No Need to Cry*
[audio:http://mineorecords.com/mp3/bspower-non.mp3]
——————————————————————————————
*Upon request, tracks are now streaming only.
Want to learn to play the indie music you love?   Are you looking to purchase electric guitars? If so, the Internet is the perfect place to buy a new musical instrument. They have a massive warehouse of acoustic guitar, keyboards, and dj equipment for sale.