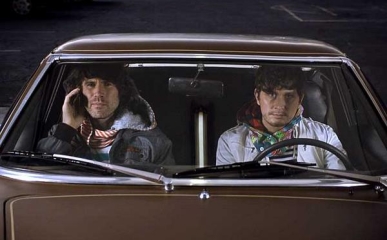 Ever since they released their excellent debut, Fuzzy Logic, in 1996, Super Furry Animals have proven to be one of the most eclectically and consistently successful acts in Brit-pop. Classifying the group into one genre has always been daunting though, as Brit-pop does admittedly remain too linear a term for the Gruff Rhys-fronted five-piece. In addition to sensibilities of British pop, their 8 studio albums have demonstrated impeccably executed styles of psychedelic rock, dance pop, punk, and throwback power pop. In fact, their latest album, Hey Venus!, served to be an utterly infectious representation of this and, in doing so, is already one of my favorite albums of 2008 (I am considering the American release date, not the import). The group has always been steered by the lead songwriting of talented vocalist/guitarist Gruff Rhys, though 2005's Love Kraft showed signs of more collaborative songwriting within the band. In addition to the customary displays of mid '90s Brit-pop, Rhys' songwriting has shown shades of '60s rock and '70s psychedelia in both his solo work and with Super Furry Animals. Though elements of techno and dance have always been slightly prevalent, it was never a style that Rhys really focused on to a substantial extent. In his first collaborative project since the formation of Super Furry Animals, it appears as if Rhys will steer his stylistic intentions toward arguably the only pop-oriented decade that he has somewhat neglected. Yeah, the '80s never seem to die.
Neon Neon is the collaborative project consisting of Rhys and Bryan Hollon, a Cincinnati-based producer and songwriter under the alias of Boom Bip who specializes in underground hip-hop. Like Rhys though, he does not show any favoritism toward one style in particular. With elements of electro-pop, hip-hop, and rock being his three most glaring styles of play, his labeling of a "laptop pop" artist has become something of considerable relevance. Known for both his ferocious command of the human beat box and intelligent use of samples, Hollon has three albums and several EPs to his name. His album released in 2005, Blue Eyed in the Red Room, is the most recent of that nature; it also marked the first noteworthy collaboration between Hollon and Rhys. The Super Furry Animals frontman helped with the general production of the album and co-wrote the song "Do's & Don'ts". Noticing their productive ability to write songs together, the duo formed Neon Neon in 2007 and released their debut single, "Trick for Treat", in July. Though several tracks – notably "Touch Sensitive" – on Super Furry Animals' Rings Around the World displayed uses of trip-hop, the fast-paced, electro-tinged style of hip-hop on "Trick for Treat" appears more reflective of Hollon's stylistic leanings. Even so, the 8 tracks on their full-length debut, Stainless Style, appear evenly attributed to each songwriter. It incorporates Rhys' rock and pop sensibilities with Hollon's explorations in dance and hip-hop, producing a release that, like both artists themselves, is an enjoyably eclectic blend of each songwriter's individual style.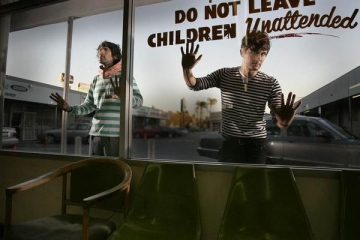 If you want to hear what Super Furry Animals would have likely sounded like if they formed about 10 years earlier, taken a listen to "I Told Her on Alderaan". Being a synth-driven track that relies on the collaboration between chugging guitars and chirpy synths, Rhys pulls off the vocals of an '80s pop star with ease. "I told her in Alderaan that something else is going on," he sings over the leading synth during a chorus that prides itself in being as nostalgically futuristic as possible. Yeah, it sounds like '80s synth-rock to me. For obligatory comparisons, "I Told Her on Alderaan" remains somewhat reminiscent of Duran Duran… well, their three albums that were actually decent anyways. The subject of Alderaan, a fictional universe in Star Wars, is chronologically suitable as well, with its first reference coming in 1978 (I had to look that info up, I swear). Though not nearly as infectious, "Steel Your Girl" is another track on Stainless Style that beckons back to the days of '80s synth-rock. It proves to be more of a ballad in comparison, with Rhys now singing over a drowsier melody with twinkling keys and a repeating guitar progression as he declares that "video games are nothing but delusion". Serene atmospherics are preferred over instant infectiousness here, though it succeeds just as well in sounding like it genuinely was made during the '80s. Sure, some may call it outdated, but it would be foolish not to admire that stylistic accomplishment that Rhys and Hollon have pulled off.
"Raquel" was released as a single in December, featuring the original version of "Trick for Treat" alongside a Hot Chip remix in addition to the title track. It is the track on Stainless Style in where I believe the collaborative duo of Neon Neon to be at their stylistic best. It is a fusion of dance, Brit-pop, and minimalist italo-disco, with the latter being to the credit of Hollon's commendable production. It begins in traditional dance form, with an exotically invigorating array of percussion expanding upon itself in repetition. Several synths subtly follow, expanding upon their melodic origination in similar form. When Rhys' crisp vocals are introduced it becomes wildly apparent that, no matter the style, Rhys' delivery seems to fit well. At the end of each of his verse, a short but highly effective twinkle of synth occurs to establish an inconspicuously empowering hook, with Rhys also heightening his pitch to declare sincere ardency. Each time the moment occurs, I can't help but believe that the song as a whole rivals most successful dance tracks from the '80s. For its intended style, it simply does all things right. Though the album is only 8 tracks and 30 minutes long, Stainless Steel is a delightful release that capitalizes on both the strengths of production and songwriting that Gruff Rhys and Bryan Hollon are able to mutually deliver.
——————————————————————————————
——————————————————————————————
Neon Neon – I Told Her on Alderaan

[audio:http://mineorecords.com/mp3/nneon-ito.mp3]
——————————————————————————————
Neon Neon – Trick for Treat (Feat. Spank Rock and Sean Tillmann)

[audio:http://mineorecords.com/mp3/nneon-tri.mp3]
——————————————————————————————