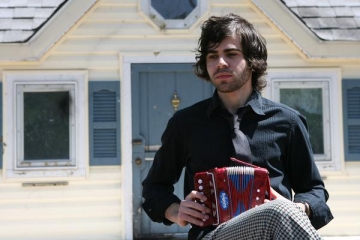 As the historically implied name of his solo project may suggest, songwriter Leo Maymind finds contentment in writing songs that disregard time, place, and age to the fullest extent. Under his Spanish Prisoners alias, one can come to expect both a veneration for a variety of a musical styles and the thoroughly intricate lyrical content that accompanies it. I have to say though, the thing that caught my attention first regarding Maymind was when the budding songwriter mentioned to me that he was friends with Deer Tick, also known as the talented John McCauley (whose debut album was one of my favorites in 2007). I have often found that musicians often churn out a similar degree of quality in their music to those other musicians they are connected to, whether it be through collaboration or merely friendship. With this in mind, I made the assumption that Maymind had a similar degree of focused musicianship and cumulative dexterity. Though such a method of belief certainly does not always prove to be correct, I was glad to discover that the exceptional quality on Spanish Prisoners' debut album, Songs to Forget, speaks for itself. Though their folk-rooted styles remain somewhat similar in delivery, Maymind presents a style that often feels more structurally concise and electrically compiled in comparison to McCauley. Enough with the comparisons though; Songs to Forget stands on its own for Maymind as a notable achievement and hopefully the first of many.
Maymind was born in Latvia, a country in Northern Europe near Estonia and Lithuania. He moved to New Orleans at the age of 3 with his parents, shortly being introduced to the city's unparalleled music scene. He later ended up in Columbus, Ohio and it was here where the creation process began for the early works of Spanish Prisoners. Recording in a low-budget basement studio "after the hours of 10 pm when the neighborhood traffic slowed and the joyous screams of children slowly drifted off", Songs to Forget ironically first saw the day of light at night in an eroded basement studio. But hey, listening to the album's final product, the atmosphere must have worked. Some other tracks on the album were recorded in a substantially more professional manner with producer Jack Mckeever (Rufus Wainwright) and engineer Jim Diamond (the White Stripes, The Ponys) in NYC. The album also includes contributions from Margot and the Nuclear So and So's, Jessamine, The Sun, and Southeast Engine. You can stream the entire album for free on Maymind's VIRB page. With Songs to Forget just recently available for download, Maymind has already racked up a variety of critical acclaim in addition to playing live with acts like The Rosebuds, Castanets, and Califone. So far, so good.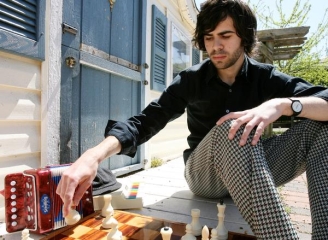 Now out on Exit Stencil Recordings, Songs to Forget holds the name of an album that proves to be quite the opposite in effect. Featuring 10 tracks that are anything but forgettable, Maymind's performance skills glide seamlessly as he presents a colorful assortment of various instruments over a voice that is delivered as a likable blend of several prominent influences that are most prevalently reminiscent of Leonard Cohen, Isaac Brock, and Stephen Malkmus. Though his vocals remains conventional and largely familiar, Maymind's instrumental prowess remains more difficult to pinpoint. Several other groups do make vital instrumental contributions on the album but Maymind's presentation of acoustic and electric guitars, keys, harmonicas, strings, and a variety of others provide for an excitable listening experience that blends aromas of folk, rock, and blues into one engaging proposition. Despite the wide array of instrumentation, Songs to Forget never seems overwhelming or overproduced. Maymind does this all while alternating his stylistic approach on a whim too. Whether it is the electro-aided form of indie-rock on "A Thousand Zimmermans" and "Some Among Them Are Killers" or the acoustic crooner in "How the Fallen Fall" and the delicately touching closing piano-led "Ballad of an Unfolding", the casual listener should come to expect substantial variation from Spanish Prisoner's debut.
"Dear Just Curious" is one of the most polished songs on Songs to Forget, aided by a swift piano melody that is overlyed by a series of a guitars and an extremely effective rhythm section. In comparison to more ardently pensive songs in the vein of "Ballad of an Unfolding" or the lush, string-aided beauty of "Mantequilla", "Dear, Just Curious" is certainly more pop-oriented in structure and presentation. This is where Songs to Forget capitalizes on Maymind's strengths though; he scatters an assortment of varying songs throughout the album, with an evenly placed array of ballads, pop songs, and rock songs to satisfy all intended listeners. "Song for the Weary" is arguably the most unique track on the album, interchanging lo-fi guitar strums with a plethora of Southern strings and country-induced harmonics. The chorus is especially touching, featuring the use of backing vocals that appear boisterous but highly effective. Though it is not the best display of Maymind's outstanding talent, "Some Among Them Are Killers" is blatantly one of the most accessible songs on the album, relying largely on rhythm and guitars in an eventual supplementation for a simplistically contagious chorus. Still though, I recommend everyone to check out his more ardent songs in the vein of "Ballad of an Unfolding" and "Mantequilla"; those spectacles serve as some of the best examples of Maymind's inarguable skill, both instrumentally and lyrically.
——————————————————————————————
Spanish Prisoners – Dear Just Curious
[audio:http://mineorecords.com/mp3/sprisoners-dea.mp3]
——————————————————————————————
Spanish Prisoners – Song for the Weary

[audio:http://mineorecords.com/mp3/sprisoners-son.mp3]
——————————————————————————————
Spanish Prisoners – Some Among Them Are Killers

[audio:http://mineorecords.com/mp3/sprisoners-som.mp3]
——————————————————————————————