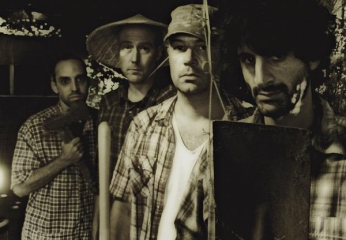 In art, period pieces have long given spectators a taste of what life was like in the past, regardless of whether the work was a film created in the early 1900s, an Elizabethan tragedy in the 1500s, or a mere thousand-year-old drawing on the walls of a cave. So, hundreds of years from now, one can wonder what will be considered the most commonplace "period piece" of our time. Forms of art and sculpture have been used as such for thousands of years, but recent technologically enabled forms of art like film and music have been emerging as forms of art that have the ability to hold just as much historical importance. The four members of Death to Anders echo this sentiment in their musical output, with their songs representing a form of intricate veneration for the era that they work and progress in. Their sophomore album, Fictitious Business, is a self-proclaimed "surreal and cryptic look at life in the 21st century"; it is certainly a daunting task to chronicle the early beginnings of a century through audible representation alone, though the LA-based four-piece do not appear intimidated at all. Their intelligent utilization of a satirically invigorating story-led lyrical delivery provides for an entertaining scope into the modernistic age we are all familiar with. Yeah, it usually takes a lot to make the contemporary working class appear as dramatically appealing, but Death to Anders seemingly have to the ability to do it with ease.
The beginnings of Death to Anders can be traced back to Musicians Institute, a music college in Hollywood that has graduated the likes of Rivers Cuomo, John Frusciante, and Jeff Buckley. Attending students Rob Danson and Nicholas Ceglio met and initially bonded over their love for early '90s indie-rock, with names like the Pixies, Pavement, and Sonic Youth being a common topic of conversation between the two. The duo later came across bassist Peter DiBiasio and drummer John Broeckel, both joining the band after finding symmetrical musical intentions. Broeckel had previously played in the local LA band Crooner with Nikki Monninger and and Christopher Guanlao, now both members of the increasingly popular Silversun Pickups. Death to Anders' finalized lineup began playing shows in late 2005, finding a thriving fan base in the Silverlake and Echo Park areas of Los Angeles. Hot off playing several shows at a handful of reputable LA venues, the four-piece released their debut album, Punctuate the Calamities, in January of 2007. Engineered, mixed, and produced by the members themselves, the independently released debut was a true DIY effort, building upon the group's already steady reputation in LA. As stated on their web site, Death to Anders' goal is "to bring vitality, originality, and most of all hope, back to LA's music scene." So far, so good.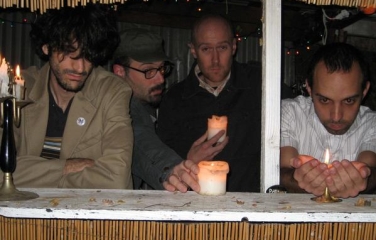 Likening a camera lens to a pair of paranoid eyes, Death to Anders' attempt to audibly chronicle a concise look at life in the 21st century comes across as generally successful, even if the melodic charm occasionally overshadows the group's coordinated lyrical wit. Their sophomore album, Fictitious Business, does justice in exposing the grittiness of authentic human emotion as individuals learn to cope to circumstances that are futuristic, unpredictable, and consumingly unfamiliar. From self-destruction and self-improvement to superficial lust and inherent beauty, the range of presented human emotions of Fictitious Business is broadly impressive. In an age where technology attempts to manipulate all human processes, it also proves to be quite fascinating. This lage scope of lyrical ambitiousness is additionally done entirely through an enjoyable music formula that likens the group's influences of early '90s indie-rock, with groups like the Pixies, Pavement, and even Modest Mouse being too vital to overlook. Vocalist Rob Danson possesses vocals that appear fantastically suitable for the band's alternative style. Like his past influences, one can easily hear shades of Isaac Brock and Stephen Malkmus in Danson's delivery, with his range impressively stretching from moments of squealing intensity to subdued murmurs of sincere ardency. This is done over an equally impressive instrumental approach, with a wide array of guitars, keys, strings, and an exceptionally tight rhythm section providing for numerous moments of lasting durability.
The album's first single, "Camera Lens", appears to be a good choice, being the most accessible and infectious track on the album. The initial moments provide as Danson croons traditionally over the strums of an acoustic guitar and the lucid beat of a snare. "Ink blot real time endings, endings with no middle, endings with no end," he sings, once again emphasizing the time and period as significant contributing factors. The song's presentation of folk-pop is enjoyable as a verse, but the chorus is even better as it truly serves as signification of Death to Anders' love for '90s indie-rock. "Come in spread light like a camera lens' F-Stop," he sings with increased impetuosity as an increased flurry of electric guitars and intensified rhythm take hold of the song's original melody. "You know it's right when everything just won't stop, you know it's wrong when everything just…" I could not resist likening Danson to Isaac Brock during the chorus' memorable hook; it is certainly nothing to be ashamed of, after all. Like on "Camera Lens", he also establishes a signature sound on the opening self-titled track. It is a more evident example of the group's instrumental prowess, delivering a series of impressively layered guitar progressions that likens early Radiohead as Danson ironically declares, "We are business men in town manufacturing our sound. And our specialty we found – writing fiction out of sound." For even more variation, check out the darkly beautiful "Doll". Featuring contributions on violin from One Trick Pony's Charlene Huang, the strings establish it as one of the most haunting tracks on the album.  Comparing lifeless artificialities to human manipulation, the dark sense of humor portrayed is stunningly poignant over an instrumental force that sees a lethal combination of guitars, strings, and empowering vocals.
——————————————————————————————
——————————————————————————————
Death to Anders – Fictitious Business
[audio:http://mineorecords.com/mp3/danders-fic.mp3]
——————————————————————————————
——————————————————————————————
Learning about music can be fascinating!  If you're a music buff, test your Music knowledge Trivia via the internet.  Sign online today and find information on 80's music Trivia and so much more.  You can even find Movie soundtrack Trivia!