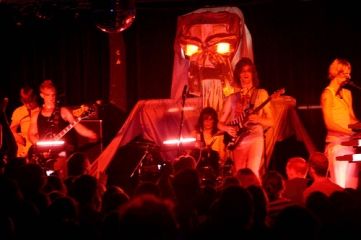 In an age where stylistic repetition and rampant commercialism appear to outweigh creativity and individualism in contemporary music, discovering an artist who tackles the beauty of innovation both in the studio and during live performances is a rare treasure. Unfortunately, many artists have the tendency to perform in mundanely predictable form, playing their own songs with obsolete differentiation to their studio versions. You might as well gather up a group of people and play the actual album over expensive speakers; the difference would hardly be substantial. So, when you find a group of musicians who implements silver skeleton glow-up monsters, cheerleaders, dancers dressed as zombies, and a traditional Korean rhythm section from NYU into their live performances, the emphasis on originality and receptive satisfaction becomes blatantly evident. For the NYC-based Apes & Androids, these are just a few examples of what goes on during their increasingly reputable shows. Oh, and just to clarify — these guys aren't just visual performers. The music they perform, as bystanders have put it, is as energetic and genuinely invigorating as one is likely to find. With comparisons sketching images of the past (Queen, David Bowie) and present (Of Montreal, Scissor Sisters), it provides plenty of room for widespread enjoyment.
With their fusion of dance, electro-pop, and glam-rock, it makes the name Apes & Androids even more appropriate. Signifying both past (apes) and futuristic (androids) intentions, their veneration for influences both past and present is on full display. That was my initial thought process, but as the band members themselves clarify in regards to the origin of their name, I suppose that a sexually dominating response is appropriately in sync with their dramatically flamboyant display of operatically relevant pop music. "An ape is the embodiment of "ideal" male sexuality and an android, female sexuality. Everything's about sex, right?!" the five-piece said collectively. "It also spoke to us because when we're writing our music, we're equally obsessed with really detached electronic motifs and animalistic, beastly ones!" Alright, well, however you would like to interpret that, there is no question that Apes & Androids are composed of five unconventionally entertaining personalities. Their origins can be traced back to David Tobias and Brian Jacobs. Both friends since third grade, they have been writing songs together since their teenage years. They both appear highly educated as well; Jacobs went to Columbia University and majored in Neuroscience and Tobias is a classically trained guitarist. The duo formed Call Florence Pow in the late '90s and released a debut album, These Are the Plans, in 2000 to a warm reception. Though Apes & Androids echo a more electronically enabled sound, Call Florence Pow was more reminiscent of the college rock that bands like There Might Be Giants and the Violent Femmes produced a decade beforehand.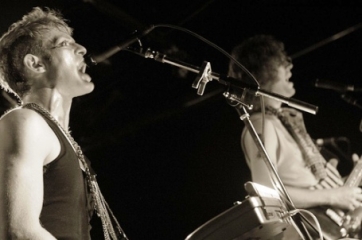 Looking to head in an entirely new direction, Tobias and Jacobs disbanded Call Florence Pow and formed Apes & Androids a few years after the release of These Are the Plans. Enlisting three Columbia University-based musicians to round out the group, the five-piece has built up a reputation as one of the entertaining bands in New York. Their debut album, Blood Moon, was released just a few weeks ago and it is already building up hype as arguably one of the most exciting debuts of the year with its eclectically presented mixture of genres both in the realm of dance-pop and glam-rock. It presents thirteen full-length tracks, with five additional others that are short intro/outro bridge clips. For a descriptive account of one of Apes & Androids' shows, check out Matt's entertaining review at Brooklyn Ski Club. He called it "one of the best performances" he has ever seen, hailing the band as a "must-see". I have yet to read a negative review of any of their performances, and the quality presented on Blood Moon is generally reflective of that amiable quality. The smörgåsbord of styles also proves enjoyable; the '80s synth-rock in "Nights of the Week" treats the listener with visions of The Cars in their prime, the breathtaking "Riverside" shows admiration for Queen with its involvement of acoustic guitars, brass, and synths over an array of ardently phenomenal vocal melodies, and "Golden Prize" sounds like a classic Sparks track with its varied use of hip-hop, soul, and electro-pop. In summation, Blood Moon is certainly one of the most ceaselessly varied releases of the year.
The swankily irresistible electro-pop of "We Don't Understand You" proves to establish what is already one of the best "party anthems" of 2008, with pure intentions of getting "fucked up" serving as a sing-a-long highlight over insanely infectious progressions guided by electric guitars and synths. Apart from a slick guitar solo that arrives at about the midway point, the leading melody proves predictably repetitive, yet the group's ingenious melodic capacity allows for a fluid result that never becomes tirelessly disengaging. The vocals (supplemented by an impressive falsetto) remain slightly comparable to Kevin Barnes (they dress like him too), with the musical content simultaneously tackling contemporary dance and throwback rock to provide an experience that is as nostalgic as it is futuristically invigorating. "Make Forever Last Forever" provides a similar effect, also relying on uses of glam-rock and electro-pop for memorability. It is an even better demonstration of Jacobs' falsetto capabilities, with a sultry rhythm section and set of strained synths delivering a very '70s, disco-esque melody. A live favorite due to its harmonic intensity, "Hot Kathy" is another highlight from Blood Moon. The duo's vocals prove exceptional over the incessant rhythm section, concise guitars, and exhilarating synths, with the only moment of subdued reflection being during a moment of piano-led sereneness. "Am I this lonely?" the skilled duo asks, once again bringing along relevant comparisons to the likes of Mercury and Bowie. In its fluid integration of styles past and present, Blood Moon is a release worth picking up.
——————————————————————————————
Apes & Androids – We Don't Understand You
[audio:http://mineorecords.com/mp3/aandroids-wed.mp3]
——————————————————————————————
Apes & Androids – Make Forever Last Forever

[audio:http://mineorecords.com/mp3/aandroids-mak.mp3]
——————————————————————————————
——————————————————————————————