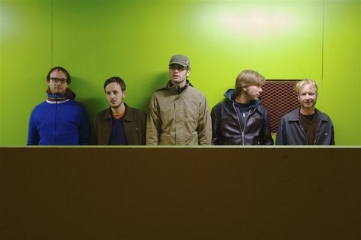 In present day, calling a genre "dead" will most often be looked upon as a controversial statement. There are countless numbers of musicians specializing in stylistic revivalism, and I doubt that number is going to change any time soon. Though it is delivered differently than it was some 25 odd years ago, one of the genres that continues to subtly flourish is new wave; it is generally a genre that many have widely assumed to be at its peak in the '80s. Memorable artists like The Cars and Gary Numan managed to incorporate elements of rock and punk with synth-pop, leading to a style that is most recognizable of the era. When grunge eventually began to dominate the airwaves in the early '90s, many of these aforementioned acts either broke up (The Cars) or continued on embarrassingly (Duran Duran), timely establishing "'80s music" as merely a nostalgic thing of the past. Over the past decade or so, independent music has grown increasingly acceptant of music styles that remain amiably expressive of past trends. With caps lock set on default, HILOTRONS are enjoyable representative of such retro-minded ideals. With their style encompassing both aspects of '80s new wave and contemporary indie-rock, they provide for a stimulating example of just how infectious audible nostalgia can be.
It is inarguable that electronic music has come a long way since the early '80s. With the style being heavily dependent on audio technology, the stylistic growth is not surprising. HILTRONS use several aspects of synth-pop that is admirably futuristic in tone, yet their incorporation of pop and rock stabilizes the genre and keeps it familiarly accessible. Since the five-piece formed in 2002, each album has proven to be a step forward in developmental progression. They currently have two albums available, with the third and newest, Happymatic, set to be released on April 1st. Their self-titled debut was released the same year as their formation in 2002, revealing HILOTRONS' style to be an appealing form of pop music with elements of new wave and funk thrown in. Proclaiming themselves to be "one of Ottawa's finest live acts", the Canadian five-piece demonstrated on their debut that their combo of new wave, synth-pop, and power-pop created a considerably excitable listening experience, whether it was done at a venue or through headphones. Their next album, Bella Simone, proved to be a more ambitious affair. Released in 2006, it offered more complex song structures while still maintaining the accessible infectiousness that made the debut so noteworthy.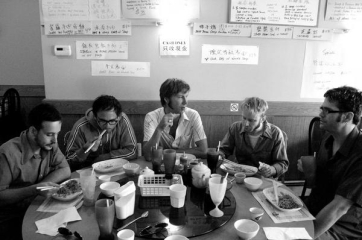 With two albums worth of experience under their belts, HILOTRONS consider Happymatic to be a summation of all the successful aspects of their preceding debut and Bella Simone. Somewhere in between the simplistic catchiness of the debut and the excelled musicianship of Bella Simone, Happymatic excels in being the group's most matured effort yet. While regaining their trademark '80s flair, the five-piece also introduces a more rhythmic focus that is comparable to power-pop staples like The Vapors and The dB's. In general, there is more of an emphasis on guitar-led power-pop and less of a focus on electro-pop when compared to Bella Simone. Personally, I believe that HILOTRONS have finally found their most suitable style after three attempts. While aspects of synth-pop remains prevalent on successful tracks like "Emergency Street" and "Streets of Science", the brightest spots on Happymatic occur during moments on tracks like "Deep River" and "Big Plans" when a variety of snappy guitar progressions collide cohesively with a slick rhythm section. As the group's lead songwriter and vocalist, Mike Dubue's abrupt vocal delivery recalls the likes of Gary Numan and a more optimistic Robert Smith, both fitting deliveries considering HILOTRONS' intended style.
Though "Deep River" takes about a minute or so to kick into full gear, those who value patience will be rewarded greatly. It initially finds the members shuffling through a straightforward set of concise guitar chords, backed strongly by a fleeting vocal melody. The track's defining moment comes during the second chorus when the rhythm section increases intensity and a set of sparkling keys emerge as a melodic backbone. Well worth the time, it eventually proves to be one of the impressive songwriting examples I have seen from HILOTRONS. Only "Astroman", a fantastic track on Bella Simone, proves more enjoyable for me. In terms of sheer catchiness though, "Big Plans" is undoubtedly the most rewarding track on Happymatic. Sure, the style may sound slightly out of place compared to the other tracks on the album, but the eclectic nature toward the end of the album on tracks like the ambitious Morricone-like "Feet First" and the melancholic "I'm a Parade" makes its placement appropriate. Featuring a robust chorus that borders on aspects of ska and dub, it serves as a briefly exciting track that only fault is its short length. However, with the brass-led "Feet First" directly following it, the two overlap together to create over 4 minutes of extreme pleasure. Much of the album is like this as well, with each track flowing together very cohesively despite any stylistic transitions. Whether you are a fan of '80s new wave or contemporary indie-rock, Happymatic has something for everyone.
——————————————————————————————
——————————————————————————————
——————————————————————————————
——————————————————————————————