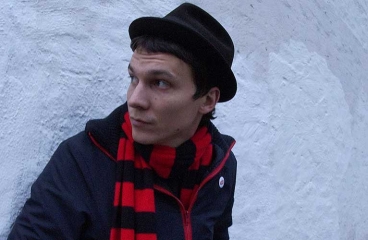 When I was looking for information about the up-and-coming Håkan Hellström, I could not help but notice that basically every bio, web-posted comment, or other tidbit online was written in Swedish. Now, this would make sense of course considering that Hellström is a Swedish native, but the shock value that I gathered was more focused on the seemingly apparent fact that most American audiences had yet to catch up to this talented Swede. Considering that similarly blended Swedish artists like Jens Lekman and Acid House Kings have struck gold on U.S. shores by discovering the strong western indie-pop niche, I would have initially assumed that Hellström's status as a rising superstar was all but guaranteed. As it appears at the moment, Håkan Hellström is regarded in Sweden as one of the country's most promising songwriters. In America though, as many have learned, results are expected with higher authority than that of hype, with the incentive for western audiences and press outlets acclaim a foreign artist being not of a substantial extent until the artist actually produces something very worthwhile. And for Håkan Hellström and his most recent album, it appears that the time has finally arrived.
Swedish listeners first caught a glimpse of Hellström in 2000 with his hit single "Känn ingen sorg för mig Göteborg", with Hellström also releasing his debut album of that same name in November. Prior to the release, Hellström was only recognized as fans of the Swedish indie-pop band Broder Daniel as their drummer, a position he vacted between 1988 and 1994. He then rejoined the band in 1997 with a new role as the bassist, leaving in 2003 to focus solely on his solo career. By that time, Hellström had also released a second album, Det är så jag säger det, in 2002 and was in the midst of writing Ett kolikbarns bekännelser, his third album that released in 2005. Nåt gammalt, nåt nytt, nåt lånat, nåt blått, a compilation of b-sides, was also released the same year. Hellström became a father in 2006 and announced that he would take a break from music for awhile As it appeared, the break lasted a bit less than two years, as Hellström most recently emerged with his fourth album, För sent för Edelweiss, in late March. Though his first three albums exhibited a form of potential that only arrives once every so often in Swedish pop music, Hellström's style sounded awkward with occasionally out-of-key vocals and repetitive arrangements. However, with För sent för Edelweiss, it looks as if the skilled songwriter has finally lived up to his wholesome potential.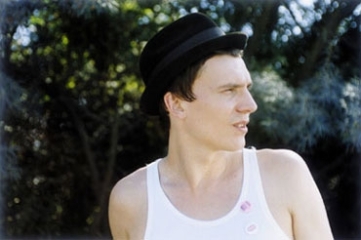 When an artist names an album after one of their own songs in particular, the conceptual intentions of the self-titled track take on lofty expectations. When it comes to "För sent för Edelweiss", it serves as arguably the most pleasing track on both the album and throughout Hellström's blossoming career thus far. It features the type of melody that will cause anyone – regardless of whether they understand the Swedish lyrics or not – to grin in pure delight, with the hauntingly beautiful instrumentation contrasting impressively with Hellström's ardent vocals. The light plucking of an acoustic guitar initially finds itself underlying a graceful piano melody as Hellström's voice quivers over the corresponding melody. When the twinkle of a new piano melody takes charge and establishes the chorus, Hellström's voice takes on a melodic shift and crafts a devastating hook in the process. When the track concludes with a Sigur Rós-like instrumental recap over the crooning of Hellström, it simply reminds the listener just how elegantly stunning the overall result actually is. It really took only one listen for me to absolutely fall in love with "För sent för Edelweiss", and I am hoping that the same will happen to you. Though the bare sloppiness on tracks toward the latter end of the album like "Sång i buss på villovägar" are the only glaring spots of inconsistency, even they have their own unique moments of memorability.
Since the title track will generally be recognized as one of the more instrumentally subdued songs on För sent för Edelweiss, first-time listeners of the track will likely be curious as to what Hellström sounds like when accompanied by increasingly noticeable instrumental fervor. As both "Kärlek är ett Brev Skickat Tusen Gånger" and "Jag Vet Inte Vem Jag är Men jag Vet Att Jag är Din" prove, the result is actually just as satisfying. Both songs implement guitar within a style of pop that is most reminiscent of accessible indie-rock, with "Jag Vet Inte Vem Jag är Men jag Vet Att Jag är Din" especially being resounding of the sentiment with a fury of electric guitars and reflective keys. They each remain insanely catchy in their own unique ways though, with "Kärlek är ett Brev Skickat Tusen Gånger" benefiting most from the vocal correspondence between a bluesy guitar, effervescent keys, and Hellström's impressive vocal performance. I do not know whether he chose to take a few singing lessons, but Hellström's vocal performances have undoubtedly improved on För sent för Edelweiss. Combine that with an improvement in all areas of songwriting and instrumentation and För sent för Edelweiss emerges as Hellström's most impressive release to date. För sent för Edelweiss is now available and is the best album of Swedish indie-pop I have heard so far this year.
——————————————————————————————
Håkan Hellström – För sent för Edelweiss

[audio:http://mineorecords.com/mp3/hellstrom-for.mp3]
——————————————————————————————
Håkan Hellström – Jag Vet Inte Vem Jag är Men jag Vet Att Jag är Din

[audio:http://mineorecords.com/mp3/hellstrom-jag.mp3]
——————————————————————————————
Håkan Hellström – Kärlek är ett Brev Skickat Tusen Gånger

[audio:http://mineorecords.com/mp3/hellstrom-kar.mp3]
——————————————————————————————