The first of several British artists exposed in today's feature is Vanilla Swingers, a duo comprised of Miles Jackson and Anne Gilpin. Though their name indicates a production of some overly flamboyant form of funk, they have been generating quite a bit of buzz in the UK for their consumingly seductive interpretation of electronic pop. The duo utilizes conventional elements of pop in their usage of guitars, bass, and percussion, but the inspirational electronic element arrives in their extremely impressive grasp of appropriately atmospheric melodic additions. With serene synth pads and lulling sound clips often supplementing infectious melodies driven by progressions highlighted by alternating guitars and keys, the result is intricately captivating. And not to forget, when you have two musicians as lyrically astute as Jackson and Gilpin, there is more to enjoy than hooks led by commendable melodic scenarios. In fact, as their eponymous debut demonstrates in its thematical concept, they maintain a sense of virtuous ambition while simultaneously remaining accessibly enthralling.
The conceptually rewarding Vanilla Swingers explores an interesting plot that highlights two lovers blockaded by the obstacles of time, quite literally. Concisely, they meet each other, run away together, travel back in time to 1985, lose each other, and meet up once again in the year 2015. Appropriately, the vocal duties are split between the two members as they grow increasingly familiar with their roles. "Well I'd been here forever, sixteen years that felt like more," Gilpin sings angelically on the opening "The Town", a stylish number led by an acoustic guitar and complementary keys. "And you'd think it was clever not to venture far from your front door around here." Her voice is highly comparable to Black Box Recorder's Sarah Nixey, with the accompanying music also being striking in a similar vein. The album itself is like a storybook, with each line and song featuring moments of literary notability that should keep the listener enthralled throughout its entire duration. "You asked me what's the year and smiled the saddest smile I'd ever seen," Jackson croons during "Goodbye Lennon", my personal favorite on the album. Apart from the fantastically thorough use of keys, the track demonstrates the duo's vocal, melodic, and literary ability all in one, being ardently empowering in the genuine romanticism displayed by both Jackson and Gilpin. With undeniable chemistry and impressive literary chops leading the way, Vanilla Swingers is a duo that should undoubtedly find a significant following. When their debut drops on August 11th, I unreservedly recommend the purchase.
——————————————————————————————
Vanilla Swingers – Goodbye Lennon

[audio:http://mineorecords.com/mp3/vswing-goo.mp3]
——————————————————————————————
Vanilla Swingers – Back to the Present

[audio:http://mineorecords.com/mp3/vswing-bac.mp3]
——————————————————————————————
——————————————————————————————
—————————————————————————————————-
Editor's Note: Since there are many worthwhile artists who have yet to tour outside of their native countries due to financial restraints, I decided to implement an occasional feature that highlights such musicians at work in a live atmosphere, provided by skilled writers who were actively in attendance. I will participate myself once I move to the more bustling location of DC in September, but for now while I am still stuck in Jersey, it will be aided by the participation of guest writers who will enlighten both readers and myself as to who and what to look out for in locations that you may not vacate often; I find that articles about live performances in varying geographical locations can be fascinating if done properly. The first feature in this particular vein comes from the town of Dartford in England: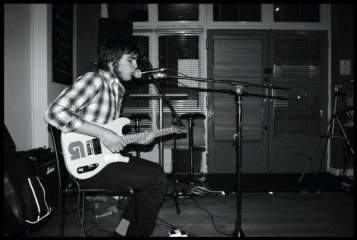 Gary Ptaszek and Crack Silence at Bar Mondo, Dartford, England (06/23/08)
By D.R.J Gaymer
The lights cast out a red glow illuminating the room and the indie kids who were stumbling around, spilling cider over their plaid shirts whilst trying their hardest not to, disturb a small contingent of metal-heads. There is a light show of sorts, but if truth be told, there are more people in the alley outside the bar (as is so frequently the way with small town gigs); there are excited vibrations in the air simply because something is going on.
Live music!
No S-Club 7 records!
The possibility of actually meeting real-life people who might be into the same bands as you! It really does not matter who is playing, what matters is that someone is playing; that in itself makes the event. If the music is good then that is an added bonus and, tonight, the music is well above par. Gary Ptaszek (pronounced Per-Tash-Eck) is perched calmly on the end of a bar stall, clutching his acoustic guitar and sipping from a glass of water. He is dressed in all black, the only white being the graphics on his "Dartford Dealth Kult" t-shirt and his socks, which give vague recollections of Michael Jackson circa 1982 to those who were paying attention. Placing the glass of water on the floor, Ptaszek engages the crowd in conversation (strictly no shoe gazing) and then launches into another powerful acoustic number. The vocals drift between high floating melodies and low growls, creating a dynamic that fits over his strummed rhythms that include an eclectic range of chords and sparse riffs. When compared to other contemporary unsigned acoustic acts, this is a more mature set, transcending the banality of covers such as Oasis's "Wonderwall" and instead drawing on British post rock groups like Biffy Cylro, Reuben, and stateside groups such as Silverchair. For the most part, the influences are covert and mixed in to create a more individualized sound, although there is the occasional exception such as a Coheed and Cambria cover where – for a brief instant – influences are outwardly stated. Nevertheless, Ptaszek concluded with his own composition, "Start", a perfect example of his own brand of Dartford power pop.
From here on out, things started to decline as Crack Silence took to the stage. After a ten minute long sound check they finally got into a set of rather generic metal riffs, embellished with requests for the crowd to throw the horns with them (yet nobody yelled "FRRRREEEEEEEEE BIRD!!!"). Yet, for some unexplainable reason, screams inheriting such memorable quotes such as,"I'm going to fucking rape you! Rape you!" and "You're a motherfucker!" were prevalent. After all, contrived controversy bored the cat. Fundamentally, they were just too loose for the polished and hard sound that they were evidently tying to pull off. All the ingredients were there, they just needed to tighten it all up and drop some of the clichés. Still, the audience were not particularly concerned. As far as they were concerned the important thing was that the bar was still open, booze was still being sold and music still being played, without a tracksuit in sight.
MySpace: Gary Ptaszek; Crack Silence