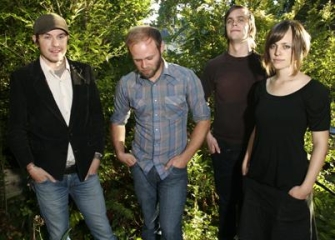 These days, open mic nights usually cause more forms of embarrassment than success. Like the art of discovering new music in itself, though, there are a few gems in the rough just waiting to be found. Before the digital age where anyone could simply create music, upload it, and add a million or so friends on MySpace for instantaneous exposure of some sort, the options were limited to publically displaying your talent. Sure, you could still send a demo tape to the record label of your choice, but there was a good chance it was not even going to be played unless you had a good connection or two. The rise of Justin Ringle's music career has occurred too recently for the young songwriter to experience such "ancient" means of exposure, but by indication of his throwback style of lo-fi folk, doing things the old-fashioned way seems to coincide well with his ideology. After a move to Portland, Oregon in 2004, the Idaho-based Ringle began performing at open mic nights throughout the Oregon area under the name of Horse Feathers. At the time, he had no credibility to his name whatsoever, opting to build his reputation based on an impressive array of original songwriting that captivated most audiences in attendance.
While making his rounds throughout bars and small venues, Ringle made several connections in the local Oregon music scene. The most important came in Peter Broderick, a multi-instrumentalist who was already a member of Norfolk & Western, the solo alias for local folk songwriter Adam Selzer. With Norfolk & Western already a brand name in Oregon at the time, Broderick saw the immediate potential of Ringle's craft, a somewhat comparable entity to the talented craftwork of his other collaborator's gently intricate folk musings in Selzer. Ringle and Broderick began writing songs and performing together at the end of 2004, increasing the writing process the following year in anticipation for their 2006 debut, Words Are Dead. As a proficient violinist, cellist, pianist, and percussionist, Ringle's multi-instrumentalist talents allowed Ringle's powerful voice and exceptional guitar work to be complemented by arrangements that bolstered his charismatic songwriting. Even when backed by nothing more than an acoustic guitar though, his work shines with a form of emotionally charged authority and preciseness that few contemporary folk artists are able to achieve. Broderick's presence allows their collaborative songwriting to flow even more freely, as neither show a desperate regard to enhance arrangements without necessity or purpose; it is certainly a concept that more folk artists – and songwriters in general – should take note of.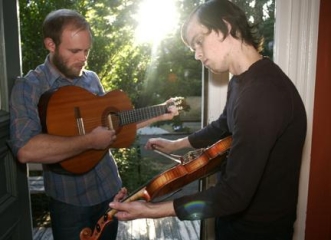 I imagine that the quality presented on Horse Feathers' newest album, House With No Home, will have the type of effect in which their previous material will be rediscovered or taken anew by many. With other similarly molded folk artists like Will Oldham and Bon Iver allowing the style to tread in accessible waters, it would not be surprising to see more people open up to more barefaced styles of independent folk music in the vein of Horse Feathers. And as far as this style goes, I have not found many recent songwriters who can compare to the works of Horse Feathers. Without being pretentious or stylistically overbearing, the songwriting duo of Ringle and Broderick are able to craft delicate gems that highlight topics ranging from melancholic loneliness to constructive self-discovery, two themes that override their initial generic mold to create unique forms of serene audibility and poignant heartbreak. Most of the time, Ringle writes the songs and then gives them to Broderick for additional instrumental accompaniments. It has been a method that has worked advantageously since the release of Words Are Dead Alongside Ringle and Broderick sits an additionally impressive cast of musicians, including cellist/vocalist Heather Broderick, violinist Nathan Crockett, cellist Catherine O'Dell, and banjoist/percussionist Sam Cooper. On House With No Home Heather Broderick makes her presence particularly well known with backing vocals that contrast flawlessly with Ringle's calmly shrill and entirely effective vocal delivery, an aspect that combines with richly consuming instrumentation to create a sound that is wholesomely unique to the talented array of musicians.
House With No Home begins immediately with a stunner of a track in "Curs in the Weeds", a remarkable accomplishment for the songwriting duo in terms of both lyrical and melodic elegance. As several variations of strings begin to accompany the gentle hush of an acoustic guitar, Ringle relays a variety of scenic metaphors with a transcendentalist tinge. Calling on a "father of a three" to look upon parenting as a selfless endeavor, one cannot help but feel indebted to Ringle for his advisable musings. "It's narrow without one," he sings along the backing of strings, guitars, and Broderick's angelic vocals. "To live in a house with no home." The sense of familial devastation is prevalent, and the comparisons Ringle utilizes to naturalist settings are wisely engineered to exhibit rare forms of uplifting emotional capacity. "Working Poor" is a brisker attempt that sees a banjo lead initially guide a series of acoustic guitars and multiple vocal accompaniments, resulting in a much livelier and emotionally subdued track that is complemented vigorously by a series of impressive strings toward the conclusion. "Helen", a heartfelt symphonic love song, remains notable for its use of minimalistic orchestral accompaniments as it toys with a variety of finger-plucked strings over hushed backing vocals and more additional impressive guitar arrangements. The actual intricate arrangements arrive in the final minute or so, but the introduction prepares the listener effectively for the transition into a more full-fledged sound. It serves as a prime example of Horse Feathers' high degree of songwriting, one that values planning and preciseness as the actual melodic and lyrical content in itself. House With No Home drops on September 9th and is fully recommended.
——————————————————————————————
Horse Feathers – Curs in the Weeds

[audio:http://mineorecords.com/mp3/hfeathers-cur.mp3]
——————————————————————————————
——————————————————————————————
——————————————————————————————