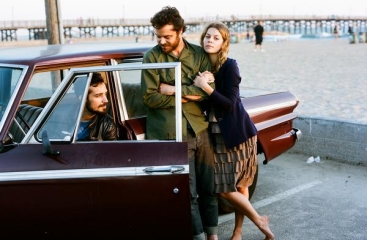 As displayed in the previous feature that covered my personal perception of prolific artists, a substantial amount of recognition and success does not always equate to artistic satisfaction. By nature, musicians often yearn to craft their definitive opus, a release that defines their talent, compassion, and commitment toward the art of music. So, say you are a member of a group who will inarguably be looked back upon as one of the most stylistically influential bands of this current decade. You have millions of fans, have become a popular name in your field, and have a plethora of experience under your belts in regard to touring, recording, and writing music. What incentive is there left to manufacture quality? Well, the desire to constantly be artistically productive is not only inherent in artists that are classified as prolific. These musicians are not in it to make a quick buck, or even a small one at that; the role of a songwriter in the music industry is one of the most unstable of financial occupations in the world. The reward comes in producing something that others love and the artists themselves admire. Also, there are few better things in life than actually being able to support yourself – even if it is just by scraping by – by doing something that you love.
Out of the three members in the Los Angeles-based Little Joy, many readers will likely be most familiar with the name Fabrizio Moretti. As the drummer for the now world-renowned The Strokes, he has experienced the trials and tribulations of stardom on both an independent and mainstream level ever since The Strokes exploded onto the scene in 2001 with their debut Is This It, one of the few albums released in the past decade that can already be classified as an influential stepping stone to subsequent groups of a similar vein (which, as we all know, are many). True, the experienced Moretti makes up one-third of the group, but the other two members are also just as experienced and within a similar realm of success; Rodrigo Amarante is the lead vocalist and guitarist of Los Hermanos, one of the most reputable Brazilian groups of the decade (though they are currently on hiatus), and Binki Shapiro. Shapiro has created a buzz around Los Angeles for several years with her multi-instrumental abilities, tackling aspects like guitar, piano, and bass in Little Joy in addition to ukulele, organ, and melotron. She has also become notable for being Moretti's current girlfriend (he had previously dated actress Drew Barrymore). By listening to the chemistry emitted on Little Joy's debut album by these three members, though, this one appears to be going strongly and productively already.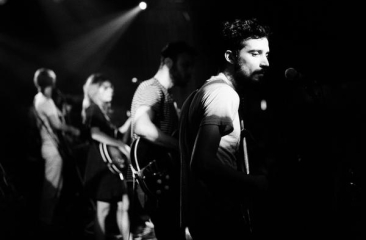 I suppose that when describing the sound of Little Joy it would be appropriate to compare it to the styles of The Strokes and Los Hermanos, two of the groups that the members of Little Joy derive from. It would be linear to call Little Joy a fusion of both groups, as Little Joy's style is considerably more laid-back than either, but it is certainly not startling that both Moretti and Amarante have chosen to take this direction. Both The Strokes and Los Hermanos have attempted upbeat pop charmers with a lo-fi edge in the past, but never quite as consistently or successfully as Little Joy. Their self-titled debut album is full of the hooks one should come to expect from masterful songwriters in the vein of Moretti and Amarante, two artists who have certainly been around enough versions of success to distinguish what will fare well in the contemporary music scene. Moretti initially considered the outfit a solo project of sorts after writing the majority of the initial tracks, but after discussing the prospective future of the project with Amarante one night after the Los Hermanos frontman finished contributing his skills toward some tracks on Devendra Banhart's Smokey Rolls Down Thunder Canyon, he decided otherwise. Shapiro was later introduced to the duo by some mutual friends, finding their stylistic direction to be a breath of fresh air as she joined the process shortly thereafter.
Scattered throughout the songs on Little Joy's debut, one is likely to find any sporadic smatterings of reggae, R&B, folk, and – of course – art-rock. This provides for a very enjoyable representation of indie-pop, propelled by an intelligent mixture of infectious guitar-led rockers and barrenly enjoyable acoustically-led folk songs. One of my favorites in the latter category is "Unattainable", a very touching love song with Shapiro on lead vocals. Her separately layered gentle, word-less croon consumes the backing of the track, while the placid reverberating of a bass consumes one ear and the delicate progression of an acoustic guitar takes over the other. "I can't coerce you into this one," she admits over the hauntingly overlapping melody of her dual vocals and the acoustic-bass combo. "Jealousy lay all your spells to your bed, I'll choose unloved instead." My favorite track on the album, "The Next Time Around", falls somewhere in between both categories. A very active rhythm section is initially prevalent over the simplistic progression of an acoustic guitar, but the magnificent chorus sees an expansion into a series of slick guitar progressions and accentuated drum fills. Amarante takes lead vocals on this track and most of the others on the album, and his capacity in the style of serene indie-pop is highly commendable.
"Brand New Start" also is highly representative of their generally lighthearted demeanor, shedding lights of optimism that many other groups of a similar vein are somewhat reluctant to expose. "There ain't no lover like the one I got," Amarante repeats twice over a twangy guitar progression with an underlying brass melody. "She and I in a brand new start; gotta give all my love." The lyrical content throughout Little Joy maintains high accessibility without being overly predictable or romantically overwrought, opting to match simplistically enthralling melodies with lyrical content of a similar nature. The album's content on both ends, though, is joyous for the most part, with even the more somber songs like "Unattainable" and "Play the Part" bursting with hope and brightly effused melodies. For the three well-traveled and experienced musicians in Little Joy, such success can be expected. Even for such expectations though, do not be surprised if Little Joy makes a big splash when their debut is released on November 4th.
——————————————————————————————
Little Joy – The Next Time Around

[audio:http://mineorecords.com/mp3/ljoy-nex.mp3]
——————————————————————————————
——————————————————————————————
——————————————————————————————