Some of the most talent musicians in the world remain practically unknown despite an abundance of quality material. There is no concise explanation for it, even if the most common response is related to the lack of accessibility in actually obtaining the music. It simply proves that recognition, while beneficially attributed, has little merit in determining an artist's level of talent or commitment. Today's feature chronicles two artists at dramatically different stages in their music careers. One, Piano Magic, has been producing quality music for over a decade with an undeservedly low amount of recognition, while the other, Braids, consists of four 19-year-olds who are just beginning to discover what the music industry is all about. For better or worse, it is certainly a process worth experiencing. One can only imagine the words of advice a group like Piano Magic could give Braids; it would surely be an extraction of wisdom. Regardless of experience though, both groups have recently released an excellent EP worth mentioning.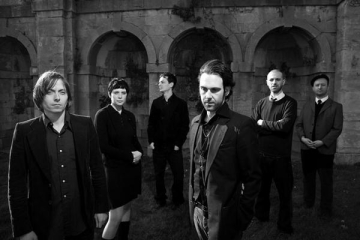 Starting with the more experienced, Piano Magic is a London-based collective of musicians that has revolved throughout their 12 years of existence. Glen Johnson, Dominic Chenell, and Dick Rance were the original members upon their formation in 1996, though Johnson is the only one currently remaining. He served as the lead songwriter and frontman after Chenell and Rance had left by 1999. Johnson's leadership steered the group in a more conventional direction, as their first several years saw a higher emphasis on a style of experimental pop music that found difficulty amassing a steady fan base. At this point, the most common comparison was to that of Kraftwerk and other electronically-enabled forms of Krautrock. After Johnson took control and assembled a new lineup though, a more accessible stylistic transition was made to a highly stylized fusion of post-punk and electronic pop that brought on new comparisons to stylistics molders of the late '70s and early '80s like Joy Division and New Order. Keeping in mind that New Order derived from the demise of Joy Division, the current sound of Piano Magic reminds me most of Electronic, an offshoot of New Order that featured the superduo of Bernard Sumner (Joy Division/New Order) and Johnny Marr (The Smiths). The duo took their fans by storm in 1991 when their classic self-titled debut disclosed an infectious mixture of post-punk and electronica, two styles that Piano Magic implement flawlessly into their sound.
In maintaining their ceaselessly prolific output, Piano Magic released a new EP, Dark Horses, in October. With nine full-lengths, a handful of EPs, and a countless number of singles and collaborations under their belts, the new EP simply attests to the continuous stream of quality that the group successfully strives for. It has been a common practice for Piano Magic to recruit new vocalists for a release, as they even helped convince '60s folk artist Vashti Bunyan to commence her recent resurgence by supplying her first vocal recording in over 30 years for Piano Magic's 2002 album, Writers Without Homes. As a result, I must commend Johnson for being consistent in bringing back the angelic vocals of Angele David-Guillou for Dark Horses. The Klima vocalist and solo performer had previously appeared on Piano Magic's 2005 album, Disaffected, and contributed immensely to the beautifully melodic sound presented. Within the span of two years from Disaffected to 2007's Part Monster, their ninth full-length, Johnson also released a solo album and the group embarked on a world tour. Somehow though, they still managed the time to write and record the very enjoyable Dark Horses EP.
Limited to 1000 copies, Dark Horses features four tracks that embody the group's sound in extremely complementary form. "Vacancies" features an infectiously haunting mixture of jangly guitar riffs, subtle synths pads, and a continuous bass line. David-Guillou's vocal approach here may remind some of Black Box Recorder's Sarah Nixey, especially when considering that the backing music is rooted in swift arrangements of whispery synths and jangly guitar progressions. "Dark Horses" is noticeably darker with a predominant rhythm section. Johnson's eerily satisfying vocals are reminiscent of Robert Forster, and The Go-Betweens comparison does not stop simply at the vocal front. This track encompasses a similar touch of dark industrial-rock with near-spoken-word accompaniments that made the legendary Australian group's sound so memorable. "Stations" also employs an eerily nocturnal feel, once again complemented by a steady mixture of heavily reverbed post-punk guitar lines and a prominent rhythm section. For those getting first acquainted to Piano Magic, I would recommend checking out either Low Birth Weight or Artists' Rifles. However, to get a grasp on their current sound, Dark Horses is an impressive effort that solidifies the belief that Johnson and co. are one of the most consistent groups that, for some reason, remain criminally overlooked.
——————————————————————————————
——————————————————————————————
——————————————————————————————
——————————————————————————————
————————————————————————————————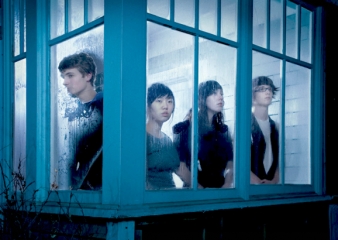 As I make the transition from a well-traveled group with dozens of releases and several international tours to their name to a four-piece where not even one member is of legal US drinking age, one must keep in mind the developmental process of a band. Piano Magic alternated their lineups before they became stylistically comfortable, leading to a prolific number of quality releases that any musician would respect. When listening to Braids and noticing their prevalent talent, I can't help but wonder how they will evolve throughout the coming years together, perhaps both stylistically and personally like Piano Magic. To date, the only change they have made pertains to their name (from The Neighbourhood Council to Braids). Listening to their self-released EP, Set Pieces, though, neither their approach nor make-up would benefit from a change at this point. Whether you are referring to 19-year-olds or 49-year-olds, the material presented here is startlingly innovative enough to captivate audiences whether they have prior knowledge of the band's teenage status or not. When given Braid's average age, one may have a tendency to make a generalization in regard to their sound. Generic indie-rock perhaps, as an ode to those conventional pop bands that everyone knows and loves? For our sake, it is quite the contrary. Not only are the able to craft 7+ minute experimental-rock epics with ease, but the ideas, songwriting, and high quality of performance are all aspects that truly define what it means for a new act to strive fearlessly for creativity. After opening for acts like Deerhunter and Times New Viking, it seems as if a few of the most prestigious names in indie-rock feel the same.
Just like Piano Magic, Braids are beginning their young careers ambitiously with a style of experimental rock music that demonstrates their unwillingness to conform to a conventionally appealing, radio-friendly atmosphere. Luckily for them, their approach is within the same realm as adored contemporary artists like Animal Collective, Arcade Fire, Atlas Sound, and other staples of indie-rock that have found momentous success through extremely innovative means this past decade. They recorded Set Pieces live at the University of Calgary's radio station and released it in late June, though fans are just starting to catch on after this month's release of another EP, Live At CJSW. The opening track on Set Pieces, "Liver and Tan", is pure 9-minute goodness. A twinkling guitar progression carries the initial strum and a steady rush of percussion eventually increases in complexity and involvement. Light piano chords supplement the onslaught until about a minute in, which is when the piano abruptly replaces the guitar as the leading force. The guitar then reverts to a series of slide patterns, leading the way for each instrumental accompaniment to become involved in equal form.
The major transition point in "Liver and Tan" occurs at 2:15, when a serene break in rhythmic instrumentation commences a three-minute build-up that later introduces several overlapping vocal melodies which brilliantly usher their way in toward the instrumental accompaniment. The vocal delivery sounds like a tribal chant of sorts, and I can't help but saying that the vocals remind me of what it would sound like if Régine Chassagne (Arcade Fire) attempted to imitate Avey Tare (Animal Collective). There is no real imitation here though for the Calgary natives, as the entirety of Braids' EP is sprawling with original ideas that lead me to believe that this group is easily one of the most promising out of the already-fledging Montreal music scene. Oh, by the way, check out "Lemonade" on their MySpace. It may be my favorite one yet from this promising four-piece.
——————————————————————————————
——————————————————————————————
——————————————————————————————
——————————————————————————————
Since they self-release their own material, e-mail the band at th[email protected] if you want a copy of either EP.