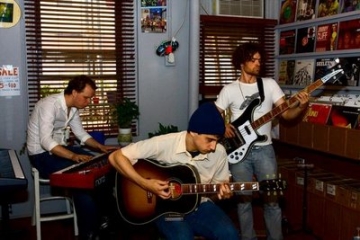 All bands have to start somewhere, and for Cymbals Eat Guitars it was as a high school band that dabbled mostly in Weezer covers (from their first two albums, fortunately). Listening to the music of Cymbals Eat Guitars in their current state though, Weezer is practically the farthest thing away from them in the indie-rock stratosphere. Though Cymbals Eat Guitars may immediately come across as a group whose intensity relays Modest Mouse's early classics like The Lonesome Crowded West or The Wrens' Secaucus, their overall sound actually appears to be more indebted to a wider variety of successful indie-rock trends of the past several years. They incorporate such aspects – whether it is sweeping strings, alternating song structures, or tonal experimentation – into a sound that proves perfectly depictive of what was so great about indie-rock music in the late '90s and early '00s. It is rather alarming that I find myself referring to those periods of time in such a fashion after they concluded less than ten years ago, but there is no denying the trends in independent music that have the potential to mold new artists, be it for better or worse. In the case of Cymbals Eat Guitars, their impressive stylistic approach stems not only off of their progressive talents as musicians, but also in their aptitude as fans themselves.
During the process in which Cymbals Eat Guitars evolved from a cover-centric duo to a wildly innovative group of their own, lead songwriter and vocalist Joseph D'Agostino advanced his own skills as both a listener and performer of music. During high school, he and drummer Matt Miller put together a very short LP under the name "Joseph Ferocious", an alias that might as well apply to D'Agostino's current work as well. He has always possessed a distinctively ardent vocal delivery, one that sits somewhere between the quivering croon of Isaac Brock, the vibrant angst of The Wrens' Charles Bissell, and the vibrancy of Stephen Malkmus (another clear influence). When considering that D'Agostino's songwriting also expresses a similar form of ferocity and hook-filled energy, it would have probably made sense to carry on with the "Joseph Ferocious" tag a bit longer. As with most high school bands though, distance became the primary factor in the eventual dissolution of the project after D'Agostino and Miller found themselves in college in separate states. After a few months, D'Agostino began writing songs again, intending to have his primary influence, Charles Bissell (of Wrens fame), produce them. For the task of recruiting a bassist, guitarist, and keyboardist for his upcoming session, he looked toward a somewhat conventional route: Craigslist. The site seems to have more bad deals than good ones, but as D'Agostino puts it, he got lucky with his choices.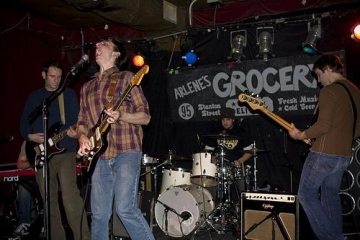 After responding to D'Agostino's Craigslist ad, bassist Neil Berenholz, guitarist Matt Cohen, and keyboardist Daniel Baer joined after they became fascinated by the 19-year-old's songwriting and level of intellect. That's right – when Cymbals Eat Guitars officially formed in February of 2008, D'Agostino was a mere teenager. D'Agostino's former musical companion in high school, drummer Matt Miller, also joined the project shortly thereafter. The fact that two members are presently in their early 20s and the other two are in their early 30s has been no hindrance to the band though. After all, both D'Agostino and Miller are way beyond their years as capable musicians. If anything, the varying levels of experience contributes to their unique sound even more, even if two of the five members occasionally get irritated that they are the only ones in the band that are unable to legally purchase alcohol. Humorous incidents aside though, the chemistry within the group is undeniable, and that certainly is shown on their extremely impressive debut, Why There Are Mountains. I will say this much: There is a reason that a musician as respected as Bissell has went on to say that Cymbals Eat Guitar "will end up indie famous within the year".
With an opener like "And the Hazy Sea", it is hard to not take Bissell's quotation seriously. A flurry of guitars and D'Agostino's yelp-ish croon take charge during the intro as a singularly possessive guitar progression serves as an abrupt bridge between the song's true introduction. "Do you know how many cities have been built?" D'Agostino asks. He is followed immediately by some brilliant songwriting that remains both unpredictable and convincingly effective, featuring both stark smatterings of keys and explosive arrays of guitars. His vocal delivery often adjusts accordingly, especially during the song's fiery chorus. That part in particular remains reminiscent of Modest Mouse, but the song's structural genius and melodic excellence appears more indicative of an idolized act in the Wrens. "Indiana" is just as effective, with the most notable aspect being the mixture of keys and horns that cleverly fuse together to create something that is wholesomely infectious. In addition to the dramatically effective accompaniment of strings in "Cold Spring" and the guitar feedback-led allure of "What Dogs See", it sees Cymbals Eat Guitars at their most subdued. This takes nothing away from the overall quality though, as it sits equally alongside infectiously vigorous greats like "Indiana" and the brisk "Wind Phoenix", the latter of which sees an amiably successful mixture of keys and guitars show how Cymbals Eat Guitars can maintain their accessibility while still being bold and unpredictable. Much of Why There Are Mountains speaks a similar sentiment, coinciding with Bissell's statement that it would be a shock if Cymbals Eat Guitars went a year without some sort of unavoidable acclaim.
——————————————————————————————
——————————————————————————————
Cymbals Eat Guitars – And the Hazy Sea

[audio:http://mineorecords.com/mp3/cegui-and.mp3]
——————————————————————————————
Cymbals Eat Guitars – Cold Spring

[audio:http://mineorecords.com/mp3/cegui-col.mp3]
——————————————————————————————