Posted
March 6, 2009 by Mike Mineo
in Features
Chris Robley Recites a Movie Theatre Haiku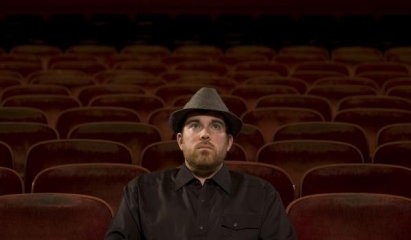 I always appreciate follow-ups from artists that were featured on this site over a year ago. I must sincerely enjoy an artist for them to appear on this site and that often results in a long process that involves many hours of listeners. Admittedly, I can be overly selective on occasion as to who is being featured. The featured artists that can relate to this selective process are the ones that tend to keep in touch for good reason. By keeping me on their contacts list, they know that they have at least someone with prior recognition of their sound, leading to constructive criticism that wisely uses growth as a basis for development. With that being said, I find myself rarely featuring an artist more than once, mainly because there are so many other uncovered quality acts that would cause me to feel neglectful. Sometimes I just cannot resist though, and it is usually the result of universal "non-exposure" for an artist that I featured over a year ago. Chris Robley and his backing band, The Fear of Heights, certainly apply in this case, as the superior quality of Robley's new album shows why I am frustrated that he has yet to achieve the acclaim he so passionately deserves. 17 months after his first feature on this site, I feel inclined to shed more light on Robley, a skilled songwriter whose ambitious material yearns for more recognition than his work has been given thus far.
Most of those that have had a chance to listen to Robley's inventively unconventional interpretation of pop music have enjoyed it immensely. The problem is, not enough people are listening. Last time I checked on Robley, I found myself wildly impressed by how he was able to establish melancholic themes without appearing overly melodramatic. Most artists of Robley's stylistic vein – which is primarily orchestral pop – topple on dozens of violins in a minor key or use other generic methods of audible expression, but Robley chooses to instead pursue accurate representations of somber ardency in a subtler manner. On his second solo album, Drunken Dance of Modern Man in Love, Robley often exploited the common perception of conventional song structures to simultaneously surprise and awe listeners with melodic build-ups whose beginnings and subsequent eruptions were irregularly placed in order to keep listeners on the edge of their seats. When combined with Robley's eclectic array of styles, this resulted in something that was inherently unique. On Drunken Dance of Modern Man in Love, he managed to infuse this within electronic and orchestral pop, gypsy-folk, and indie-rock, causing the level of unpredictability to heighten in enjoyable form. On his third album, Robley holds on to this sense of ambitious virtuosity while maintaining a pop-minded sensibility that should appeal especially to listeners that want to venture into unchartered territory without leaving the friendly confines of a familiar genre altogether.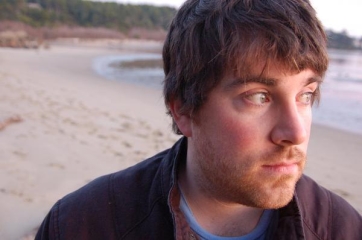 While no one can deny Robley's talent for crafting skillful hooks, his method of delivering them seems to vary from album to album. Drunken Dance of Modern Man in Love saw the focal points of each song unravel as they progressed, with it being difficult to identify a central hook since the songs were often inventive and stylistically adventurous enough to result in a variety of different tonal methods and structural tendencies. On his third album, Movie Theatre Haiku, Robley takes a slightly more straightforward approach as he maintains his pop ideologies with a more consistent array of accompanying styles. His previous album was all over the map in terms of diversity, and some listeners likely suffered because of it. However, Movie Theatre Haiku presents a batch of songs that seem to capitalize on Robley's strengths; this is in particular relation to his simple but impressive ability to craft a melody and accompanying hook. As a result, the majority of the songs are within the four-minute range and his most conventional interpretation of pop is prevalent. This is not to say the album is stylistically linear though, as Robley's definition of pop music remains generally unclassifiable as he seamlessly shifts from the dramatic, key-led ballads like "Premiere" and "Atheist's Prayer" to explosively anthemic gems like "A Memory Lost at Sea" and "User-Friendly Guide to Change". When listening to any of the preceding songs, it startles me to think that a songwriter as talented and accessibly capable as Robley has only received minimal attention. Here's hoping that the slight shift in direction on Movie Theatre Haiku brings it to him.
For those interested in the origin of the title Movie Theatre Haiku, Robley's concept is quite interesting. Since haikus are meant to be small-scale observations that are later imaginatively interpreted as a microcosm of something much bigger, Robley wondered what it would be like to place a haiku author in a place where one's individual imagination is useless: a movie theatre. If the author was then asked to write a haiku, Robley believes that "the poem would most likely begin with a wide angle on the world and then shrink, in the end, to something constricted and banal." This is the basic theme that the album toys with: an individual without the proper environment to stimulate their imagination will be a stuck in a world that is confined to four walls and filled with darkness. "The characters in each of the songs on Movie Theatre Haiku are all lost in this kind of confined space," Robley explains. This concept of ignorance is reinforced on several songs, particularly on "My Life in Film Festival (haiku #1)". "You found him selfish and dim, like all men who dwell within their own minds," Robley sings with his distinctive croon, sounding like a more emotive Elliott Smith over a twinkle of keys and procession of whistles. Similar sentiments are spoken on "Solipsist in Love", where he proclaims that "it's hard to believe things existing outside of my head." That he manages to interconnect each song with such a relatable theme is impressive, but not as impressive as the development of each song in general.
The album's opener, "A Memory Lost at Sea", immediately shows listeners that Robley has successfully made the transition into a more accessible, livelier sound that has benefitted from better songwriting, a wider arsenal of instrumentation, and a style that remains cohesive throughout. The piano ballads, acoustic charmers, brassy anthems, and electronic additives are all separable in a sense, but they all remain within the world of pop music since they have evident hooks, consistent structures, and a durable appeal. "A Memory Lost at Sea" fits in more with the brassy anthems, seeing Robley and Rachel Taylor Brown ask, "What happened to my baby? Where has my baby gone?" during a chorus of epic proportions. Mandolins, saxophones, and a very diverse rhythm section make up the majority of this track as Robley goes from whispering verses to the highly expressive chorus. Once the chorus hits though, most listeners will be hooked and will not stop listening until the album's conclusion (a wise choice considering the amount of good stuff on here). The same can be said for a track like "My Life in Film Festivals (haiku #1)", where once again a soft-spoken chorus evolves into something grandiose and explosive, this one with roaring guitars instead of mandolins. That it is debatable whether howling anthems like "A Memory Lost at Sea" are more successful than a devastatingly beautiful ballad like "Premiere" is part of the strength of Movie Theatre Haiku, as the album somehow juggles between stylistic diversity and cohesion to find a perfect meeting point. I wrote it 17 months ago and I will write it again: Listen to Chris Robley!
——————————————————————————————
Chris Robley & The Fear of Heights – A Memory Lost at Sea

[audio:http://mineorecords.com/mp3/crobley-ame.mp3]
——————————————————————————————
Chris Robley & The Fear of Heights – Premiere

[audio:http://mineorecords.com/mp3/crobley-pre.mp3]
——————————————————————————————
Chris Robley & The Fear of Heights – My Life in Film Festivals (haiku #1)

[audio:http://mineorecords.com/mp3/crobley-myl.mp3]
——————————————————————————————
Mike Mineo
I'm the founder/editor of Obscure Sound, which was formed in 2006. Previously, I wrote for PopMatters and Stylus Magazine. Send your music to
[email protected]
.