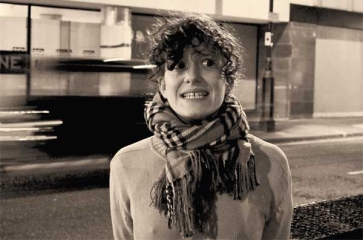 Eccentric personality traits can be quite glaring upon meeting a new person. For me, whether they are artistically focused with a plethora of innovative ideas or radically opinionated to an intolerable extent is often what separates creativity from pretentiousness. Similar qualities can be found in music, a field where success is often driven by these original ideas that may be considered eccentric or bizarre. The same can be said for the majority of arts, as few can find success with entirely conventional ideas after a type of art form has existed for over hundreds of years. Upon listening to her music, it is prevalent that Mica Levi values unconventional ideologies to an audibly unavoidable accent. Her musical interests have always been geared toward pop music for the most part, but the eccentric nature of her songwriting and personality has made for an odd pairing with perhaps the most straightforward genre in popular music. Like experimentally pop-minded contemporaries in the vein of Xiu Xiu or Animal Collective, Levi's specialty lies in crafting songs that are unpredictable and unconventional without being overly inaccessible. When experimentation goes awry and inventiveness begins to border on pretentiousness, the lack of substance in a song can make it unlistenable. Levi does more than just make it listenable; she makes her one-of-a-kind style fun and constantly engrossing.
Now under the alias of Micachu, Levi has been building up buzz ever since her teens. She was acquainted with music early on, as her place in a musically adept family saw her writing songs before age ten. Her scholastic career was rooted in several distinguished art schools in her native UK, primarily dealing with the study of composition at the Guildhall School of Music and Drama. Around this period of study, she began to take the fast track to acquiring experience after she was commissioned to write a composition for the London Philharmonic Orchestra (which they played last April). She was not just honing her songwriting skills either, as Levi was also gaining recognition throughout London as a DJ and creator of a prominent mixtape, Filthy Friends. Looking to pursue the oddball variety of pop music that she had always envisioned, she proceeded to form a backing band called The Shapes before signing to Accidental Records. "Lone Ranger" was her debut single upon its release in May, while "Golden Phone" shortly followed in August. The singles achieved glowing reviews from local publications like The Guardian and Time Out, both lauding Levi for her elaborate ability to utilize unorthodox methods of production, instrumentation, and structural presentation while remaining instantaneously enjoyable.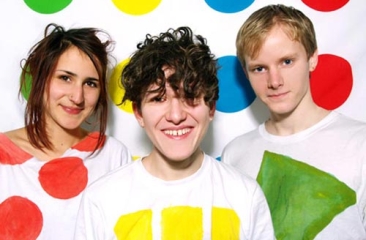 When one can make the irritating sound of a vacuum sound fresh and engaging, you know there is a talent to be found. It is not the most startling thing in the world to find music comprised of field recordings or everyday sounds, but when an artist is able to transform the generic sound of a household appliance into something melodic and pop-oriented, it is something special. It does not stop there, as in addition to vacuums and household appliances, Levi has toyed with everything from glass bottles to homemade concoctions like the "chu", a modified guitar that is played with "hammer action", and a bowed instrument that she made out of a CD rack. Her debut full-length, Jewellery, contains 13 tracks that demonstrate Levi's ability to juggle different homemade instruments with guitars, an assortment of synths, and a variety of inventive rhythm sections. Sure, anyone could throw a bunch of weird instruments on top of one another, but what makes Levi's debut so special is her ability to infuse them so cohesively that the sounds of the "chu" or household appliances sound like they belong exclusively in her unique style of pop music. It also helps that the album is produced by Matthew Herbert, someone with few contemporaries ahead of him in the world of successful music experimentalism and top-notch production. When combined with little structural consistency, the sharp production and factor of unpredictability make Jewellery a unique ride that most open-minded listeners will never wish to end.
To get someone interested in an artist, I often find that showing them the artist's most accessible song is usually effective, even if it is not their best. In the case of Micachu, there is no specific song that one may call her most accessible, as Levi's focus is clearly and enjoyably that of crafting songs that appeal to both innovation and DIY dexterity, even if it sacrifices conventionalism in the process. "Golden Phone", though, is a nice representation of Levi at her best. While the variety of synths, guitars, and percussion make this one of her more instrumentally conventional efforts, her vocal and structural approach is just as ambitious as experiments like the squeakily engaging "Just in Case" or the No Age-like appeal of the jagged guitars in "Lips". She has a tendency of placing warbled guitar progressions under a plethora of twinkling synth lines, chopped up vocal samples, and sound effects; tracks like "Golden Phone" and "Just in Case" are both straightforward representations of this that should ease the listener into Levi's stylistic realm.
In Levi's case, it also helps that her vocals are quirky enough to make it seem as if she was born to experiment. Like a cross between Karen O and Mirah, she makes the best of her unconventional tendencies by encompassing a voice that feels right at home under a bustling array of otherworldly instrumentation. Check out "Eat Your Heart" for Levi's vocal delivery alone. When she reaches a near-yodel when proclaiming, "'Cause I could eat your heart," over a multitude of guitar progressions and sporadic synth lines, the importance of Levi's uniqueness is prominent. So many pop artists tackle their songs with a radio-friendly approach that makes their material tiring. After listening to Jewellery, it seems as if the world could benefit from a few more songwriters like Levi, whose aim is not to climb the charts but rather to create something that has truly never been done before.
——————————————————————————————
——————————————————————————————
——————————————————————————————
——————————————————————————————