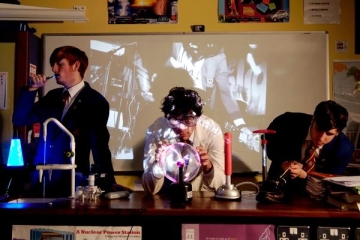 Seeing a rock band take the stage without a drummer can be like watching an artist try to paint without a canvas. The ideas and talent can be there, but the necessary materials may not be. Many groups have accomplished enough without the use of a bass, guitar, or vocals, but percussion is an element that is too unique to be mimicked or replicated without the use of technology. I was just reminded of the complications involved in missing an instrumental component last week when I featured The Mint Chicks, a New Zealand-based act that had to cope with the absence of their bassist after moving overseas to Portland. They conquered this obstacle by having guitars incorporate low-pitched, bass-like notes on their tracks, and they did so in such a meticulous manner that most listeners would be unaware of the absence. The case is less common for the absence of a guitar, but there are several artists like Ben Folds, Death From Above 1979, and The Dresden Dolls that have done just fine by using a mixture of keys, bass, and percussion to create a signature sound. Percussion is where it gets tricky though, as practically everything apart from classical pieces, ambient music, and a jazz solo here and there seems to utilize percussion prominently, regardless of how complex or simplistic the accompaniment is.
It has become somewhat customary for electronic artists to hone their percussive skills through technological means, even if their ability to play a real-life drum kit is limited at best. Some look upon this as a shameful practice, but I see little difference between that and hiring a drummer to put one's songwriting into audible form. In fact, if one is able to construct unconventionally appropriate percussive beats in the realm of electronica like Junior Boys or Kelley Polar, it often sounds better than using a typical drum set. The allure of live percussion may be taken away, but some styles and songs within them utilize technological progression better than others. If rock bands were to utilize this technological approach though, the results would likely be catastrophic due to the flexibility that the genre demands on all instrumental fronts. Apart from their sheer melodic ability, one of the most impressive things about Two Door Cinema Club is how they appear to be defying such stereotypes with their crisp interpretation of indie-rock. The Northern Irish trio have enough slick guitar progressions, subtly infectious bass lines, and amiable vocal harmonies to come across as any first-tier indie-rock group, which should make their percussive absence surprising to any listener that is treated to their flavorful sound.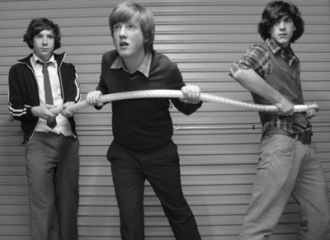 That three individuals craft such a memorable style with the aid of laptop-based percussion is impressive in itself, but the fact that their impressive songwriting and emphasis on production capitalizes on the percussive absence is what separates Two Door Cinema Club from many of their indie-rock contemporaries. In addition to being the lead vocalist, Alex Trimble is classified as the beat-maker with his percussive chops, even if his experience with drum kits is limited. Thanks to his astute ability – in addition to bassist Kevin Baird and guitarist Sam Halliday – Two Door Cinema Club end up sounding just as refreshingly infectious as groups like Phoenix, French Kicks, and The Whitest Boy Alive. Such acts exemplify a recent trend in indie-rock, which incorporates a wider embracement of electronica and dance. To be specific, Two Door Cinema Club's incorporation of electronic music echoes the sentiments of Phoenix's recent material, especially with the fast-paced and ambidextrous vocals of Trimble. Although the hazy synth washings of "Do You Want It All?" suggest a capacity for balladry, Two Door Cinema Club's half-a-dozen or so released songs are often excitable with quick tempos and swift vocal accompaniments. This remains consistent throughout all of their songs, a steady indication that their eventual full-length debut will be something that attracts a significant amount of attention.
Two Door Cinema Club's new single, "Something Good Can Work", is also indicative of their probable success As their most polished effort yet, "Something Good Can Work" was the first track I heard from Two Door Cinema Club and I was hooked after the initial listen. What may initially appear to be a fusion of Modest Mouse's swift angst-rock sensibility and Phoenix's undeniable ability to craft a devastating indie-rock hook takes on its own original form upon repeated listens, as the trio's talents evolve with each brilliant chorus. Although the guitar progressions and drum loops barely stray from their initial roots, the subtle melodic additives in the chorus alongside Trimble's heightened pitch makes the single both danceable and incredibly radio-friendly. Knowing that their percussive capabilities are limited, the emphasis on guitars and bass are highlighted enjoyably, resulting in multiple layers of melodically invigorating progressions that supplement one another in natural and inventive form. For "Do You Want It All?", Death Cab For Cutie's tendency to originally incorporate indie-rock and electro-pop come to mind, but the lighthearted demeanor of the track once again places it in the realm of instantaneous enjoyment that only comes so naturally for Two Door Cinema Club.
"Hands Off My Cash, Monty", while less impressive than the two preceding efforts, is worthy enough for the trio's ability to simultaneous incorporate a vast array of guitar progressions. The approach is similar to late '90s indie-rock, particularly in relation to The Wrens and Broken Social Scene, but suffers from repetition despite a handful of satisfying ideas throughout. Considering that it is offered as a free b-side though, it is not surprising that it cannot stand up to "Something Good Can Work." For further indication of quality Two Door Cinema Club, check out the two songs on their MySpace, "Cigarettes in the Theatre" and "Undercover Martyn." They both benefit from the excellent approach exhibited on "Something Good Can Work", which was a devilishly good incorporation of electro-pop and indie-rock. Since Phoenix and the like are finding such success with similar styles, one can expect the fantastic songwriting of Two Door Cinema Club to carry them to great heights. Now all we have to wait on is the full-length debut, which the trio promises is in the making. At the moment, they are shooting for a release date of late 2009 or early 2010.
——————————————————————————————
Two Door Cinema Club – Something Good Can Work

[audio:http://mineorecords.com/mp3/tdcc-som.mp3]
——————————————————————————————
Two Door Cinema Club – Do You Want It All?

[audio:http://mineorecords.com/mp3/tdcc-doy.mp3]
——————————————————————————————
Two Door Cinema Club – Hands Off My Cash, Monty

[audio:http://mineorecords.com/mp3/tdcc-han.mp3]
——————————————————————————————