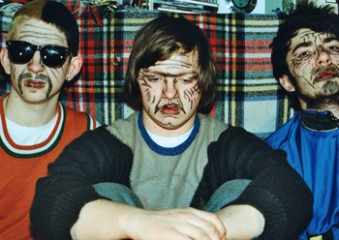 Calling a song "I Wish I Was in Hüsker Dü" seems pretty customary for a high school band. Maybe not today, but we can be sure that high school in the mid-'80s consisted of many kids that would give up their newest cassette player to be in Hüsker Dü, R.E.M., or any other successful alternative-rock group of the era. Music-related dreams like these inhabit the minds of many artistically inclined high school students, as the end of high school generally marks a point where they must decide whether pursuing music full-time is realistic or not. I do not refer to respectable but somewhat conventional tasks like working as a session musician, music teacher, or music journalist, but instead that dream of rock 'n' roll stardom that has predominantly existed since the '60s among youths exposed to media. Nowadays, this sentiment seems to be replaced by a desire to scream voraciously and wear tight jeans, but that is a whole different story in itself. That Let's Wrestle would name one of their early songs "I Wish I Was in Hüsker Dü" suggests an immediate influence, not so much directly in regard to Hüsker Dü but rather the era they resided in. Picture a surprisingly effective high school band in the 1980s and you will likely have something that sounds like Let's Wrestle, a London-based trio that invokes nostalgia and a DIY ideology without lacking in stylistic originality or captivating songwriting.
Listen to Let's Wrestle for about one minute. Which adjectives would you use to describe it? I imagine that a handful of critics with a nearing deadline would use words like "sloppy" or "awkward", which is perfectly acceptable if you are a listener that judges a song by its first minute or so. Those with patience, though, will be rewarded unexpectedly and quite memorably. What is so enjoyably unique about Let's Wrestle is how they exploit this sound of throwback '80s garage-rock, surprising listeners with an outstanding flurry of hooks after either opening up clumsily or showing little attempt at innovation. This always turns out to be highly intentional though, as the intricate components of the tracks are exposed after several studious listens. Much like their '80s alt-rock influences, Let's Wrestle deliver a very raw sound that triumphs over its non-polish with solid songwriting, passionate performances, and clever hooks. Being in a high school garage band in the '80s was hardly a unique or innovative thing to do, but Let's Wrestle's implementation of alt-rock, post-punk, and psychedelia make such a scenario appear desirable because it reminds us of the days when a song did not need over-production and star power to get airtime on a prominent radio station.
Like any band indebted to the engaging force of '80s alternative-rock, Let's Wrestle do have lyrical substance under their addictively concise melodies and the deep, nearly slurring vocals of Wesley Patrick Gonzalez. His vocals usually sound as if he is recovering from a very severe hangover, a very personable delivery that associates well with Let's Wrestle's grainy mixture of guitars, keys, and rhythm. Their music formula, Gonzalez's vocals, and their lyrical content all result in something extremely relatable. In other words, they are the best modern group I have heard that can pass off sounding like a '80s garage-rock band. The relation to high school is distinctively reminiscent in their ardent depiction of a popular genre and the adolescent compatibility of their music For their youthful audience, it only makes sense that most of the lyrics on Let's Wrestle's full-length debut, In the Court of the Wrestling Let's, involves everything from coping with lost loves to putting on the tea kettle. The latter is covered in "My Schedule", a steadily trippy journey into a droll life inhabited by routine bouts with errands, forgetting to put the tea kettle on, and coping with lost love. "I wish that you'd call me but you don't call at all," Gonzalez says plainly, only to prepare the listener for the prevalent emotions that follow. When he beckons for the object of his affection to call him, Gonzalez's voice strains and he begins to choke up. The emotion presented here seems genuine, and under the hazy reverberations of organs and whirring guitars it is an extraordinary moment that summarizes Let's Wrestle's explosive potential.
The serene woo-ing of the backing vocals in "My Schedule" are sure to send chills up most spines, displaying a side of Let's Wrestle that is slower in tempo and more gradual in approach than most of the material presented on their 2008 EP, In Loving Memory Of. "My Arms Don't Bend That Way, Damn It!" and "Tanks" show their post-punk leanings more, resulting in bustling rhythm sections and hooks . Check out the excellent bass line in the excellently paced "Tanks", an excellent track that blends late '70s post-punk with modern art-rock. It sounds as if The Jam and Arctic Monkeys were somehow fused together, complete with Bruce Foxton's irresistible bass lines and Alex Turner's straining vocals. Gonzalez's tone is deeper than Turner's and most other artists in the genre, so it creates some pretty spectacularly unique moments like on the minimalistic "Diana's Hair", where Gonzalez seems to recall vintage Brit-pop with marching band percussion, a patriotically anthemic chorus, and an effective vocal delivery that uses his British accent to its full capacity. The melody here is delightfully bouncy, appearing as something Jarvis Cocker or Damon Albarn might have done during the late '90s. And although shades of Brit-pop, post-punk, and art-rock appear throughout the album in sporadic doses, In the Court of the Wrestling Let's is predominantly an ode to the diversity that quality '80s alternative-rock exhibited. And because of that, with their original hooks and stylistic variations, Let's Wrestle's full-length debut proves to be an eclectic release that finds a rookie band in the rare position of being fully confident and prepared for their stylistic direction, whichever way that might be.
——————————————————————————————
——————————————————————————————
——————————————————————————————
——————————————————————————————