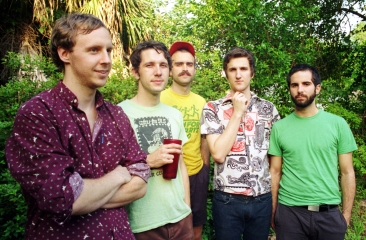 Nathan Pemberton refuses to abide by the DIY stereotype. He records in his Florida garage with an economical home studio, which supplies just enough firepower for him to make his innovations come alive. But despite the allure of lo-fi minimalism that comes attached with these modest circumstances, Pemberton is pursuing the most majestic sound possible in accordance to his personal repertoire. He is a multi-instrumentalist in the truest sense, using his experience with a multitude of instruments to encompass his material in its entirety. There are few collaborators to be heard, only the ideas of Pemberton and his five friends/roommates as they flow gracefully in a mixture of epic jams and dreamily intricate indie-rock. They go under the alias of Holiday Shores, a name that will certainly be reputable by year's end. Hip-hop, punk or metal, and lo-fi pop have always seemed to be the easiest to tackle with a home studio due to their respective forays in sampling, tremolo riffs, and bare minimalism, but Pemberton, Holiday Shores' songwriter, seems to have crafted a winning combination with doses of heartfelt pop nostalgia and contemporary indie-rock wizardry. He possesses the ambition of a jam band or post-rock experimenters, all while retaining the pop sensibilities that fellow genre-mashing contemporaries like Sunset Rubdown and Deerhunter have flawlessly exhibited throughout the past several years. But do not overly associate Holiday Shores with these acts. After all, their greatest strengths are in their own ideas, not the inspiration of others.
Being seemingly aware of your past and present is simply one of Pemberton's strengths, as concocting an original sound from a variety of influences is not the only ingredient required for success. Songwriting and flow are both elements that are overlooked by many groups new and old, not necessarily because they disvalue it but because it is so difficult to combine great and captivating songwriting with a sound that is entirely your own, whether it derives from past successes or not. Pemberton accomplishes this tricky venture with rare precision, making the best of his garage studio to unveil his enigmatic voice and compositional prowess in a manner that should mark Holiday Shores as one of 2009's breakthrough acts. Pemberton's pop sensibilities often result in songs barely exceeding four minutes, but both his capitalization of minimal resources and extremely impressive grasp of several instrumentals combine for unconventional endeavors that make four-minute efforts feel epic in the best way possible. For instance, the sputtery "Days Drag" uses the echoes of guitar distortion to craft an initial feeling of rough-edged repetition, only to be beautifully complemented by a twinkling bundle of keys. The transitional phases that this song encompasses, like many others on its album, are always one step ahead of their subsequent outcomes, resulting in an album full of replay value.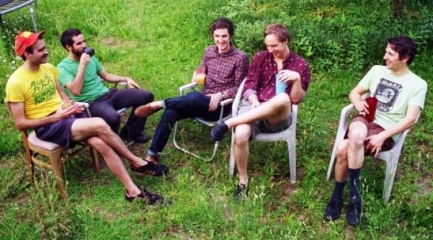 On Holiday Shores' debut album, Columbus'd The Whim, the initial development always turns into something extremely gratifying and precise, like the keys in "Days Drag" or the evolution of muffled percussion into expansive hi-hats in "Tremor Rolls the Peak". These turns are unexpected, but Pemberton's strong pop ties often make the ideas sound extremely appealing after the second or even first listen. A beauty like "Edge of Our Lives" requires only a few minutes to recognize its brilliance though, sounding like the perfect mash of a lost '60s classic and today's indie-pop breeziness. I would be surprised if it is not a college-radio favorite by year's end. Between Pemberton's tranquil voice, the interweaving guitar arrangements, and explosive hook that the chorus crisply generates, this is a surefire accomplishment in every regard. That it is difficult to spot the hook I am referring to is part of the song's allure; there are so many different methods of achieving melodic greatness here that describing only one is an injustice. There also seems to be a slight undertone of jazz in the use of keys and guitar, again beckoning to jam bands of the past and their tendency to unveil pop hooks under an intricate cast of evolving instrumentation. This may be one of the album's more accessible tracks, but there are few that show the group's apparent high level of musicianship as well.
Comparisons, as I mentioned before though, are a bit extraneous in regard to Holiday Shores, as so many influences can be found in their sound that it eventually becomes influentially indistinguishable. However, as a songwriter and vocalist, Pemberton seems to recall the ingenious ability of Tom Verlaine most vividly. Like many up-and-coming indie-rock acts these days, the work of Verlaine and Television is a strong influence in Pemberton's sound. This is most notable in his songs' ability to evolve into full-scaled epics, usually with the innovative pushing of a particular instrument (most often in a soaring guitar solo or trickle of keys). He also emits a similar croon, finding a warm place between nasally elegance and brittle yelps over series of concise guitar progressions and hectically implemented keyboards. It all depends on the track though, as Columbus'd The Whim is so enthused with its own ambition that it achieves greatness on its innovation alone. But considering it IS a pop album at heart, the stellar songwriting of Pemberton certainly helps the cause. Both fans of modern indie-rock and nostalgic pop music will likely embrace Holiday Shores because of this, not only because it can remind them of their favorite bands, but also allow them to discover a new one in the process. I consider Columbus'd The Whim one of this year's must-haves. It is an enormous accomplishment for any album, making its status as a debut album that much more impressive.
——————————————————————————————
Holiday Shores – Edge of Our Lives

[audio:http://mineorecords.com/mp3/hshores-edg.mp3]
——————————————————————————————
Holiday Shores – Tremor Rolls the Peak

[audio:http://mineorecords.com/mp3/hshores-tre.mp3]
——————————————————————————————
——————————————————————————————