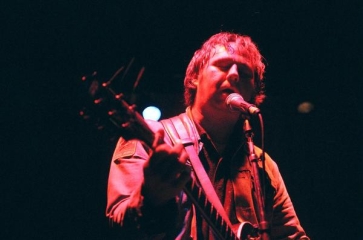 An all-or-nothing mentality is often applied toward the music industry, disregarding any possibility of a middle status whatsoever. An artist achieves success from an album or project that will be forever associated with their name, or they falter entirely and begin to pursue a more menial occupation. It would be simpler if this was the case, but thankfully it is not. While admittedly being correct most of the time, what this mentality lacks is a regard for those content with simply releasing their music in any format possible and attaining a generally local cult following in the process. There are always obstacles that prevent quality music from leaving this localized following, mainly having to do with a project being disbanded too early or the inability of the artists to properly focus on the small things (promotion, show frequency, financial constraints, etc.). In Greg Cartwright's case, the Memphis native has always been a beloved musical figure in Tennessee. His music has been circulating since 1990, when he was barely out of high school. Since then, he has fronted several projects and worked with dozens of artists, both as a songwriter and producer. Perhaps focusing on one project does not sit well with Cartwright's tireless work ethic, as there is little else to attribute his rampant transitioning to. As a result, he is hardly a household name across the nation, but anyone who has listened to his music tends to spread the word quickly, including fellow musicians Steven Van Zandt and Pelle Almqvist. But for someone with such a practiced ideology and cult following, it is impressive that Cartwright's best days still seem ahead of him. His discography continues to suggest he gets better with age and Cartwright's newest album coincides with the trend.
Now, when one thinks of a 20-year-old in the early '90s and the influences that steered them the past several years, you can either assume cheesy '80s music or some of the finest, although overlooked music of the era. The latter was often frequented by acts specializing in new-wave and garage-rock, making the sound of Cartwright's early material not too surprising. With Memphis native and longtime collaborator Jack Yarber at his side, the two formed several garage-rocks throughout the '90s that included The Painkillers, The Compulsive Gamblers, and The Oblivians. The Painkillers was one of their earlier attempts, later evolving to The Compulsive Gamblers after a full band was assembled. This group released a single as early as 1992, and released their debut album, Gambling Days are Over, in 1995. Geographical constraints among band members forced the group's break-up in 1995, but Yarber and Cartwright continued with The Oblivians. Continuing with a concisely excitable vein of garage-rock and power-pop, The Oblivians released several albums until Cartwright released a solo album in 1997. Ironically enough, this brought him back to his roots when a cameo by Yarber prompted a re-formation of the Compulsive Gamblers. They proceeded to release Bluff City and Crystal Gazing Luck Amazing in 1999 and 2000, respectively. The Compulsive Gamblers disbanded permanently by 2001, but the disbandment of one of Memphis' favorite acts paved the way for Cartwright's best work yet.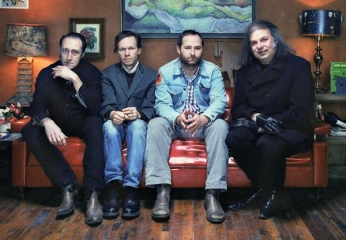 Cartwright initially designed his current project, Reigning Sound, as an output for songs that he deemed too melancholic, emotional, or stylistically uncharacteristic for The Compulsive Gamblers and The Oblivians. As a result, the group's 2001 debut, Break Up… Break Down, encompassed many unreleased tracks. While many of them were written during the same period as certain projects, Cartwright's songwriting ability is too complexly impressive to distinguish the period of each one. Sure, The Oblivians had a sound of distorted angst that contrasted slightly to The Compulsive Gamblers' more approachable mixture of power-pop and garage-rock and any follower of Cartwright or Yarber could easily distinguish between the two, but Reigning Sound is a project whose differences are incalculable by simple stylistic boundaries. After moving to North Carolina in 2004 after the release of Too Much Guitar, Cartwright's songs now find themselves dealing with common romantic issues like unrequited love and break-ups, but he tackles them with an innovative precision that often sees the subtle aspects of a decaying human relationship become magnified. Rather appropriately, this also signals a slight stylistic change for Cartwright; he has moved to a more distinctively throwback interpretation of garage-rock, using R&B as a driving force to implement wailing organs, slick guitar solos, and a sonorous voice that reminds us of the importance in having a quality frontman in the '60s and '70s.
The most beautiful thing about Reigning Sound's third album, Love and Curses, is how it so gracefully manages to blend past and present, resulting in a brilliant presentation that shrouds infectious pop songs in meaningful lyrical content, resourceful song structures, and a touch of eclecticism that involves both R&B and punk. There are two songs on the album that exceed three minutes, which also means that these efforts present their allure quickly and naturally. Unlike many other garage-rock groups though, this efforts come across more like epic sprawls than quick, relentless bursts of energy. One reason for this is the diversity of Love and Curses. "Broken Things", with its fuzzy distortion and wailing organ, clearly channels the R&B influence heard throughout the album. It also proves that Cartwright's voice is absolutely perfect for this sort of thing, its flaws and occasional coarseness adding to the throwback allure of it all. His voice is crisp and receptive toward several of the track's hooks, but perhaps the most spectacular element is how it seamlessly juggles modern indie-rock swiftness with rough-edged nostalgia. Take a listen to it and you will be seeing visions of the past and present in their best musical forms, a treat that more than one song on Love and Curses can offer.
"Trash Talk" is indicative of the Reigning Sound's somber leanings, using a similar repertoire of organs and guitars to effectively build stellar hooks and sincere lyrics. "The Bells" adds a bit of keys to the usual mix; the chord changes among the hurried keys are particularly reflective of Springsteen's early works (by the way, Little Steven proclaimed Reigning Sound as one of his favorite bands in 2004). "If I Can't Come Back" and "Debris" are clouded in distortion unlike the bulk of Love and Curses, but the latter is particularly powerful with a chorus that truly shows how the authentic emotion in Cartwright's voice can make a track gold on its own. This one is actually a bit reminiscent of The Hold Steady with its fusion of garage-rock and adulterous victimizing, but Cartwright possesses a more powerful voice than Craig Finn, even if it is less polished and unconventionally spectacular. The album concludes with "Banker and a Liar", a very narrative song that sounds more like The Decemberists with its accordions and medieval feel. Odd to say the very least, but it packs the same punch as all the others on this spectacular album. And what an accomplishment it is; all 14 tracks are worth the listen and I would write something positive about each of them if sleep was not a necessity. But here is something that I can write concisely and definitively: After nearly 20 years, Cartwright has finally found solace in consistency, making Love and Curses arguably the best release of his stoic career.
——————————————————————————————
——————————————————————————————
——————————————————————————————
Reigning Sound – Broken Things

[audio:http://mineorecords.com/mp3/rsound-bro.mp3]
——————————————————————————————