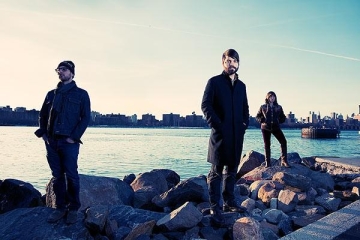 On the heels of next week's CMJ festival in NYC, Tim Williams is exemplary of the local favorites you are bound to find there. The Brooklyn-based songwriter caught one of his first breaks at CMJ in 2004, shortly after his debut Tales of Digression, and has been riding the wave ever since. Employing a very formidable style of indie-pop, Williams' mixture of slick guitar riffs, inventive chorus-based hooks, and ardent vocals with the occasional yelps and grunts should cater to fans of Phoenix, Ben Kweller, Danielson, and Modest Mouse. His sound has a very contemporary feel to it, due in part to the continuous sense of capriciousness that his caressing vocals and versatile guitar work collaborate to produce. As a result, Williams has always been one or two hits away from holding a similar status as these major players. He has always enjoyed little more than local success though due to his past two album's lack of exposure and focus. Their primary gratification was the demonstration of potential rather than fully embodied talent. The songs on Tales of Digression and its 2007 follow-up, When Work Is Done, sometimes appeared rough around the edges or devoid of focus, but what they did have was an imaginative premise with expertly integrated hooks. Cohesiveness was simply the final ingredient that Williams was missing to formulate his success.
Williams' third album, Careful Love, continues the artistic maturity that its predecessor, When Work Is Done, showed off so impressively. It is not that Williams is particularly groundbreaking or stylistically inventive; his style of indie-pop should sound familiar to anyone with an ear or two. Instead, it is what he makes of it that is so worthwhile. Listening to snippets of any given track probably will not convince anyone of his artistic merits, but what a full listen of Careful Love exposes is a sensibility that is rare amongst most contemporary pop songwriters. There is a sense of virtuosity here, which in itself is a commodity since the respective genre is one where playing it safe is often advised. Williams does a little bit of both on Careful Love, mixing imminent college-radio favorites like "I Hit Another Wall" and "Oceans" with more avant-garde efforts (at least for the realm of indie-pop) that explore varying tempos, deliveries, and styles ranging from the dab of funk in "Ozone Street" to the electro-industrial influence of the rhythmically inclined "Right All Along". When these are supplemented every other track or so that instead contain breezy, carefree indie-pop that requires little attentiveness to enjoy, it finds a nice middle ground between overly accessible indie-pop and intimidating avant-garde.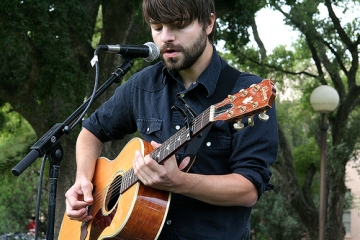 That Careful Love falls into neither category as a cumulative effort is a feat that his previous two albums did not accomplish, though When Work Is Done came close to doing so. Williams wrote this most recent effort after he successfully underwent open-heart surgery in May 2008, wasting no time after getting out of the hospital in writing tracks that packed more sincerity and expansiveness than before. One of the reasons for this expansiveness was the addition of a full band, which make their appearance on Careful Love in fantastic form. Where previous efforts would find Williams strumming his acoustic guitar with little to no accompaniment, the heightened sense of collaboration on Careful Love also attributes to the stylistic ambitiousness that the release portrays. "Stilts" is another nice example of Williams' inventive indie-rock, utilizing the sounds of a sliding electric guitar and reflective arpeggio as Williams . This particular vocal technique is done throughout the album, with yelps or whoo-hoos making apt appearances on entertaining choruses that also include "Right All Along", the orchestral dramatics of "I Want to Die in California", and "Oceans". The latter is so serene that it almost becomes reminiscent of Coldplay with its melancholic keys or Little Joy with its bright guitar chords. The title implies relaxation and the composition strongly enforces that carefree ideology with a brisk melody and flourishes of tropical bliss.

Another interesting cut on the album includes "I Want to Die in California", a genuinely touching closer that reminds me of David Vandervelde's fantastic debut, The Moonstation House Band. In that album he juggled grandiose orchestral-pop with the likes of indie-rock and glam-rock, resulting in something both nostalgic and groundbreaking. This effort is quite similar, finding Williams converting his classically soothing indie-pop croon to one with a western-ish twang. It feels particularly old-fashioned with its natural pianos and strings on an album that is primarily led by guitars and electronic tweaking, but that is also part of its allure. He finds himself singing in the vein of Dennis Wilson, who was able to turn the simplest pop songs into awe-inspiring achievements of emotion with his vocal and songwriting talents. A songwriter like that is perfectly justifiable for comparison, as Careful Love shows an artist who is just beginning to recognize his own emotive skills. Williams' songs have resulted in an album that will be looked back on as the commencement of Williams' most prominent growth as a songwriter. When he takes the stage at CMJ this year, audiences that saw him five years earlier will likely drop their jaws at this guy's improvement. He is still showing heaps of potential, but he has durable quality and consistency to back it up now.
RIYL: Phoenix, Ben Kweller, Danielson, David Vandervelde, Modest Mouse, Dennis Wilson

——————————————————————————————
——————————————————————————————
Tim Williams – I Want to Die in California
[audio:http://mineorecords.com/mp3/twilliams-iwa.mp3]
——————————————————————————————
Tim Williams – Right All Along
[audio:http://mineorecords.com/mp3/twilliams-rig.mp3]
——————————————————————————————