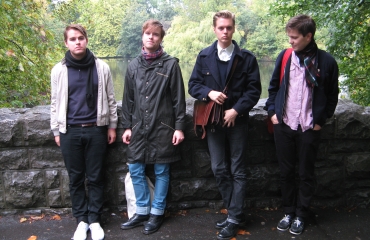 Music is one of the few ways we can revisit the past through our senses. Listeners tend to eternally place themselves in a particular emotional or social location after hearing a song, and this consequently creates a memory or impression of sorts that is often indescribable in words. It can only be accurately relayed as a series of subjective personal emotions. When we hear that specific song several years after our first listen, that emotion is bound to occur again. Whether through mere hypothetical remembrance or direct action, the impact a song or album has on us is never forgotten. In addition to audible and visual reception, taste can certainly allow this as well. The smell of warm cookies is often interpreted as homely and receptive because we often correlate it with our mothers' tireless dedication. Songs are remembered similarly, although more subtly of course. Defined by popular culture as much as our own experiences, this instilled nostalgia can be both a positive and detrimental entity in artistic criticism. For example, comparing an artist to The Smiths has been commonplace this decade since their influence has been growing unarguably across several genres. But wherever there is a heralded artist, the existence of criticism is also imminent. Melodramatic, linear, and gimmick-y are a few words that have been used to criticize The Smiths before, so one could assume their prevalent followers would inherit the same critics and explanations for criticism, right?
Cats on Fire are one of the few groups alive that deserve individuality in this sense. They take listeners back to mid-'80s Britain with familiarly clawing jangle-pop, led by a witty vocalist that sounds part operatic and part maudlin balladeer in his somber and quivering delivery. Their familiarity to certain jangle-pop legends are evident by now, we get the point. For this familiarity to negatively impact the band's work, though, would be an absolute crime. This is simply the music they grew up on, and for once within the stream of new artists it has nothing to do with image or commercial appeal. They obviously are going to be attractive to the hordes of Smiths fans, but this demographic is hardly their only one. Cats on Fire encompass a rare form of sincerity that should appeal to fans of outstanding pop music in general, plain and simple. Morrissey, Felt, and the Go-Betweens all show up for a cup of tea at some point throughout Cats on Fire's second full-length, Our Temperance Movement, but none stay and chat for too long. The treatment of their influences can be integral in determining whether an artist prefers to imitate or innovate, and tending to such obvious artists more out of respect than imitation is how Cat on Fire's evident growth in maturity is demonstrated on Our Temperance Movement.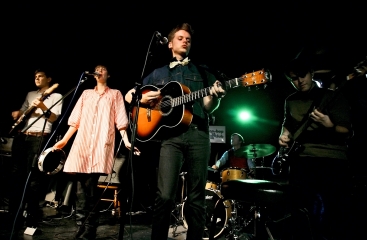 Although there remains enough variation in tempo and tone throughout to compensate for a rather straightforward delivery of jangle-pop gems, some influences do stand strong. "Lay Down Your Arms" is more distinctively borrowing from The Smiths, playfully reminding us of Johnny Marr's little skiffle in his acoustic arrangements and Morrissey's witty musings on disappointed impressions. "I guess the city people never liked my pen, so it's back to scenic pastures once again," Mattias Björkas sings, continuing the album's theme of emotional and geographical relocation in response to the perils of consensual disappointment. Our Temperance Movement is a rather apt title in this regard, as the four-piece traverse through a variety of stylistic compositions without ever becoming lost in excess. These are solid and impeccably arranged tracks and their precise songwriting is evident. This songwriting, a virtuous use of arpeggios, and rich melodies are the album's biggest strengths. "The Borders of This Land" is one example of this arpeggiated mastery, which can be a tricky device for pop musicians considering its tendency to run rampantly and excessively. Remember how Aztec Camera's Roddy Frame dropped jaws with his acoustic work on gems like "Oblivious", or how Johnny Marr accentuated Morrissey's sullenly unique voice to the utmost perfection with his arpeggiated chords and interesting tonal production (from simple jangle-pop to the the oscillating overdubs and slide guitar in "How Soon Is Now?", for instance).
The guitar work on tracks like "The Borders of This Land" and "The Steady Pace" bring to mind legendary accompanists like these, but acoustics are not the only force at work. Keyboards, as any jangle-pop legend could tell us, can be just as vital. The trickle of keys toward the conclusion of "Lay Down Your Arms", the contagious use of muted harmonics on "Letters From a Voyage to Sweden", or the burst of triumphant awe in "Horoscope" all provide plenty of satisfying variation. "Tears in Your Cup" also makes great use of this key-based accentuation. Although its progressions are merely reflective of the acoustic guitars, the additional pitch creates graceful circumstances for Björkas' amiable delivery. This keyboard-acoustic fusion throughout Our Temperance Movement also reminds me of The Housemartins in their more upbeat approach to the jangle-pop genre, which in my opinion makes a comparison to them more relevant than The Smiths. Although Björkas does speak occasionally of being lowered into the ground, political injustices, and the subjugation of Karl Marx, his morbidity is much more restrained than his predecessors. The group even reaches hints of optimism in tracks like a "Letters From a Voyage to Sweden", a perkily infectious tale of a Swedish-bound cruise-liner filled with adulterers and sexual deviants. While Our Temperance Movement is certainly more catered to admirers of '80s jangle-pop from Scotland and the UK, this Finnish four-piece has produced a modern gem that should open the genre up for others to explore beyond stereotypes (most of which involve The Smiths). It is one of the most charming and genuinely infectious pop releases of the year.
RIYL: Aztec Camera, The Housemartins, The Smiths, Felt, Belle & Sebastian, Field Music, The Divine Comedy, Another Sunny Day, The Field Mice
8.0/10.0
——————————————————————————————
Cats on Fire – The Borders of This Land
[audio:http://mineorecords.com/mp3/cfire-bor.mp3]
——————————————————————————————
Cats on Fire – Letters From a Voyage to Sweden
[audio:http://mineorecords.com/mp3/cfire-let.mp3]

——————————————————————————————
Cats on Fire – Lay Down Your Arms
[audio:http://mineorecords.com/mp3/cfire-lay.mp3]
——————————————————————————————