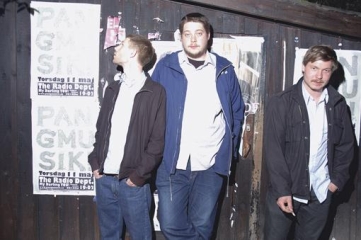 by Mike Mineo
The Radio Dept. are one of the most frustrating groups of the past decade. It has nothing to do with their music, as serene electronica with washes of shoegaze and indie-pop is hardly offensive, but rather the frequency of their releases. For all of their massive followings and critical acclaim since they began releasing music (2002), it is somewhat surprising that The Radio Dept. have yet to attribute a desperate or contrived release to their name. I do not mean this as an insult to the working class of musicians, but pressures and self-imposed obligations often play a role in the creation of works that are not very indicative of an artist's strengths or usual state of mind. If you got that four-star review from Rolling Stone and begin to notice that all your shows are sold out, would you still be inclined to strive for perfection? Or would mediocrity be enough, alongside your growing name and brand, to maintain a cult following (and the consequential profit)? Even if their exposure is more in the "independent" sector, The Radio Dept. have dealt with the hype and acclaim ever since their inception. On a national scale, 2006's Pet Grief really jump-started things for the group, who could have easily followed it up a year later with a middling effort and sold even more sold copies. Clearly though, this band values their long-term future over a snapshot of present time. If not, a group of their stature and talent would not have waited four years for a follow-up to their most popular release.
Internet buzz is abound after the purported leak of The Radio Dept.'s third full-length, Clinging to a Scheme. It is another victim of poor iTunes management after the service made the album, initially due for release on April 19th, available for sale and distribution. Its listing has since been retracted, but it certainly gave fans enough time to grab the ten tracks. It makes one wonder whether or not musicians from all ends of the spectrum – from Lil Wayne to The Radio Dept. – are going to deal with the music giant after yet another premature leak (even if Lil Wayne's Rebirth was so bad that the sooner we removed it from our memories, the better). Leaks on account of a major music firm that signed a contract prohibiting such actions prove detrimental to future marketing campaigns and a band's overall image, theoretically making for a very interesting court case. All this legalistic mumbo-jumbo aside though, this is the first Radio Dept. album in four years and that is probably why you began to read this article in the first place. So I will get to the point: Clinging to a Scheme is an album, that despite its relatively straightforward stylistic path, has managed to invoke plenty of passionate opinions among the band's most dedicated.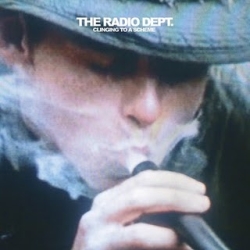 Despite being a band already renowned for both atmospheric production and repeating beauty, The Radio Dept.'s Clinging to a Scheme projects a more ambient and a repetitive feel when compared to its predecessors. There is an obvious fascination with post-punk, as there was on Pet Grief, but here it is more aligned with minimalistic electronic genres like Krautrock and more recent dubstep, which in the past decade has gravitated to a more minimally involved arsenal as opposed to its flexible beginnings (Benga's fusion of dubstep and grime is a nice example of recent developments). The result comes rather seamlessly for The Radio Dept., as this is still distinctively the same band but with more focus on subtle rhythmic additions and gradual emergence of synths. Previously, the working process to obtain melodic beats and clever hooks occasionally overshadowed the atmospheric effect the band was trying to employ. Pet Grief's "I Wanted You to Feel the Same" is the most apt comparison for the material on Clinging to a Scheme, as its intent appears to be atmospheric in nature as opposed to stunning the listener with a series of intricately designed hooks dependent on particular production or ulterior motives. The Pet Dept. are demonstrating that volume is not a factor in determining a song's worth, and there are plenty of tracks with absolutely stunning subtleties that indicate this throughout Clinging to a Scheme.
The album begins rather conventionally with a few extremely accessible efforts in "Heaven's on Fire" and "This Time Around", both of which capitalize upon brisk percussion and chirpy synths that appear contrary to subdued later efforts like the brilliantly moody "Memory Loss". It is amazing how that track manages to send chills up my spine with only minor alterations to production and melody throughout. It could be a single synth-arp sequence or some percussive variation that plays a monumental role. Either way, the decision-making process appears flawless. This is highly reminiscent of classic Radio Dept. in that its subtleties carry it to enormous heights. "Never Follow Suit" is another one of the album's biggest successes for a similar reason, generally taking this minimal-inspired and making it The Radio Dept.'s own. Considering that the main keyboard riff repeats throughout the song, the best ingredient to this track is the gradual accentuation of this repetition. The vocal sample, taken from a graffiti artist touting the self-important worth of his art, resounds brilliantly with the track's theme of commitment to one's self. "You want to, you wanted to, but never dared to," the vocals murmur, glazed behind the usual reverb that accompanies most Radio Dept. tracks. When the melody transitions to a more upbeat scale in its final minute, the propulsion of strings and woodwinds (mainly employed through samples or synths) reminds us how talented The Radio Dept. are at turning the simplistically accessible into ethereal works of art that coincide with both atmospheric and emotional triggers of nostalgia.
"David" reminds me specifically of Junior Boys' brilliant infusion of rhythm-led dance-pop and dance; it was the first actual single from the album and was released last July so I assumed the rest of Clinging to a Scheme to sound the same. "Heaven's on Fire" certainly pursued a similar direction, but for the most part this is not an album filled with fun dance-laden hooks like on "David" or "This Time Around". Both take a page or two too many from the "How to Make a Hip-Hop Beat" book, and these efforts sound a bit flat as a result. Unlike hip-hop artists producing beats with similar intensity, the band's caressing vocal approach was never enough to carry a song on its own. The tracks that rely on atmospheric evolution, namely "Memory Loss" and "Never Follow Suit", are exceedingly more rewarding. The mundane "Four Months in the Shade" and "Video Dept." contain neither the infectious oomph of "David" or the atmospheric bliss of "Memory Loss", but they are the only two tracks that fail to contribute anything of substance. Although it is not the album that will propel The Radio Dept. beyond their niche, Clinging to a Scheme is another enjoyable release from these electronic favorites. It has gems for both fans of infectious dance-pop and atmospherically-guided pieces of brilliance. The lack of energy on efforts like "Video Dept." and the over-emphasis on infectiousness on a number of tracks is what prevents this album from being a stroke of genius though. The problem is, they are either infusing hip-hop beats without enough charisma or atmospheric tracks without enough initial presence. Optimistically though, this sounds fairly treatable considering the brilliant songcraft is still there. The Radio Dept. just need to be more consistent the next time around.
8.0/10.0
RIYL: Cocteau Twins, My Bloody Valentine, Joy Division, Pet Shop Boys, Junior Boys, Kraftwerk, Avalanches, Broadcast, Airiel, The Mary Onettes, Moscow Olympics, The Honeydrips, Boat Club

——————————————————————————————
The Radio Dept. – Never Follow Suit
[audio:http://mineorecords.com/mp3/rdept-nev.mp3]
——————————————————————————————
——————————————————————————————
——————————————————————————————