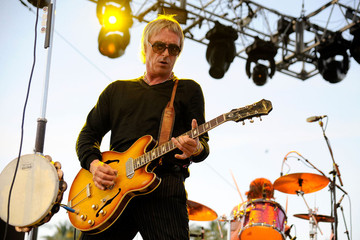 Following up a feature on Damon Albarn implies a drop in quality and prestige, especially considering how few artists are able to stay relevant for over twenty years. Even if they cannot be deemed "obscure", many figures are worth exposing regardless of their original prestige. The work they are producing is just that good. Like any new Albarn project, Paul Weller is worth listening to whenever he releases something. He is easily one of the most recognizable figures in the UK for founding The Jam, The Style Council, and the illustrious solo career that followed. Albarn and Weller are actually one of few people in this world that can compare their accomplishments, as one could easily argue that Blur's experiences in the '90s were very similar to those of The Jam in the late '70s. Success nearly limited to the UK, a series of triumphs without a flop, and a distinctively British demeanor that brought them praise (even if it was somewhat isolated). It took several years before the rest of the world caught on to both The Jam and Blur, with bands like the Sex Pistols and Oasis previously overshadowing them everywhere else. The later realization was that both groups were putting forth stylistic innovation, something that their contemporaries had lacked. The Jam was later classified as the forefathers of the "Mod revival", while Blur's vein of Brit-pop is now widely considered to be the genre's staple. Both of these bands impacted the music scene at different decades, but their paths ended up being very similar due to the rare talent and presence of both lead songwriters.
Although the two have never worked together, the mutual respect between Albarn and Weller seems apparent. Weller even collaborated with Albarn's ex-Blur bandmate, Graham Coxon, on "This Old Town", a nice single that peaked at #39 in the UK charts. Check it out here. Weller also commented on Albarn's Mali Music by calling it "brilliant… a perfect way in to the music of Mali." Both are hardly strangers to ambitious solo attempts in that vein, whether serving as an introduction to Mali music or a change of stylistic preference per each album. They are both renowned for mixing it up with each project, of which there are many. Albarn is already having a great year with the excellent Plastic Beach, and since they always seem to be step-for-step it is not surprising to see Weller with another solo album. His tenth studio album, Wake Up the Nation, will be released this April. Perhaps the most notable aspect upon release is that it features Bruce Foxton, former bassist of The Jam. Just like Albarn, Weller is having his own mini-reunion of sorts with his first successful band, even if this is just a one-time thing. Weller and Foxton have always had a good enough relationship, so when both lost loved ones recently they took solace in collaboration among friends. One could say it was a coping mechanism, but the result of Wake Up the Nation shows much more than an album with forced intent.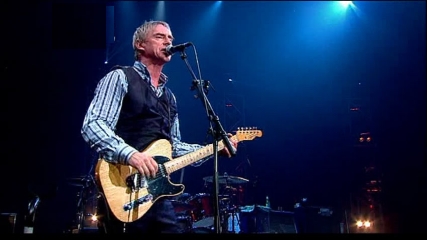 Wake Up the Nation comes with lofty expectations since it comes fresh off the massively successful release of 22 Dreams, which was Weller's third solo album that peaked at #1. Featuring a massive 21 tracks, its consistencies were startling as it was unarguably one of the finest of Weller's outstanding career. Even upon seeing this success though, Weller is just like Albarn in that he cannot tread in one stylistic territory too long regardless of its acclaim. While Wake Up the Nation is still distinctively a Weller solo album, it raises his intensity up a notch with a brisker and more punk-oriented sound that relies on short song lengths, spontaneous hooks, and rhythmic intensity. Unsurprisingly, the album's collaborators already accustomed to such a sound. Foxton's brisk bass work with The Jam is already long-renowned, and cameos from Kevin Shields (My Bloody Valentine), Bev Bevan (ELO, The Move), and drummer Clem Cattini help make this album full of imaginative and unique ideas. At the end of it all though, Weller emerges as the star presence. His successful forays into various genres foreshadow such an accomplishment before the release of each new album.
The string-laden chorus of "No Tears Left to Cry" steps back a bit from the hurried approach of its two predecessors, finding a bit of sentimental Weller shine without ruining the album's flow. "Fast Car, Slow Traffic" has the same sort of spontaneous flow, with a sloppy dose of keys occasionally providing a nice flourish. This is quite an experimental effort considering its length, and Weller clearly has a new fascination with sampling and field sound effects that he employs well. He manages to play with this and not alter his style dramatically, once again resulting in a fresh-faced version of a nostalgic sound we already knew and loved. While those yearning for the ambitious and somewhat serene approach of 22 Dreams may be disappointed with the brisker, straightforward, and more improvisational-sounding result of Wake Up the Nation, Weller's unique songwriting charm after several listens is precisely the same as 22 Dreams. Wake Up the Nation meshes together with songs that end before even starting, most of these entailing a very high replay value as a result. Weller flaunts some great songwriting as usual, except here it may take several listens to get it stuck in your head since the brilliant ideas feel no need to repeat themselves. With some tracks like "Grasp and Still Connect" showing strings in the chorus and others like "Wake Up the Nation" going the conventional guitar-punk route, the differences between songs are subtle upon first listen but grow rapidly since the bulk of the album features standouts.
Like all Weller albums, Wake Up the Nation should be received well. It brings us back to Weller's phases with The Jam and early solo material, which saw shorter songs and more intensity as opposed to ambitious stylistic trips that were often extended (almost always for enjoyable purposes). While this is certainly an ambitious effort in its own right by constricting songs to under three minutes, utilizing a variety of samples, and employing improvisational spurts of keys and strings, Wake Up the Nation retains the hooks and accessible appeal necessary to retain Weller's role as one of the most beloved musicians in the UK. It is guaranteed to chart in the UK like all other Weller albums, but I also would not be surprised if it saw some time on the US charts as well. This has some heavy art-rock, funk, and jazz influences, which I feel American audiences could be very receptive toward when incorporated with Weller's trademark sound. Just check out the sprawling "Aim High" for such achievements in fusion. When listening to efforts like this, I just wish there were more artists like Damon Albarn and Paul Weller around. They appear stylistically fearless and ambivalent to the future, both characteristics that treat listeners to their utmost and most sincere potential.
RIYL: The Jam, The Style Council, Ocean Colour Scene, The Charlatans, Shed Seven, Ray Davies, Ian Brown, The Stone Roses, The La's, The High Numbers, Richard Ashcroft, Hurricane #1
——————————————————————————————
——————————————————————————————
——————————————————————————————
Paul Weller – No Tears Left to Cry

[audio:http://mineorecords.com/mp3/pwel-not.mp3]
——————————————————————————————