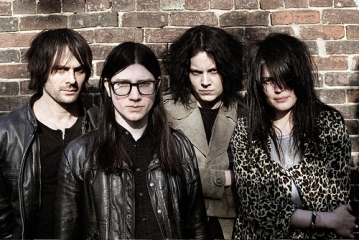 by Colleen Seidel
When The Dead Weather released their debut album Horehound last summer, it was hailed as a masterpiece of indulgently badass garage rock 'n roll. At the time, it was hard to imagine anything better coming from four of the best talents in the biz right now. So when news surfaced late last year that the group – Alison Mosshart of The Kills, Dean Vertita of Queens of the Stone Age, Jack Lawrence of The Raconteurs, and Jack White of The White Stripes – was working on a second record, one had to wonder how far The Dead Weather could take things.
Well, not very far. Unfortunately, the latest release from Jack White & Co. feels like little more than scraps left on the cutting room floor from their first venture.
Sea of Cowards is messier than its big brother and not in a good way. It is no secret that the group itself was born out of one big jam session at White's studio in early 2009, but Sea of Cowards takes the jam session idea too literally, with many of the tracks lacking a sense of tightness and direction.
Most of the time, the record sounds as if someone accidentally left the reverb on too long, and the heavy-on-the-synthesizer motif threaded throughout the album wears thin quickly. Very quickly. Song intros oscillate between the essence of robotic noises from video games, like in "The Difference Between Us", and soft hi-hat hits, like those of "Blue Blood Blues" or "Die By the Drop". Some tracks combine both approaches, creating an aural pastiche of cacophonous mess.
And where Horehound sent White to the rear of the band and allowed Mosshart to shine with her intense, full-bodied vocals, Sea of Cowards sadly takes Mosshart's gift for granted; it is a major offense if there ever was one, doing little to utilize the singer's gutsy pipes that gave The Dead Weather's debut so much edge. In "I Can't Hear You", the guitar notes and Mosshart's vocals match to the point where one can't tell which is which. The technique is nothing new; it has been done before, perhaps most famously by Led Zeppelin. But whereas Zep's use of it was progressive, Dead Weather's employment of the technique is simply headache-inducing.
The album's lone redemption is its last track, "Old Mary". It is a quick shot of Jack White's eccentric genius in an otherwise tempered bath of stale music. Here, he recites a deliciously cold perversion of the classic prayer "Hail Mary".
Over one long tone and a few percussive knocks, White simply speaks, "Old Mary, full of grease, your heart stops within you. Scary are the fruits of your tomb, and hoarse are the terms of your sentence. Old Mary, sister of mine, mother to the world, carry this burden now until the moment of your last breath."  Sounding eerily reminiscent of another Jack (Kennedy, that is), White employs spine-chilling realism as he repeats this twisted prayer over staccato piano notes, baby cackles and other macabre sounds that make the song downright creepy.  Too dark to be found on a White Stripes album, but born too late to be found on Horehound, it seems as though Dead Weather's newest venture exists solely to give this song a place to call home. And while it stings to say so, considering the poor quality of everything else on the record, that may not be such a bad thing.
4.5/10.0
RIYL: The White Stripes, The Raconteurs, Them Crooked Vultures, The Greenhornes, Jack White, The Black Keys, Band of Skulls, Black Rebel Motorcycle Club, Queens of the Stone Age, Grinderman, The Vines, The Go, PJ Harvey
——————————————————————————————
——————————————————————————————
The Dead Weather – Die By the Drop

[audio:http://mineorecords.com/mp3/dweather-die.mp3]
——————————————————————————————