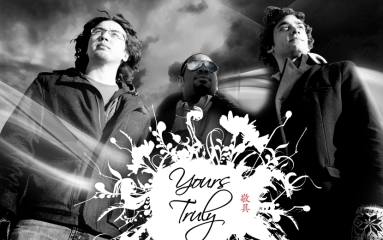 by Colleen Seidel
Twelve seconds into The Colorage, a trumpet caps off the end of an crescendo guitar run, practically announcing the arrival of a talented new alt-rock band from Pittsburgh, PA.  And while the five-song EP from Yours Truly isn't completely flawless, bigger bands have professionally produced worse LPs than this young trio from the Steel City. This is indicative of either the current music scene's tolerance for banality, Yours Truly's promising chemistry, or both.
Singer Justin Portis fronts the group with vocals and works the progressive guitar rhythms that give the songs their signature intensity. Portis proves himself to be a potent lyricist, crafting poetic language in melodic form that's both catchy and thought-provoking.  The single best exemplar for this is the alliterative "She taps for tips on tabletops" in the album's fourth track by the same name, although snippets litter the EP all along the way.  At the same time, Portis has good vocal range that he employs well, if uncertainly at times, especially in the soft beginning of "In the Friscalating Dusklight."
The album's best track – if one could be named, as they all sit on pretty equal footing – is "Don't Look Down."  It possesses the right mix of energy, drama and accessibility.  It's not your run-of-the-mill radio single, but it is easy enough to sing along with that you might find yourself doing just that hours after you're done spinning the record.  If nothing else, "Don't Look Down" exists as a great introduction to the Yours Truly sound, despite the fact that the band placed it last in the track lineup.
The group's respective creative talents are well-matched, with verdant drummer Eric Downs supplying the beats and Pittsburgh-famed producer DJ Huggy on bass.  Downs isn't satisfied with simple variations of quarter-beat patterns when he can do something more intricate, most likely a result of his college jazz background (note the opening to "Last Chance").  Huggy provides a solid basement for the songs to rest upon, one without which Portis's flying guitar solos would seem limp, but also stands on his own as a natural with bass rhythms that dip and dance about (again, note "Last Chance").
Where the band stumbles is, paradoxically enough, its ambitious experimentation.  While it gets kudos for trying things other young bands wouldn't touch with a ten-foot pole, at first some things feel forced and disrupt the flow of an otherwise smooth song.  "Don't Look Down" offers doubled-up guitar notes as a Hail Mary at the end that aren't needed; certain vocal work throughout the album goes in one direction when you expect it to go in another, which is slightly counter-intuitive.  The kinks, however, are nothing that can't be worked out as the group's chemistry matures, and it must be said the addition of the aforementioned horn work on "The Crown" was a touch of genius.
In all, The Colorage is a solid debut from a young band that, given time to marinate in its own creative juices a bit more, can only get better.  Let's just hope the current rock scene wakes up from its Nickelback-induced coma to take notice.
7.0/10.0
RIYL: Incubus, Mutemath, Foo Fighters, Audioslave, 311, Slightly Stoopid, Red Hot Chili Peppers, Silverchair, Matthew Good, CAKE, Jane's Addiction, Weezer, Third Eye Blind, Muse, Faith No More, Placebo
——————————————————————————————
Yours Truly – She Taps for Tips

[audio:http://mineorecords.com/mp3/ytruly-she.mp3]
——————————————————————————————
——————————————————————————————
——————————————————————————————