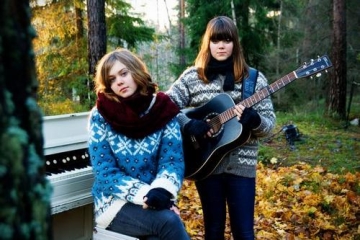 by Lauren Tischler
"Fame has so many bad sides," say the girls of new Sweden obsession First Aid Kit. "Fame is a very complex thing and our view on it is double. Fame is crucial to be able to make a living as a musician, which is our primary goal. However, we strive to get our music known, not us as people." Even if fame wasn't the primary objective, Klara & Johanna Söderberg, only 17 and 19, have been hit hard with it. First Aid Kit had its start in 2008, when the band decided to record a cover of Fleet Foxes ballad "Tiger Mountain Peasant Song". Receiving a massive amount of attention in their hometown of Stockholm, Sweden, the music industry took First Aid Kit under its belt and, within a short amount of time, their first EP, Drunken Trees, was released under Rabid Records. Later in the year, UK label Wichita Records (The Cribs, Bloc Party) released the EP, sparking the worldwide folk phenomenon we now know as First Aid Kit.
"We had really great childhoods. We felt safe and loved and there's not much more you can ask for," the girls explain, reflecting on their beginnings in Sweden. "We have such a wonderful family, that's the truth. We've always lived very close to nature. Our parents used to force us out on long walks through the forests," they laugh. "There was always music around. It was an overall creative environment. Our parents were always encouraging us, whether we were singing, painting or writing stories." The girls started playing music and writing songs in 2007 and "were discovered through Myspace," say First Aid Kit on their breakthrough. "About a month after we put up our demos, various people in the Swedish music industry wrote us. I think the fact that I added about 200 people every day for a month might have helped."
The Big Black & the Blue is First Aid Kit's harmony-infested debut album. The full-length release, which came out in March 2010, features 11 brilliant original pieces, including "Josefin" and "Sailor Song." "It's very spontaneous," the girls say regarding their songwriting process. "We can't predict when a new song will pop up and we can't force one out. There is no set song writing procedure. Sometimes Klara writes songs entirely on her own and sometimes we finish off songs together," pipes in Johanna. "We never seek inspiration if we find it hard to write something, we can't force anything out. We let the inspiration come to us. What we are inspired by is other music, films, books our friends and family – the world around us."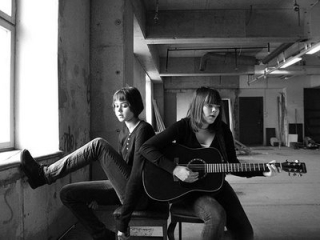 Listening to First Aid Kit is like reading a chapter of a treasured novel. The music is very visual, conjuring up countless soft images. "Our lyrics are both autobiographical and fictional," they say. "It always starts with us wanting to get some kind of emotion, mood, through to the listener. This mood or emotion could arrive either from other music or from our own experiences." The songs, while very diverse, all have the same underlying spell of harmony and folklore. "Joanna Newsom, Bob Dylan, Gram Parsons," Johanna and Klara say when asked about their folk influences. They continue with, "Bright Eyes of course, Carter Family, Vashti Bunyan, Karen Dalton, Louvin Brothers, Townes Van Zandt, Simon and Garfunkel… there are so many musicians and we would like to thank them all so much for the beauty they've created, but that list would be a little too long."
Johanna and Klara Söderberg have to make sure to maintain a healthy balance between their lives as young adults and their lives as musicians. Though it may sound easy, it is not as simple as it seems, especially since the girls have just begun a worldwide tour. First Aid Kit explains a typical day in the life: "Wake up, get in car, breakfast at fast food chain on the road (or at hotel), arrive at venue, sound check, dinner (sushi or Indian food,) show, sell merchandise, sleep at hotel." As you could imagine, their days are as filled amply with beautiful music. "Fionn Regan's "Put a Penny in the Slot" is high up in our iTunes playlist. Simon & Garfunkel's "Kathy's Song" is as well." Though they maintain a busy schedule, there are no regrets. "We will promise to sing and play our hearts out. There will be some bad jokes and a great deal of harmonizing," they say when asked why fans should attend their upcoming shows. Johanna and Klara are particularly delighted regarding this summer, when they will travel to play their music in the US. "In the US some people see us as exotic and interesting because we are Swedish and that phenomenon definitively does not exist at home," Johanna notices about how the US has perceived their music. "Our lyrics are in English so it's possible that an English speaker receives it differently. We try not to think about how we are being received; it only gets in the way of your true potential as a musician."
So with a massive following and an album full of gorgeous tunes, First Aid Kit continue their journey through the musical world. What should we expect next from these first-rate folk lords? "Next is a bunch of festival shows, more touring and working on new material. We are really excited about doing another album, though there is a long way to go until we're there." As their MySpace tagline states; "We aim for the hearts, not the charts!" So open your hearts up to First Aid Kit, and they promise to deliver sweet melodies that will make you love them after the first listen.
RIYL: Laura Marling, Taken by Trees, Fleet Foxes, Marissa Nadler, Neko Case, The New Pornographers, The Tallest Man on Earth, Slow Club, Hello Saferide, jj, Basia Bulat, Fleet Foxes, Jenny Wilson, Fionn Regan, Anna Järvinen, Laura Veirs, Frida Hyvönen, Sambassadeur, El Perro del Mar, Håkan Hellström, The Leisure Society
——————————————————————————————
——————————————————————————————
First Aid Kit – You're Not Coming Home Tonight

[audio:http://mineorecords.com/mp3/faid-you.mp3]
——————————————————————————————
——————————————————————————————