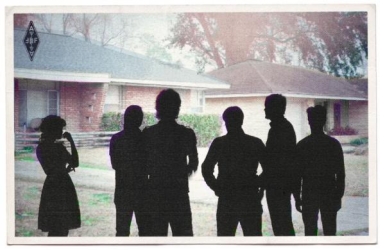 by Taylor DeBoer
If Funeral was the personal homage to life, love, and loss, as Neon Bible was a straight shot at the gut of political immoral corruption, then Arcade Fire's The Suburbs is merely a simple acknowledgment of the two concepts. Not to mention, the powerful realization that "we can't run from our upbringing", especially when two-story brick houses and shopping malls stand in our way. And as Win Butler and company convey on their third album, each new generation is engulfed in a more brutal "suburban war." With so much indie cred on the line, Arcade Fire delivers once again with their longest, most expansive album yet.
The Suburbs starts appropriately, with a title track that works as both a contrived summary and introduction to the fifteen songs that follow. Although not the strongest of the album, it serves its purpose. It then rolls into "Ready to Start", which is a typical bombastic collective of Arcade Fire proportions, a jump-the-gun type of song. "Modern Man" in my opinion is where the beauty and originality of the album starts. With lyrics that strike the heart wires of Bowie fans, it questions what to some might be obvious, but to many is obscure–is the modern world in a productive progression?
Then comes the poppy "Rococo", which appears to jab at the youth and their obsession with trend. In this case, a "terrible" song that has an infectious chorus. You can't help but sing along to Butler's quivering voice as he repeats "rococo" over and over. Blasting into "Empty Room" Butler has help on vocals from his wife Régine Chassagne. The shorter, but poignant song works as a nice easy transition into the New Wave sound of "City with No Children." The nostalgic lyrics prove that Butler and crew have spent time listening to the likes of Bruce Springsteen and Neil Young, if that wasn't already obvious. "Half Light I's" slow build and Chassagne's lofty voice creates a circus-like environment reminiscent of Funeral. Its dream like nature is once again a perfect pace-changer for the album. Their ability to keep the audience constantly interested and guessing is impressive.
Through the sad and desperate pace of "Half Light II", we see a more personal Butler as he references his personal life with his wife, Regina, as well as his childhood. It has an Americana feel once again, which adds a unique tinge to the American perspective coming from a predominately Canadian band. The ending phrase, "one day they'll see, it's long gone," rings through the brain long after the song ends.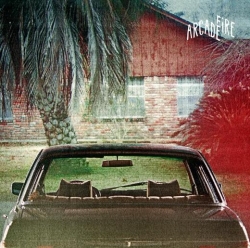 "Suburban War" continues with the same melancholy style of "Half Light II", but with a choppier composition. "They say the past won't rest until you jump the fence and leave it behind," Butler calmly sings. More than their first two albums, Arcade Fire are offering some solutions to the problems they address. "Month of May" is perhaps the only song that could fit on Neon Bible, their slightly less popular sophomore album, and would be a fitting opening to an Arcade Fire show.
"Wasted Hours" and "Deep Blue" return to the somber pace but only for a moment, then we're hit with the slow but powerful build of "We Used to Wait." "By the time we met, the times had already changed," Butler sings.
"Sprawl I and II" help add to the lonely feeling of realizing that the things you used to recognize have changed dramatically. The saddened musical melody of "Sprawl I" makes it hard to not feel hopeless until the very end when Butler manages to bring it all back and inject us with just a bit of hope once again.
The trippy feel of "Sprawl II"  compliments the somberness of part I. We are once again graced with Chassagne's voice. Comparing shopping malls and urban development to mountains is not only gut-wrenching but incredibly accurate. The extended metaphor can get grating, but most of the time it works.
The final song, "The Suburbs (continued)"  is in the same tone as "The Suburbs" but with Butler stretching his voice to an even higher falsetto. It's a fitting end to a masterpiece, and may even be more satisfying than the initial creation.
Yeah sure, The Suburbs is filled with a lot of reoccurring words like "kids, houses, streets, and suburbs". But instead of writing them off as cliche and unoriginal, consider the weight behind these words. The Suburbs is an analysis, a call to action, and a homage to the topsy-turvy, suburban world we live in. Few artists have been able to reach out to the youth in such an infectious way. Their songs are dark, dreamy, nostalgic, religious, extremely powerful, but oddly hopeful and their shows are the same way. And they manage to do it all on an indie label and without the aide of digital recording. But even Butler knows that resisting the world that plagues us is impossible. At the very least, we have The Suburbs to celebrate over.
You can download it here for a ridiculous $3.99.
8.0/10.0
RIYL: Broken Social Scene, Bruce Springsteen, The National, Wolf Parade, Tokyo Police Club, Neutral Milk Hotel, Modest Mouse, The Shins, Spoon, Band of Horses, The New Pornographers, My Morning Jacket, TV on the Radio, Cold War Kids, Stars, Radiohead, David Bowie, The Antlers, The Walkmen, Editors, Pavement, Yeasayer, Built to Spill
——————————————————————————————
——————————————————————————————
——————————————————————————————