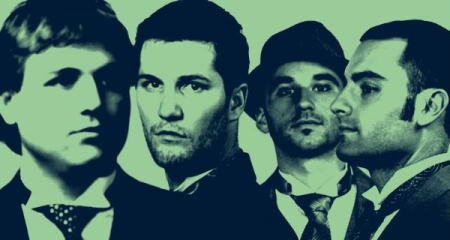 Bias is rarely a good thing, but if you are a quality artist from New Jersey then you are certainly likely to get my attention. It helps even more if you perform regularly at The Stone Pony, a trademark Jersey venue that my parents frequented when they were in their teens. My teenage self experienced the same venue about twenty years later, with my parents' tales of seeing Springsteen there adding notably to one of my first show experiences. Situated literally across from the ocean, The Stone Pony has a history known to any long-time fan of rock music. It keeps going strong as well; I have seen a variety of artists there, from Jersey-based Southside Johnny to those based across the pond like Bloc Party (who played a terrific show on the outside stage a few years ago). So essentially, when there is childhood nostalgia AND quality music present, then you can understand my leanings. I would not worry about overriding bias though, as posting about a poor or mediocre band from my home state only does Jersey's scene an injustice.

Status Green are becoming well-known around the Jersey and NYC area, playing well-received and sold-out shows at The Stone Pony and CBGB's. The four-piece has also received some notice beyond the east coast as an opening act for more mainstream acts like Blink-182, Weezer, and Bon Jovi. Status Green's own music does not play like expired '90s wash-outs though. Their crisp indie-rock instead recalls acts with modern relevance like The French Kicks, Phoenix, or The Walkmen. Opening for acts like Blink-182 and Weezer likely netted them quite a few fans, but with the release of their new album Cheap Sunglasses I doubt the opening-act routine will remain for long.
The Asbury Park-based quartet have already shown their main-act potential by winning several contests, one of which gave them an appearance on a late night show and another few which gave them opening spots for Blink-182 and Creed (yeah, that Creed). Comprised of multi-instrumentalist Lou Montesano, guitarist Chris Marino, drummer Mike Montalto and bassist Russell Tolas, Status Green are no strangers to big-time shows, even if that meant playing for free. "We went across the country after we did our last album, and it was hit-or-miss," Montesano explained of their first national tour, "playing for no money in front of no people at times." He says their last tour resulted in them being $4000 in debt, but asserts that the fun, experience, and exposure were worth it. After all, like most artists – whether it be a musician, director, or painter – getting in debut over fruitful artistic endeavors is simply part of the process. Everyone cannot – or does not desire to – be picked up by a talent agent who hands their career path to a corporation. Even with debt, Status Green certainly show through their music and presence that they have a patient ideology that prevails in situations like these. It should enable them to wade through the masses of mediocre Jersey rock bands and emerge triumphantly.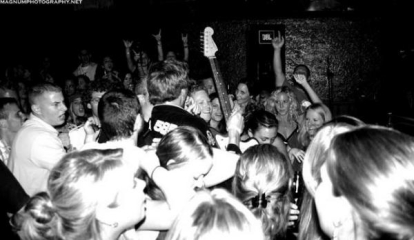 Cheap Sunglasses is a nice step forward for a band seeking prominence with a style that is neither innovative nor very distinctive. Their experimental tendencies are limited, but their tightly infectious songwriting is not. Their frequent residency at The Stone Pony – which is where they held the release party for Cheap Sunglasses in February – aligns with many of the venue's artists, who do not require much attentiveness to enjoy. Spontaneous stage presence and perky melodies define Status Green, who are one of those breezily enjoyable indie-rock bands that sound great on a beach, beer in hand.
Perhaps their recent leap forward was brought on by their last trip to SXSW, where the band broke down in Amarillo for three days in what Montesano called a "crazy" time that felt if "like Jack Kerouac wrote our tour." Everything went wrong apparently. But he went on to call the suffering "good" and "inspiring", which is a commendable attitude to have when you are playing free shows to a sparse audience. The band has evolved into sold-out, paid shows for the most part though, and as evidenced by the popularity of the acts they opened for it looks to stay this way. With the success of Cheap Sunglasses, being in debut is hopefully a thing of the past for Status Green. If their music can get in the right hands it should only be positive from here.
"Denver After Dawn" is a lively and animated gem that showcases Status Green in the best light possible. The nonchalant quality of Montesano's vocals should immediately recall the likes of Julian Casablancas and Britt Daniel, whose production of crisp indie-rock is fairly unrivaled as far as groups from the past decade go. The firm guitar progressions glide under a series of twinkling bells and synths that, along with Montesano's enjoyably lackadaisical delivery, form an extremely radio-friendly song. As long as the traditional structure and linear lyrics do not bore you, it is should be absurdly easy to have this song on repeat for some time. Apart from the unrivaled narrative and songwriting abilities of Springsteen, this is the type of stuff one should be accustomed to at The Stone Pony. Status Green are one of the best bands from this laid-back niche , and as a Strokes-French Kicks hybrid they produce an extremely enjoyable style of indie-rock that glistens with catchy guitar jangles and tightly concise use of keys and synth. Really just some polished, infectious stuff.
While "Denver After Dawn" should be a hit for the band, that is not to say the rest of Cheap Sunglasses is filler. "Circles" follows a more punk-oriented edicate, which in the bass-heavy verse resembles British indie-rock groups like Bloc Party and the Arctic Monkeys clearly influenced by punk. The chorus finds a less effective flurry of guitars and keys than in "Denver After Dawn", whose chorus was clearly less forced in terms of attempting to incorporate instrumental variation. The succession of synths around the two-minute mark provides for some nice variation, with a bit of The Killers' influence coming into play, but is severely overshadowed by the subsequent track on the album, "Denver After Dawn". Another notable is the nicely paced "Sting My Soul", which evolves from a reggaeton-like guitar progression to a dance-laden chorus reminiscent of Southern All Stars with its guitar-synth incorporation. I like this one as well, along with most of the efforts on Cheap Sunglasses. While the lack of structural variation or stylistic innovation may turn off some listeners, those who appreciate great songwriting and polished production will not be disappointed.
RIYL: Spoon, The Strokes, French Kicks, Phoenix, Bloc Party, Arctic Monkeys, Weezer, The Stills, Rogue Wave, Ambulance LTD, The Joggers, The Helio Sequence, Snoweden, The Walkmen, Earlimart, Foreign Born, Tapes 'n Tapes, Chin Up Chin Up, Longwave, Holiday Shores
Status Green – Denver After Dawn