Posted
November 11, 2011 by Melyssa Mineo
in News
ATP Announce Mangum-Curated Lineup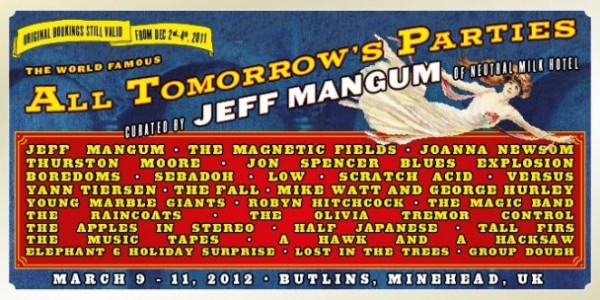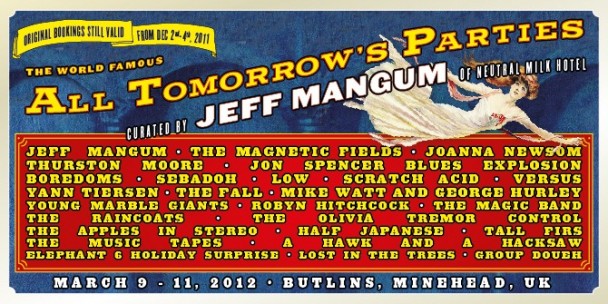 As we learned last month, the All Tomorrow's Parties festival is finally set for March 9-11, 2012. The festival was originally scheduled to take place in December, but was postponed due to "a set of extremely unfortunate and unforeseen circumstances." It will still take place in Minehead, England and feature Jeff Mangum, The Magnetic Fields, and Joanna Newsom. The complete band listing is available here, or you can just check out the poster above. Jeff Mangum is curating the festival this year, keeping the ATP tradition of artists choosing the lineup, including those in the visual (Jim Jarmusch, Matt Groening) and audible realm. Other past curators of various All Tomorrow's Parties festivals include The Flaming Lips, My Bloody Valentine, and Animal Collective. The multitude of affiliated ATP festivals have taken place in various locations throughout the years; Nick Cave curated the Australian ATP in 2009,while Goodspeed You! Black Emperor took care of Tokyo sets earlier this February.
Obviously it's a stunning lineup. There truly isn't a bad act there. In addition to the headliners, several artists plan to play one of their classic albums in full; Robyn Hitchock will perform I Often Dream of Trains, while The Raincoats will perform their classic 1979 self-titled debut. Neutral Milk Hotel is arguably the most notorious Elephant 6 act, so it's not surprising to see several E6 artists – like The Olivia Tremor Control and The Apples in Stereo – in the lineup as well.
ATP also announced the line-up for "I'll be Your Mirror", taking place May 25-27, 2012. Slayer, Mogwai, and Guided By Voices are confirmed to headline for the London-based event, which was curated last year was by Portishead.
Neutral Milk Hotel – In the Aeroplane Over the Sea

MP3: Magnetic Fields – The Luckiest Guy on the Lower East Side