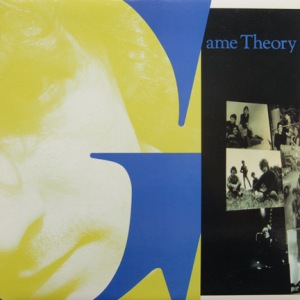 That Game Theory's entire catalog is seemingly terminally out of print is a great travesty. Certainly they were one of the most important purveyors of '80s pop music in America. Over the course of three incredibly ambitious and almost flawless records, they had as good a track record as almost anyone besides XTC for consistency. Songwriter Scott Miller is one of the 1980s' most under-appreciated lyricists.
While predecessor Real Nighttime has some of the best songs Game Theory ever recorded, and a more cohesive concept overall (the pseudo-adolescent angst of post-college life), and their third album Lolita Nation has all the ridiculous Todd Rundgren conceits, song fragments, and opened possibilities of a record not content with being a record, Big Shot Chronicles is Game Theory's greatest achievement. It strikes a balance between the two impulses that defined the band: the craft element and the anarchistic element.
The impeccable craftsmanship and production skills of Big Star loom over the album as they do on most of the albums Mitch Easter produced over the course of the 1980s (Murmur notwithstanding), both for his own band Let's Active and others. The guitar stabs that open "I've Tried Subtlety" serve as just one nod in an album considered one of the more prosperous suburbs of Radio City. "Come Home With Me" is a clear audition for side two of #1 Record… an audition, I should add, that could very well have resulted in a call back.
Unlike Alex Chilton, however, Miller is not a man of vaguely sarcastic swagger, and things like math jokes* litter an album otherwise devoted to failed or precarious romance. Unlike Elvis Costello (another touch-point), Miller is not so much vicious as reflective and prone to pick at doubts like scabs. When the tempo rises on "Big Shot", this isn't an intimation of anger as much as anxiety or especially rousing regret.
Though the uptempo numbers are generally very good, it's when the band slows down and relies on a haze of harmonies and jangle that Easter and Miller really show the exceptional qualities of the band. The lovely "Regenisraen", whatever the word means, is so invitingly soft one's mind flips it around like one looking for the cold side of a pillow. Two songs later, "Book of Millionaires" shows the cold side of said pillow. "Animal gentry too sure of your stride" is wonderful. "Like a Girl Jesus" is where Miller's nasal qualities seem most vulnerable and least strained. Unorthodox production choices also pay off on that track, and it's the most clear signpost to the band's "Lolita Nation" sound.
As the rockers go, "Erica's Word", the album's single, is the best of the bunch (and also had a pretty awesome video full of cubist montage here). This song hosts the album's best math and science jokes, opening with a double-header to that effect:
"Erica's gone shy
Some unknown X behind the why
All is some less today
Mass not conserving in the old way"
The riff that propels the song is first a rallying one, but is diminished by a minor chord, taking the listener clear, and then leaving them blurred. As does the whole album.
*I'm genuinely surprised that, nowhere in their run, did they ever record a song called "Prisoner's Dilemma".
RIYL: Elvis Costello, Manic Street Preachers, Let's Active, Don Dixon, Big Star, The Posies, Divine Horsemen, The dB's

Game Theory – Like a Girl Jesus

Game Theory – Regenisraen