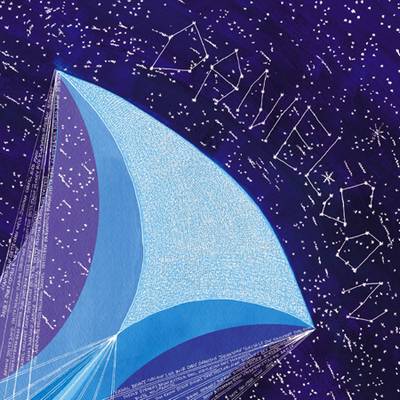 Our first review explores ingenuity guru Daniel Smith's latest album under his latest alias.
Artist: Danielson
Album: Ships
Year: 2006
BUY
Daniel Smith is conventionally labeled as a Christian songwriter. I will not even go into how many people I know have been turned off by that label, as they imagine any moniker associated with Smith (Danielson Famile, Brother Danielson) to be chanting about rainbows and Noah's Ark over a xylophone. While stereotypes can be amusing, Danielson certainly does not fit any. While any images of Daniel Smith are usually conveyed as a kid from suburban New Jersey in a tree costume, his best attire for Ships would most likely be a pirate costume. Smith's previous effort, Brother Is To Son, was mainly a solo album full of odd and unique songwriting.
Smith's newest venture is titled Ships, and this time his alias is just good old Smith. A strong impression and setting is set off in the opener, 'Ship The Majestic Suffix', where Smith is heard in his usual high-pitched voice talking, whispering, and singing, sometimes all at once. His vocals present a great range in transition due to the odd but fulfilling structure of the song. Smith proves to be a great capturer of attention though, as 'Did I Step On Your Trumpet?' is catchy right off the bat, as the pace of his vocals are significantly faster in tempo than the preceding songs, but Smith's witty wordplay is still present. When Smith sings, "How many times I obsess, and I'm making a mess failing to impress you in all that I can't do," it could be about God or a girl, but really, our own interpretation is really all that matters.
Vocals like Smith's have their pros and cons. Simply put, some songs cannot capture such a distinct feel, as they diversify themselves from each other so well. Two Sitting Ducks is quite frustrating, because while Smith doesnt have natural perfect criteria vocals, he knows how to utilize his vocals in several songs, but Two Sitting Ducks is just a nuisance to sit through. Such songs are to be expected, though with a range similar to his. However, the latter part of Ships is where the brilliance really shines. Kids Pushing Kids and Time That Bald Sexton have particular arrangements that catch you off guard, whether it is the saxophone, twinkling keys, or explosive choruses. While Time That Bald Sextons structure is probably the most consistent and repetitive, it does not lack any creativity at all, and as it is clearly one of Smiths best songs written.
The slower paced and acoustic songs on Ships do not lack the fundamentals, but they can be quite tedious. 'My Lion Sleeps Tonight' has its occasional outbursts common of Smith, but for the most part it seems dull and drags on. 'When It Comes To You I'm Lazy' picks up pace late, but fails to carry any sort of build-up effect to the conclusion, which shoots itself too directly out of the cannon.
Though Ships has its ups and downs, it remains a mostly consistent album of extremely creative songs. Smith is known best for his diversity and he has accomplished this yet again. Though the title of the excitable closer, 'Five Stars And Two Thumbs Up' does not reflect the album exactly, it comes close. We do not know at which setting Danielson's next adventure will take place, but wherever it is, we're confident it will be creative.
Score: 8.3/10
01. Ship the Majestic Suffix
02. Cast It at the Setting Sail
03. Bloodbook on the Halfshell
04. Did I Step on Your Trumpet?


05. When It Comes to You I'm Lazy
06. Two Sitting Ducks
07. My Lion Sleep Tonight
08. Kids Pushing Kids


09. Time That Bald Sexton


10. He Who Flattened Your Flame Is Gettin' Torched
11. Five Stars and Two Thumbs Up

= Track Recommendation