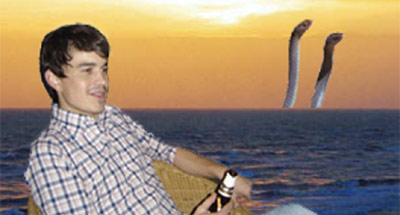 Spencer Krug (of Wolf Parade) explores some old and new boundaries with his new project, Sunset Rubdown.
Artist: Sunset Rubdown
Album: Shut Up I Am Dreaming
Year: 2006
BUY
Wolf Parade were undoubtly one of the indie success stories of last year. They actually carried a steam of hype that, for the most part, delivered success. Their Apologies To The Queen Mary LP debut was full of tons of hooks through guitars, keys, and almost every basic instrument you can think of. One of the two vocalists and primary songwriter in the band was Spencer Krug. Much like his friend and fellow contributor, Carey Mercer (of Frog Eyes), his vocals are extremely distinct. The crackling and pitch changes in Krug's vocals are not for all, but those who are not closed minded and easily applicable for any new sort of vocals with a factor of ingenuity, will turn out pleased as a result of Krug's interesting songwriting and utilizing of his own vocals.
The song that describes Krug's vocals the best may probably well be the best song on the album, which would be 'The Men Are Called Horseman There'. The seven minute epic is of outstanding proportion, providing to be one of the most interesting songs in quite some time, with its unshatterable and extremely creative structure. Krug's true vocal strength kicks in slightly before the three minute mark, "I am no horse, and you are no angel!" he says, almost uncontrobally. The best part of the song though comes at exactly 3:38. Eventually, Krug starts singing "If I were the horse, I would throw up the reigns, if I was you. But I am no horse and you are no angel," and in a devastatingly emotional fashion, his echoing and crooning turn the song into better song than he has manufactured in his career. This may as well just be my opinion, but the emotion drawn into the song is just extrodinary and is not something I hear often in this sense. The figurative lyrics give a good sense of metaphorism, relaying back into traditional and fictional times of knights and wizards.
The immediate grabber of attention would probably be 'They Took a Vote and Said No' though. The song is very easily accessible, sounding as close to Wolf Parade as you'll get on this album. With the quick and frantic keys and immediate stops, the great chorus adds a fever of excitement. 'Snakes Got A Leg III' is in a similar fast-paced fashion, though its stops are limited. It is a relief that Krug usually knows when to stop a song so it doesn't overbear its welcome. The brief pause in the song before the guitar chords kick up the chorus recall Krug's vocals in a similar fashion to Xiu Xiu's Jamie Stewart. The slower songs, such as 'The Empty Threats of Little Lord' and 'I'm Sorry That I Sang On Your Hands That Have Been In The Grave' work well, for the most part, though much like their names, the song gets repeative towards the long and brooding parts towards the end despite the different orchestral progressions. The album eventually feels complete as the last track wraps the album up quite nicely.
Shut Up I Am Dreaming shows off Krug's general musical ability and he has produced an extremely impressive debut album for his project, Sunset Rubdown. Much like his other projects of Wolf Parade and Frog Eyes, it maintains originality to produce some great hooks and some very originally written songs with some devastatingly cool vocals.
Rating: 8.3/10
01. Stadiums and Shrines II
02. They Took a Vote and Said No


03. Us Ones In Between
04. I'm sorry I sang on your hands that have been in the grave
05. Snakes Got a Leg III


06. The Empty Threats of Little Lord


07. Swimming
08. The Men are Called Horsemen There


09. Q-Chord
10. Shut up I am dreaming of places where lovers have wings

= Track Recommendation