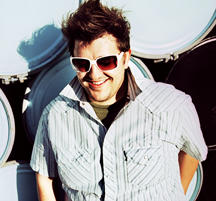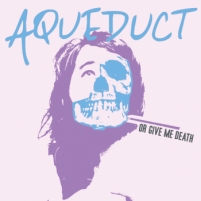 Aqueduct is a solo act consisting of talented singer/songwriter David Terry. Yes, I was surprised as well when I learned that all of Aqueduct's innovative yet accessible ideas were from the mind of one individual. The Oklahama native made his mark with his debut album, Power Ballads, which contained catchy favorites such as 'Growing Up With GNR' and 'Assignment #1: Heart Design'. Terry's mixture of Casio keyboards, synths, and throwback rhythms equates to his own personal talent and success, which is one of the reasons he scored a record deal with Barsuk. Power Ballads seemed to be a recollection of Terry's high school days, which he often describes as a period of heartbreak and good music (I can relate). 'Growing Up With GNR' is a good example of this, as Terry launches into a somewhat sympathetic, "I was only twelve, dammit all to hell, I was feeling fine," he implores, "hearing Axl Rose on the radio, remembering the good times with you". Some songs bring back good memories and some bring back bad memories… but doesn't it just suck when good songs bring back bad memories? Anyways, Barsuk was kind enough to supply me with Aqueduct's brand new single, 'As You Wish', from their upcoming new album, Or Give Me Death, which releases on 2/20/07. This new one from Terry takes a different musical approach than many of his previous endeavors. While the lyrical content of lost love and desperation is still present, he utilizes brass and acoustic guitars instead of the emphasized keyboards and synth. The song also seems to be more in focus with his classic influences of 60s pop, such as the Beach Boys and the Beatles. It all works well though, which makes me look even more forward to Or Give Me Death.
Aqueduct – Growing Up With GNR
[audio:https://obscuresound.com/mp3/aque-gro.mp3]
Aqueduct – Assignment #1: Heart Design
[audio:https://obscuresound.com/mp3/aque-hea.mp3]
——————————————————————————————-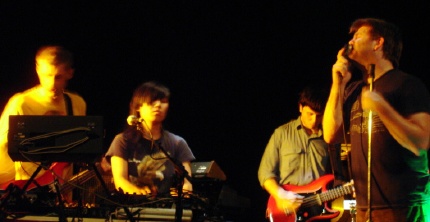 Just like David Terry, the more prominent James Murphy is the solo frontman for his acclaimed project LCD Soundsystem. Though he has an impressive cast of musicians alongside him for live shows, Murphy is known to do most of his album work on his own. Their 2005 self-titled debut opened new boundaries for dance, electronic, and rock genres, as Murphy utilized all three styles to the full extent in one of the most impressive debut albums of this decade. It's not surprising that LCD Soundsystem's sophomore follow-up, Sound Of Silver, is one of the most anticipated releases of 2007 to legions of fans around the world. From New York to Tokyo, the handful of singles that LCD Soundsystem has released ('Losing My Edge', 'Daft Punk Is Playing at My House') have been very successful, almost defining the unique genre that Murphy has apparently overtaken, as he is also the co-founder of DFA Records. Their new track 'Someone Great' borrows a major instrumental section from the infamous Nike promotion of '45:33′, an entirely instrumental song of the same length. This time around, Murphy adds some twisted vocals on top of matching keys to make the section even more engaging. I always considered the smooth and enjoyably creative LCD Soundsystem to be great driving music, so I can't wait to pop this one into my car tomorrow morning.
LCD Soundsystem – Someone Great