This past week has been filled with news of fresh releases by prominent names. Though many would consider these songs to be "leaks" of some form, word is circulating that these artists almost intentionally released these songs to gain momentum for each of their respected upcoming albums. At some point in the past ten years, each of these three artists, or individuals involved, were one of the most popular acts in the world, so the hype surrounding each upcoming release is certainly justified. Many of you have most likely heard several of the tracks already, mainly due to the fact that every form of music media is also covering it. Despite the presitge involved, I found it too hard to resist sharing my thoughts on these tracks.
——————————————————————————————-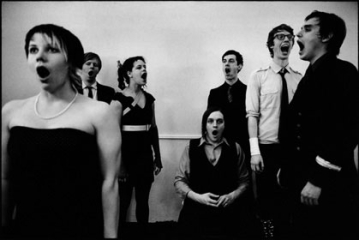 In a decade, I would not be surprised if the Arcade Fire are considered the absolute definition of a band whose popularization was vitally dependant by internet blogs and media. Their rise to fame was quick, as their debut album Funeral propelled the Montreal-based group from an unrecognizable status to the cover of Time Magazine. Funeral was arguably the most universal choice for the "album of the year" in 2004, reaching a rare stage of emotion with their stellar and unique sound complemented by busy guitars, effective strings, and stinging brass. With a lyrical focus on familial turbulence, the Arcade Fire's debut felt extremely personal, giving a sense of rarely captured emotion. In one of the most anticipated releases of the year, their new album Neon Bible will be released this spring. Three confirmed tracks are 'Black Wave/Bad Vibrations', 'Intervention', and 'Black Mirror', with all three having already found their way onto the internet. The first single is 'Intevention' and it can be heard by calling (866) NEON-BIBLE, extension number 7777. As the story goes, the Arcade Fire uploaded the wrong version of the song to iTunes as a charity single for "Partners in Health". The song uploaded by mistake was 'Black Wave/Bad Vibrations'. The release of 'Black Mirror' was more intentional, as it was done on their official web site. You can hear the song by going to frontman Win Butler's scrapbook, where you can also feed an odd creature some food. To avoid the oddness, you can just listen to it below. All three tracks are quite enjoyable, though I enjoy 'Black Mirror' the most. If this is any indication, Neon Bible looks to be even more darker than Funeral. 'Black Mirror' begins with an acoustic strum and a dreamy ambient effect in the distance, with a flurry of strings and keys indiciating a more energetic chorus. Butler sounds whimsical as usual, with his vocals adding the perfect touch to a song already clouded by insatiable darkness.
Arcade Fire – Black Mirror
[audio:https://obscuresound.com/mp3/.mp3]
——————————————————————————————-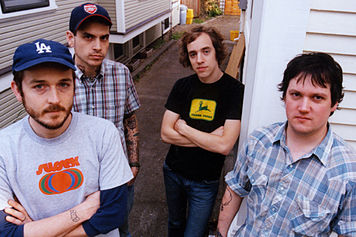 Unlike the Arcade Fire, Modest Mouse had to wait a bit for their national recognition. While they now are on MTV every other day with such hits as 'Float On', for about ten years they released great albums that were only appreciated by a minimal audience. Albums such as The Lonesome Crowded West and The Moon & Antarctica were fantastic and as you can probably guess, I enjoy their earlier material the most. In preperation for their new album We Were Dead Before the Ship Even Sank, legendary Smiths guitarist Johnny Marr joined the band as an official member last August. It will see a release this March, led by the single 'Dashboard'. I have to say, this is quite a different approach by Isaac Brock and company. While Brock's vocals maintain to be distinct, Marr has brought a much more formulaic approach, almost sounding like Andy Partridge and XTC. Though the song certainly is far from being their best, I enjoy it more than 'Float On' and numerous other songs on Good News for People Who Love Bad News. The exotic strings during the bridge and chorus add another touch and I've always been a fan of Marr, who shows his new touch with Washington's finest.
Modest Mouse – Dashboard
[audio:https://obscuresound.com/mp3/.mp3]
——————————————————————————————-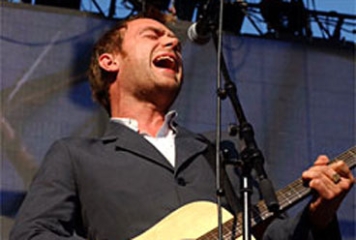 Despite my reports earlier this week, it appears that Blur won't reform after all. While Damon Albarn's offer will always stand to reform the Brit-pop legends, he has stated that he would not do it unless all four members decided to return. Guitarist Graham Coxon denied involvement yet again after the published reports last week stated that he finally gave in. That's certainly a shame, as a new album from Blur would have certainly become my most anticipated release of 2007 if it had been the case. Well, that's the bad news. The good news is that Damon Albarn's new project The Good, the Bad and the Queen is coming along nicely. I gave a listen to their self-titled debut album the other day and there are a handful of extremely enjoyable songs. The group definitely dates back to Albarn's Brit-pop days in the 90s, rather than his recent adventures with alternative hip-hop hitmakers Gorillaz. '80s Life' is one of my favorite tracks from the album, ironically calling on a melody reminiscent of the 50s, rather than the 80s. The Good, the Bad and the Queen will be released on January 22nd and it will likely satisfy the hunger of fans who adored Albarn's previous projects.
The Good, the Bad and the Queen – 80s Life
[audio:https://obscuresound.com/mp3/.mp3]
If you want to find information on Southern Rock Music, the internet is the obvious choice.  For the History of Rock Music and so much more, sign online today.  You can even find Rock Music Charts from many years gone past.