Posted
February 17, 2007 by Mike Mineo
in
Abernethy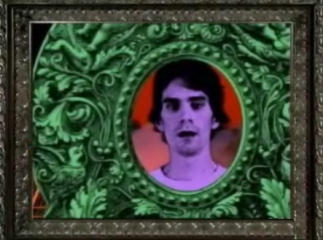 I often find myself fascinated with dramatically poetic musicians. A lugubrious perspective applied toward the lyrical aspect doesn't hurt either. There is not much publicly known about Joe Abernethy or, as his musical output simply goes, Abernethy. In fact, he doesn't even have a picture of himself online. The one above is from the imaginative music video of "The Voice". Along with his openhearted influences ranging from Dylan and Leonard Cohen to The Beach Boys and Townes Van Zandt, Abernethy is a talented multi-instrumentalist borrowing from a select group of popular genres that thrived through the last several decades. College Grove is Abernethy's second album, though it his first release that will be actively distributed. Though Abernethy plays most of the tracks on the album, Graeme Abernethy controls the percussion, Stephen and Lisa Toon handle the keys, and Jaret Penner plays lead guitar on the uncharacteristically excitable opening track "Astronaut". For the most part, the album is music created by a close group of friends and family. Abernethy has the poetic vibe that Leonard Cohen thrived off of and while Abernethy is nowhere near as interpretive, his musical depth is actually more emotional and varied. On a more contemporary scale, Abernethy's deep and solemn vocals reflect the styles of Morrissey and Stuart Staples. Many of the songs on College Grove actually remind me of Morrissey's "Late Night, Maudlin Street" due to their distinct emotion layered with soft organs and oppressive guitar strums. Abernethy's vocals often glide flawlessly along with the apathetic melodies, most of which crawl intentionally prolonged. The majority of College Grove is indeed a drowsy record, though fans of the particular tone should find great warmth in Abernethy's extreme ability to craft a dreary landscape surrounded by somber thoughts of regret and sympathy.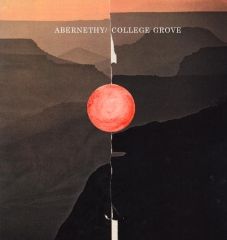 Much of College Grove sounds like an entry on Guy Maddin's satirical film, The Saddest Music in the World. Abernethy's tendency to mix poetic intellect with depressive settings comes out shining in "The Voice", an outstanding crafted by Abernethy's enjoyably deep vocals. "Yesterday I drowned myself," Abernethy cries out, "Next to a blond with a dark repression". Similar thoughts are reflected throughout College Grove, dealing with societal rejection and inner feelings of delusional inadequacy. Even if you're not one to admire such a sad portrayal, "The Voice" is worth a few listens, even if only for it's sheer beauty. Few modern artists have the skill that Abernethy has in releasing such bursting emotions through both lyrics, music, and vocal delivery. Fans of catchy and faster paced material will enjoy "Astronaut", an energetic take that seems to contain the influences of classic jangle-rock like The Housemartins and The Smiths. With it's bright keys and acoustic strums, it is one of the only songs on College Grove with a generally upbeat perspective. I don't mind though, as the rest of the tracks are just as good, if not better. "Millions" is a series of common hypothetical questions, all of which Abernethy is brave enough to answer. "Is anybody ill? You're drinking from a reservoir that sinks through unmarked graves to a flaming broken heart" is one of the first addressed, offering a sarcastic tone toward those who linger in the useless past. "Does love it come but once? Oh, many times, like every day a new light touches us" and "Is death as cold as ice? And does it hurt the way it hurts to hate yourself alone? Well, nobody knows" are further examples of Abernethy's personal awareness. The fact that it overlaps exceedingly well with the saddening music at hand makes it even more enjoyably heart wrenching to listen to. While the depressed can marvel at the relation in Abernethy's poetically brilliant lyrics, the gleeful will admire his cumulative musical skill and tendency to create appropriately tactful soundscapes. College Grove is an extraordinary album from Joe Abernethy, an artist whose rise to prominence should be coming very shortly.
——————————————————————————————
[audio:https://obscuresound.com/mp3/aberna-the.mp3]
——————————————————————————————
[audio:https://obscuresound.com/mp3/aberna-ast.mp3]
——————————————————————————————
[audio:https://obscuresound.com/mp3/aberna-mil.mp3]
——————————————————————————————
Mike Mineo
I'm the founder/editor of Obscure Sound, which was formed in 2006. Previously, I wrote for PopMatters and Stylus Magazine. Send your music to
[email protected]
.