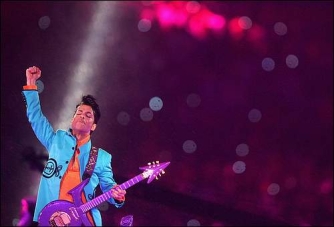 Last night, as most of you know, was the biggest night in American television. Super Bowl XLI: one of the few sporting events that even the athletically ambivalent can enjoy. From the game to the commercials to the music to the food and beer, Super Bowl Sunday has been considered a national past time shortly after it's origination in 1967. Personally, I'm a very big sports fan. However, being a New York Jets fan, the actual game being played only had me mildly entertained. I was rooting for the Colts like many of those outside Chicago, purely based on Tony Dungy's class and Peyton Manning's charm and demeanor. The actual game, compared to past Super Bowls, held for only an average amount of excitement. Though the Bears jumped out early and held a lead for the majority of the first two quarters, once the Colts took the lead in the late second quarter, there was no looking back. It was a general assumption at the time when Joseph Addai drove the ball in for a touchdown that the Colts would win, just based on Manning's ability to drive under pressure and persistence. It was a sloppy game as well, holding eight turnovers and three interceptions, two being thrown by scapegoat Rex Grossman. Some would call the sloppiness unwatchable, though I've unfortunately seen far worse. The commercials were about as exciting as the game, resulting in only a few chuckles being a result of another year where millions of marketing dollars is thrown down the drain by a handful of companies. How hard is it to create an ad with that sort of budget? I guess it's more difficult than it looks. Now, what about the music?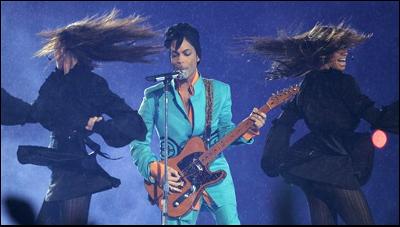 Well, being a music blog, it's probably considered necessary to talk about the musical aspect of the game. That's incredibly easy, as it also happened to be the best part, offering some of the only true form of excitement besides the quick feet of Devin Hester. This is in thanks to the legendary Prince, the 48-year-old artist who still moves and has the rhythmic passion of a 28-year-old in his prime. Of course, it was over twenty years ago when Prince released Purple Rain, one of the most successful albums of all time. After being one of the most popular artists of the 80s, Prince's career in the 90s saw him fading away in popularity and sales as he ventured toward a more independent direction, releasing albums that were focused in anything from instrumental jazz to hardcore funk. In 2003, Musicology marked a return to his prolific 80s self. Last year, he released 3121, a surprisingly strong album that was arguably his best since The Love Symbol Album in 1992. "Black Sweat" saw great success, reaching #1 on the U.S. R&B charts and climbing to #5 in the U.K.. If anything, the album was a clear indication of Prince's durability, answering those who questioned Prince's current ability to write songs. Such success led to the NFL's selection of Prince to be the main performer in the halftime show at Super Bowl XLI. After Janet Jackson's infamous wardrobe malfunction in 2004, the role had been highly controversially and sensitively chosen. It didn't matter to Prince though, as he put forth the best halftime presentation in Super Bowl history. Even with acts like Paul McCartney and The Rolling Stones preceding him in earlier years, Prince redefined how an artist should present themselves on such a grand stage. Where viewers previously feared the halftime show and anticipated the end, Prince's energy and musical wit provided for a show where most viewers, for once, actually enjoyed every second of it.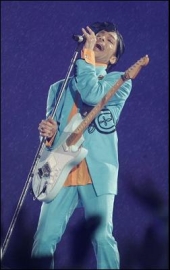 The setting seemed almost too surreal. With a purple background behind him, rain began to pour down, harder than it had all night. While the football players started to enter their locker rooms, Prince rose on stage with a guitar in hand. Legions of fans, ages ten to sixty, all crowded the colorful stage that resembled Prince's famous "Love Symbol". As a rendition of Queen's "We Will Rock You" filled the stadium, Prince entered the picture with the fans roaring with excitement. As he opened with his exciting original "Let's Go Crazy", he seemed at complete ease with a series of brilliantly effective hip motions and facial expressions. He didn't miss a guitar solo, showing the audience what an underrated guitarist he is. While he is often credited toward his songwriting, critics and audiences alike both often abandon the fact that he is one of the most impressive guitar players currently active. Prince eventually molded his set into an array of various musical achievements, playing short moments of his own "Baby I'm A star" and John Fogerty's "Proud Mary", a song that eventually evolved into a gracious cover of Bob Dylan's "All Along The Watchtower". After a few moments, Prince moved forward about four decades into an emotional cover of Foo Fighters' "Best of You", a song that would certainly be better than the original if recorded in a studio. That was not all though. Of course, he closed with one of the greatest songs of the past several decades: his own "Purple Rain". Providing the proper dramatic shift from the previous electric guitar-led classic rock gems, Prince launched into "Purple Rain" over the elegance and beauty of sullen keys. After the chorus, he shouts out "Can I play this guitar?" before exploding with a beautifully orchestrated guitar solo, all done behind a cloaked white sheet, displaying Prince's silhouette as he finished up the solo, later complemented by a series of brass supplied by the on-field marching band. Overall, it was a fantastic experience by an artist whose durability is just beginning to bloom. I have two rough recordings of the live versions of the songs below. Yes, they are indeed very rough, but I'm sure it will hold you over until some audio guru formats it to CD quality. At this time, you can probably search YouTube for an appropriate clip as well. Also below is a brand new unreleased song titled "Guitar", only available from Prince's web site. Released as an internet-only track on Friday, there are rumors circulating that it may be a single on Prince's upcoming album, intended for a 2008 release. I have no verification on the topic, though the song is certainly catchy enough. Though not as poetic or musically complex as his earlier hits, the lyrics and general melody go well together as Prince contemplates what should be valued more: romance or music? As you can see by the title and the chorus "I love you baby, but not like I love my guitar", I think you know which one Prince prefers. If you enjoy it, buy the track for $2 here.
——————————————————————————————
Prince – All Along The Watchtower -> Best of You (live at Super Bowl XLI)
[audio:https://obscuresound.com/mp3/prince-all.mp3]
——————————————————————————————
Prince – Purple Rain (live at Super Bowl XLI)
[audio:https://obscuresound.com/mp3/prince-pur.mp3]
——————————————————————————————
Prince – Guitar
[audio:https://obscuresound.com/mp3/.mp3]
——————————————————————————————