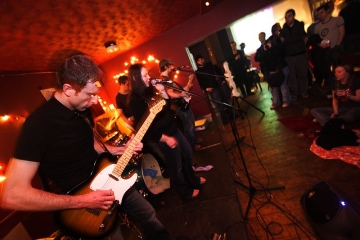 I usually find split singles to be a fun listen. After all, the chance that you'll like at least one of the songs is favorable. For those unaware, a split single is usually a release from a record label that features two bands on the same release. What I find entertaining, other than the music, is that the two bands sometimes feud as to whether they will have the first or second spot on the album. Humorously enough, this is one of the motivation factors that enables a band to use all of their capabilities to write the best song they can. The latest split from Sweet Records (an independent label based out of Northeast England) contains two fantastic songs that caught my immediate attention. The first track comes from Minotaurs (above) and the second one is from BlackFlower (below). Both hail from England, with Minotaurs being from South Shields and BlackFlower emerging from Newcastle. They also both have a clear likeness for clever and catchy power-pop. Minotaurs formed out of six friends bored of their seaside town. Andrew Coiley, Tom Devlin, Sarah Farrell, Andrew Forster, Grant Lagan and Michael Ross all knew that they shared a common interest in music shortly after meeting each other. After gathering up the proposed band and building up an audience from live shows, they released their first demo Fireflies in 2005, limiting it to fifty copies. In April 2006, Minotaurs released a three-song EP titled Demonstration #1, catching the eye of NME with fantastic songs such as "Anyone Who Had a Heart" and "The Trouble You Are In". Actually, NME went on to call them "quite simply brilliant" and even though NME hands out compliments to everyone these days, I'd have to agree that Minotaurs produce some of the most cleverly executed songs I've heard in some time. In December, they released a self-titled EP for "Anyone Who Had a Heart", now only available as a 12″ vinyl. It introduced three new songs: "Keepsakes", "Dictaphone", and "Good Care", along with a Christmas single, "(Baby) Give My Heart a Home This Christmas". The split single includes their brand new single "Partisan", making it their seventh song released (excluding the songs on their debut demo, Fireflies). "Partisan" is certainly their most mature effort yet, mixing together shades of Teenage Fanclub with Matthew Sweet, producing the perfect sound as far as the likable genre of power-pop goes. The song is based off several layers of masterfully conducted guitars with a chorus that is complemented by a single strain of synth. With the addition of several backing "doo daa"s from Sarah Farrell, a lively rhythm section, layers of guitars, and Andrew Coiley's irresistible vocal melody, it sets the tone for an excellent power-pop song.
——————————————————————————————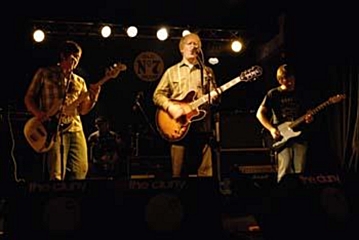 Now, on to BlackFlower. I consider them to be the most impressive of the two on the split. Keeping in mind that they only consist of four members, they expose a very energetic sound that holds a significant amount of emotional intensity. The late 80s and early 90s certainly appear to have been a big influence for BlackFlower, whose comparisons to The Smiths, The Housemartins, and Gene are easily stated. Actually, the lead vocals for BlackFlower sound strikingly similar to Gene's Martin Rossiter. In addition, Stu Robson's guitar is so powerfully used in the split single "Crying Shame" that one cannot help but remember the importance of Johnny Marr's contributions to The Smiths. Speaking of The Smiths, BlackFlower's lyrics certainly represent a similar amount of melancholy. While the beauty of "Crying Shame" lies in it's melody and musical organization, the lyrics certainly aren't happy-go-lucky either. "You don't even want to hurt me, just want to walk away," the ardent vocals sarcastically boast, "I don't even really hate you, can't stand to see your face" Such lines hold the same enjoyably pessimistic lyrical philosophy that Morrissey had before he got laid in Rome. It's an extremely enjoyable track though. As far as diversity goes, their other songs are an accurate depiction of a varied band. Both "Flowers On Our Grave" and "Bad Love" are very moving, showing a musical depth that was not shown in even the excellent "Crying Shame". While "Crying Shame" bordered on catchiness and replayability, these two songs really are an emotional example of a band in touch with their ability to produce their deepest emotions in the form of music. Both songs are around five minutes but the length is never an issue. Despite the slow tempo, the invulnerability that the band displays is a rare sight in the days of commercial bandwagoning. "Flowers On Our Grave" is weaved with a warm organ and amorous vocals that linger in a sullen and hopeless emotion of unrequited affection, breathlessly sighing "she won't take my hand, she won't walk with me" over a matching guitar accompaniment. "Bad Love" is another nice one that focuses on the relationship between keys and both the electric and acoustic guitar. The twang effect used on the guitar is particularly effective, with the wailing providing a proper sensation for a tale already clouded in a sensation of sympathetic loss and regret. My thanks goes out to Sweet Records for introducing me to two great new bands. The split will be released on March 12th for £2.00 ($4.00). BlackFlower's other single "You Won't Get a Girl Like That" is just as impressive as the songs here. The cover art is great as well.
BlackFlower – Flowers On Our Grave

[audio:https://obscuresound.com/mp3/black-flo.mp3]