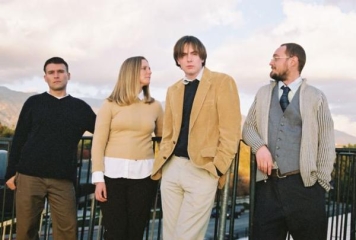 There will always be those types of bands who write songs out of pure financial desperation. You know, the linear individuals who do not display much of a talent other than strumming the guitar, not that there is anything wrong with that. However, this is anything but the case for the frontman of She's Your Sister, the latest acclaimed group out of Chicago. Apart from being the vocalist and guitarist for the steadily rising four-piece, Joel Whitley is an esteemed graduate of law school who is about to begin a career in corporate law. So, how does he plan to juggle both his band and surging career at the same time? Easy. By moving the entire band to Los Angeles, the city where his new occupation at the law firm of Munger, Tolles and Olson is located. "I never expected to come to Law School and start a band," Whitley later said, also noting that the band's ascension into reputable status has surprisingly helped him in the law field, as he has gained valuable experience through learning about a variety of people, different social interactions, and the process of accomplishment through hard work. The rest of the band consists of guitarist Theo Dimitriou, bassist Jenn Johnson, and drummer Job Springer. They all came together through a classified ad in the Chicago Reader during the winter of 2004, shortly thereafter with the four of them discovering that they all had a remarkably similar taste in music. All holding experience in a variety of musical endeavors, both Johnson and Dimitriou played in girl-rock bands (Rockit Girl, Nancy and the Knockers) prior to their involvement with She's Your Sister. Whitley and Springer also had their fair amount of experience with several local bands in the 90s. Most likely exhausted from baseless criticism, they are understandably not very fond of comparisons, calling comparative analysis "a bit boring". Though the typical names of The Pixies and the Smashing Pumpkins arise in most conversations concerning the band, the four members state that they simply "write three-minute pop/rock songs with loud choruses and riffy guitars", accompanied by vocals that "are either soaring, intense, or loud". Well, I suppose they did my descriptive work for me already.
Their first release came in July 2005 with their debut album, In Between. The album's results came out fairly well for a rookie band, peaking at #113 on the CMJ charts, and eventually earning them the opportunity to play several gigs at a variety of LA hot-spots, including the Viper Room and the Key Club. Their second album, Onetwothreefour, was released this past Tuesday. Produced in LA by Rae DiLeo (credits include Veruca Salt and Henry Rollins), the album exposes a deeper sound that while more experienced than their debut, maintains the same factor of enjoyment with an ample amount of catchy choruses and boisterous instrumentations. Classified as a rougher assortment of alternative power-pop, enjoyable songs like "Mirror Mirror" and "Sweet Sorrow" are slightly reminiscent of the Manic Street Preachers, with Whitley's vocals giving off a high-pitched form of power that should sound immediately recognizable for fans of James Dean Bradfield. The guitar riffs, on the other hand, remind me of mid-90s guilty pleasures like Collective Soul due to the simplistically gratifying result where depth is often substituted for catchiness and playability. Whether it be through indecisiveness or youthful excitement, their approach varies through the length of Onetwothreefour, with tracks like "Doll" representing a rougher edge, showcasing a slight influence in grunge and early 90s alternative, while "Let It Go" shows shades of Robert Smith and a more guitar-oriented version of The Cure. Whether it be the U2-esque arena rock production or 90s throwback guitar riffs, She's Your Sister's second album, Onetwothreefour, is an enjoyable release by four musicians who give off the gratifying impression that they find great satisfaction in creating pleasing music. Even if the band has yet to discover a consistent stylistic approach with their scattered array of influences showing predominately, Onetwothreefour contains a variety of a memorable songs and catchy hooks.
——————————————————————————————
She's Your Sister – Mirror Mirror
[audio:https://obscuresound.com/mp3/sysis-mir.mp3]
——————————————————————————————
——————————————————————————————
——————————————————————————————
——————————————————————————————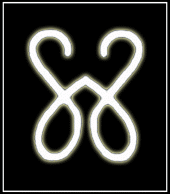 That odd logo above is representative of Sean Wilde, a solo artist who appears to be a vague mystery. While most technologically bound artists usually flaunt pictures of themselves on their web site or press release, Wilde does not have one photo available of him online. Considering he dwells on the flamboyantly retro genre of synth-pop, that comes as a bit of a surprise to me. Photo shoots were like a second home to synth-pop bands of the 80s, incorporating their expressive superficial image into their music in any way possible. Acts like Depeche Mode and Gary Numan promoted their own individual sound through dress and color, so perhaps this contemporary era marks the end of superficiality? Not quite, but Wilde prefers to let his listeners make their own judgment through listening and not looking, a rare aspect that most artists disregard. A former music journalist, Wilde got tired of criticizing other bands so he decided to give musicianship a shot himself. Growing up in the 80s on a steady diet of Blondie and Bananarama, it seemed only natural to explore the diminishing genre of synth-pop. After purchasing the Linn LM-1 drum machine and perfecting his skills on the keyboards, Wilde enlisted the help of multi-instrumentalist Carl Wiedemann, proficient in playing keyboards, acoustic guitar, and bass.
Wilde's debut EP contains four songs, each focusing on bright synth-pop with occasional snippets of samples taken from oldie films (another one of Wilde's hobbies). Wilde's vocals reminds me of Parks & Recreation's Michael Johnson, as both maintain a deep and candid vocal presentation over an infectious accompaniment of organs, synths, and the occasional guitar. Though "Still Hear the Train" strays about two minutes too long than necessary, it is a great showcase of Wilde's melodic charm. Whereas most synth artists tend to go toward a darker route, most of Wilde's instrumentations are bright and upbeat in nature, even if the lyrical content is somewhat somber. "Opening Night" deals with the typical jitters of first-time experiences, looking deeper into the feelings of doubt and insecurity that seems to be instilled in people as they grow older. Once again, Wilde's classic movie snippets seem strangely appropriate in comparison to the more contemporary use of synths. Wiedemann's bass work on both "Still Hear the Train" and "Dancing Lady" are well executed as they carry the load where Wilde's keyboards seem fairly light, also cloaking the moments in when the drum loops sound too repetitive. "Dancing Lady" is poppier in nature compared to the other songs on the EP, showcasing a retentive chorus that is only slowed down by a verse that seems too rushed and inclusive. All this aside, the audio sample during the last two seconds is amusingly out of place and it brings a sort of humorous confusion. Even with the occasional rough patches, the songwriting often shines with impressive spots of cohesiveness that make up for any signs of repetitiveness. Showing a likeness for Gary Numan, Erasure, Hot Chip, and Parks & Recreation, Sean Wilde is completely unknown at the moment but he definitely has the potential to be worth looking out for.
——————————————————————————————
Sean Wilde – Still Hear the Train
[audio:https://obscuresound.com/mp3/swilde-sti.mp3]
——————————————————————————————
——————————————————————————————
——————————————————————————————