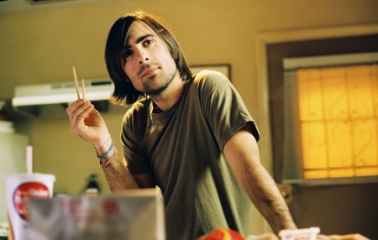 If one dates Zooey Deschanel and is set to star in an upcoming movie alongside Natalie Portman, they are likely to be the object of envy for most hipsters nationwide. Also add to the mix that they were the star of the cult-favorite movie Rushmore and composer of The O.C. theme song and you have a lifestyle that appears to be quite desirable. While Jason Schwartzman is best known for his acting career, girlfriends, and prominent family (Francis Ford Coppola is his uncle, Nicolas Cage is his cousin, and Talia Shire is his mother), Schwartzman has been involved in music and songwriting to a considerable degree before his acting career. He was the drummer and one of the founders of Phantom Planet, most well known for the now overplayed theme song to The O.C. Despite leaving the band behind for his acting career and breakout role in 1998's Rushmore, Schwartzman continued to arrange songs for movies and contribute to various albums throughout the following years, specifically Ben Lee's Awake Is The New Sleep. After playing King Louis XVI in his cousin's (Sofia Coppola) direction of Marie Antoinette, Schwartzman began working on his first self-release since his days with Phantom Planet. Collaborating primarily with Incubus guitarist Mike Einziger, Schwartzman recorded Nighttiming, the debut album from his new solo project, Coconut Records.
Considering Schwartzman's diverse array of talent, beautiful girlfriends, and considerable success, one would most likely expect Nighttiming to be a directly upbeat experience, much like his brother Robert Carmine's band Rooney (admittedly a guilty pleasure of mine with their catchy summer-friendly debut album). While Nighttiming is far from being the epitome of mope-pop, several songs on Schwartzman's solo debut substantially epitomize melancholy and loneliness. "If it's a summer day with not a cloud in sight then tell me why it feels like it might rain on me?" Schwartzman solemnly sings over a bare acoustic guitar in the simplistically charming "Summer Day". Being one of the handful of male-female duets on Nighttiming, it offers an honest look into the surprisingly complex mind of an accomplished actor and striving musician, a type of person who we often forget has the same range of emotions as the rest of us. Despite the occasional heart-tuggers, Schwartzman shows an impressive amount of range with a few typically catchy rock tracks like the Weezer influenced "Back To You" and the funk-tinged irresistibility of "Nighttiming", which features an ample variety of instrumentation from synths to strings, all supported to an agreeable extent by Schwartzman's light and agreeable vocals.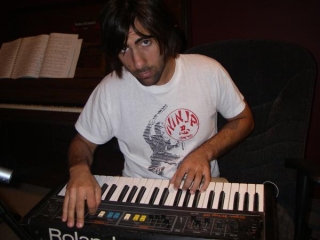 Listening to Nighttiming, there is no doubt in my mind that it will be radio-friendly and adored by listeners who do not ask for much more than a catchy melody. Schwartzman has shown prior to this release that he has the capability to write catchy pop songs, though this album certainly capitalizes and expands on previous assumptions. It should be an interesting clash between brothers when it comes to the summer sales of Schwartzman's Nighttiming and Rooney's sophomore release (scheduled for release this July). I think it would be fair to say that both will fare equally well, as they offer that form of summer pop that, while linear in most cases, proves to be surprisingly enjoyable to even the most "elite" of listeners. Even if Rooney has the major label studio capabilities and raw catchiness available, Schwartzman offers more range even if several of his tracks are somewhat dull. However, one thing to be said about Nighttming is that only three of the twelve tracks exceed three minutes. Whether you look at this a flaw or an intentional minimal approach, Schwartzman's straightforward style of indie-pop has often proved to be listened to best in small doses. He shows his hand with a lovely melody, plays it to the best of ability for two minutes, then shifts into another song with an equally agreeable cause. Such is the case with Nighttiming, an album that often feels like it could use more depth and longevity despite Schwartzman's knack for reveling in extremely catchy melodies. Some tracks like the intentionally amateur approach in "Mama", the generically repetitive "The Thanks I Get", and the bland "Slowly" could have been easily left off, though the rest of the songs on Nighttiming are enjoyable to an extent that warrants addictive listening qualities.
While the initial irresistibility may cause most to forget about the album after a month or so, Nighttiming is certainly a release to listen to depending on one's mood and setting. With this in mind, Schwartzman incorporates a range of styles ranging from the mindful power-pop of "Easy Girl" to the bareback country approach in "Mama". While Schwartzman's Nighttiming will see some avid radio time with tracks like the already reputable "West Coast" and perhaps "Nighttiming", the rest of his album is as exciting as his facial expression in most of his promotional photos. It will have those with a low demand of ingenuity in phases of enjoyment, though there is not much to offer for anyone else besides a handful of catchy tracks. While it is impressive that Schwartzman has the artistic range to write, perform, and sing every song on the album, Nighttiming never reaches the quality of its preceding singles. This summer-friendly album can now be purchased on most digital music web sites and will see a solid release later this year on Young Baby Records.
——————————————————————————————
——————————————————————————————
——————————————————————————————
——————————————————————————————