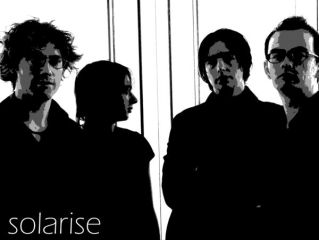 Within the past decade, Scotland has seen its share of native bands go on to achieve international success. Franz Ferdinand, Snow Patrol, and Travis are a just of a few of the names deriving from the nation in northwest Europe. While the 80s and early 90s saw many influential bands in the form of Teenage Fanclub and Primal Scream derive from Scotland, we have more recently been exposed to acts more associated with melodramatic alternative in the form of Snow Patrol or energized art-rock like Franz Ferdinand. The most recent Scottish act comes in Solarise, a four-piece who most fortunately revel in the native influences like Teenage Fanclub and The Pastels. While their music hardly relays the over-exaggerated accents of The View or the immediate wit of Franz Ferdinand, Solarise have maintained the ability to craft highly memorable and infectious songs since their formation in 2002. Guitarist and lead singer Jean-Philippe Risse, keyboardist Rodger Hughes, bassist Daniel McGuire, and drummer Gary McMillan released their first EP, Songs for the Devil, in 2003 and immediately caught the attention of several local venues and radio stations with their refreshing sound based on early 90s influences and futuristic atmospherics. Ironically, they drew the most comparisons to Belgian rock legends dEUS, an influence that Solarise freely admits is their largest.
The particular dEUS influence rubbed off when they enlisted the help of producer Rudy Coclet for their full-length debut, Still the Same Dream. Coclet was formerly the producer for a handful of dEUS albums and is known primarily for his work with Belgian songwriter Arno. The majority of Still the Same Dream was recorded during the summer of 2005 and after a few anticlimactic delays, it will finally see the light of day this year on the Dutch label Konkurrent. For a band who previously released only one EP and a demo tape, Solarise has gained quite the following proceeding their tours in Scotland, Belgium, and Holland. The four-piece was apparently a big hit at Scotland's T In The Park and I must imagine that the Belgian fans were in admiration upon seeing a band embrace their native heroes dEUS with such grace. Additionally, check out the band's cover of The Knife's reputable song "Heartbeats" on their MySpace. Solarise clearly takes great pride in being a "DIY band", proclaiming their self-funding, self-organization, self-promoting, and self-management to be representative of the hard work contributed toward Still the Same Dream, an album in which they claim is a result of over five years in the making. That makes sense, as I am finding it to be one of the more exciting and impressive debuts of the year. I am getting a bit tired of other bands with flagrant over-distortion cloaking their actual melodies and Solarise is is quite a breath of fresh air with consideration toward their notable form of exquisitely crafted songwriting.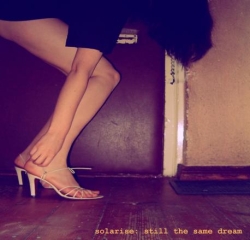 The four members demonstrate exuberance and confidence through their songcraft, displaying gleaming forms of stylistic cultivation that often revolve around the lulling vocals of Jean-Philippe Risse. Often shrouded with reverb and a slight snarl reminiscent of Stef Kamil Carlens (Zita Swoon), Risse sounds ultimately comfortable in his musical surroundings, whether it is the lovely string-touched "Ego as a Life Handicap" or the energized electric touch in "Once You Have Loved". More dramatic songs with a slower tempo like "Living On Mars" and "Ego as a Life Handicap" actually remind me quite a bit of The Clientele, presenting either strings or keys over Risse's vocals. While Risse does not appear to sound as eccentric as Alasdair MacLean, he certainly compares proudly with geniality and emotion. The beautiful closer "Living On Mars" tugs at the heart with a tale of lost romance. "If only she could have seen me and all in the passion in my eyes," Risse sings haplessly, "If only she could have loved me, I would be living on Mars." Much of the album deals with everyone's favorite topic of unrequited love, especially the devastating "Ego as a Life Handicap", an exceptional track that utilizes vocal reverb in the chorus quite creatively. But it is the words that initially begin the song that truly set the romanticized tone. "How can I find the words to reach you now when you don't care I've got to say?" Risse pleads with pure emotion, preceding a slow emotional burst of strings. It is one of those rare moments that could have you on the verge of tears in a personally comparable circumstance.
A likely choice for a single would be the catchy "Get You Down", a track that slowly transcends from a gentle acoustic melody into an electrically charged chorus in which Risse uses his natural melodic charm to remind us of all those dEUS comparisons, all of which appear to be oddly similar for tracks as strong as "Get You Down". "I Quit" is in a similar vein with its exceptional chorus being overlapped with slight etches of synth, an incorporation that plays a larger role in the more electronically-oriented title track, "Still the Same Dream". It appears as if Solarise can attempt any style and come out successfully on Still the Same Dream, as even linear acoustic tracks like "Paradise" provide a vivid atmospheric touch with a futuristic pose that is consistent throughout Still the Same Dream. I would advise you to forget about other Scottish breakthroughs like The View for the moment, as Solarise is by far the best thing I have heard out of Scotland all year. In fact, Still the Same Dream is one of the most fulfilling debuts of the past several months. While there is yet to be a release date announced, I will surely update you when there is; this is a must-buy.
——————————————————————————————
Solarise – Ego as a Life Handicap
[audio:https://obscuresound.com/mp3/solarise-ego.mp3]
——————————————————————————————
——————————————————————————————
——————————————————————————————