Posted
June 26, 2007 by Mike Mineo
in
Christian McKee Blends Dance and… Dylan?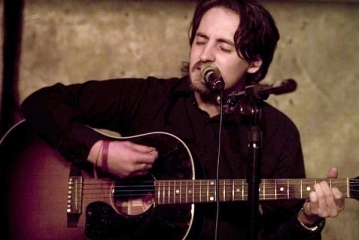 If there is one thing that Christian McKee has down pat, it is his regard for influence. Bob Dylan, Leonard Cohen, and Nick Drake. Hardly an unconventional list but still, it gets his point across. Growing up as an archetypal music-loving youth in North London, McKee was first sparked by music when his father gave him a guitar in 1995. At this point in the decade, as he recalls, England was undergoing a radical era in musical innovation. Brit-pop was at an ultimate high with bands like Pulp, Blur, and Oasis scaling the charts, with the antecedent influences being pushed aside in favor of the hot new trends. McKee has now grown up, just like his influences, and instead of deciding on a strategy to retreat and mimic those influential greats, he has wisely decided to incorporate their impact into a noticeably present-day sound. From Bob Dylan to Jarvis Cocker, McKee has successfully materialized his sound to a point that establishes both his influences of the 60s and the 90s into one befitting mold.
Spending most of his adult years as a member of a London-based band, McKee finally rediscovered his urge to perform as a solo artist when he and his wife gave birth to a son. While child birth proves to be a time of pressure and anxiety for most, McKee transitioned the emotions into an artistic success. In a probable combination with sleepless nights, McKee released his debut album, 2 Mormons, and the proceeding EP, iPods and Cyclops, in 2006. As you can most likely tell from the titles alone, McKee's ironic sense of humor is often evident throughout his albums and songs. A further example of this can be found on his new album, Songs From Wharf Avenue; scheduled for a July 2nd release.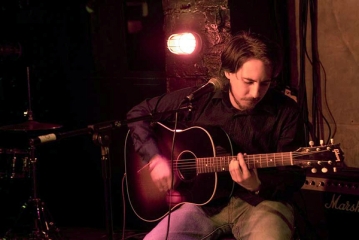 "Alive By The Weekend", the opening track on Songs From Wharf Avenue, is a catchy dance-oriented track that reaps from immediate synths and throbbing bass. McKee's voice is strictly British, sounding appropriately full of angst through a catchy chorus where parental concerns are mocked and, at best, publicized. "If I'm alive by the weekend tell my mum I'm okay," McKee prominently voices over a catchy array of synths. "I've not been blown up, I haven't turned gay." As elementary as some of the embarrassing lyrics are, McKee's grasp of his own musical intervention remains impressive and his general outlook remains consistent and thorough. Though his dependency on the chorus remains frustrating, the opener remains a satisfying song. "Flowers In The Rain" is the second piece on the album, one that distinctively holds a Dylan influence. Held together by guitars and keys, McKee does the best Dylan impersonation that a British songwriter could possibly do. Well, consider that to be an imitation of young Dylan (obviously excluding the coarse raspiness and lovable slur). The lyrical content is also a sure step up from "Alive By The Weekend", retelling the consequences of falling too deeply in love.
One of the gripes that I have with McKee is his constant source of repetitiveness. There remains no melodic shifts or successful key transitions in the majority of songs on Songs From Wharf Avenue. Despite the fact, the melodies that he does include are quite enjoyable. This is why the potential for McKee remains great, along with his promising lyrical prowess exhibited in both "Flowers In The Rain" and the nostalgic "Seventeen Again". Sounding like a less amused Edwyn Collins, McKee recollects on the sudden change from teenage years to adulthood. "Choices weren't ours to make, curfews were ours to break," McKee sings through recollection of teenage events, "liberty is there to take, getting stoned in the park." When he sings, "wish I was seventeen again, oh, to be seventeen again", the impact contained over the simplistically layered synth and acoustic guitar is enough to warrant a substantial emotional impact. Christian McKee has a boatload of potential. If he manages to tone down the repetitiveness and continue to perfect his evident lyrical skill, his name should begin to rise in prominence. His ability to transition between infectious dance and Dylan-influenced acoustic ballads is impressive enough.
——————————————————————————————
Christian McKee – Flowers In The Rain

[audio:https://obscuresound.com/mp3/cmckee-flo.mp3]
——————————————————————————————
Christian McKee – Alive By The Weekend
[audio:https://obscuresound.com/mp3/cmckee-ali.mp3]
——————————————————————————————
Christian McKee – Seventeen Again

[audio:https://obscuresound.com/mp3/cmckee-sev.mp3]
——————————————————————————————
Mike Mineo
I'm the founder/editor of Obscure Sound, which was formed in 2006. Previously, I wrote for PopMatters and Stylus Magazine. Send your music to
[email protected]
.