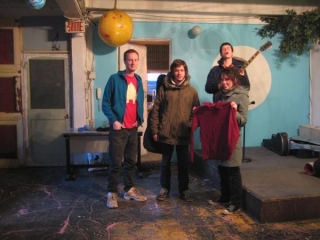 As hip as it may be to list ambiguous names as primary influences, there are usually two extremely popular bands who are labeled as major influential factors by the majority of contemporary artists. Miracle Fortress is one in an infinite number of bands that proudly calls The Beach Boys their most prominent inspiration. Alongside The Beatles, it is difficult for a modern artist to ignore the contributions of Brian Wilson and associates, with a sense of songwriting brilliance that most proceeding artists can only dream of. When I read that the Montreal-based Graham Van Pelt was the leading songwriter for Miracle Fortress, his name rang a bell. Though I was unable to specifically pinpoint where I had heard of Mr. Van Pelt, it eventually came to me. I remember the tall, lanky, red-haired Canadian native as half the duo of Think About Life, a group consisting of Van Pelt and Martin Cesar that I featured over thirteen months ago. Van Pelt formed Miracle Fortress in late 2005, causing his musical career to consist of Think About Life and Miracle Fortress, in addition to a solo career. In fact, as a solo artist, he has opened up for several respectable artists such as Love Is All, Sunset Rubdown, and Islands. As one of the most well-regarded individuals in Montreal's music scene, Van Pelt is hoping to acheive a broader form of success with Miracle Fortress.
Acting as a four-piece, Miracle Fortress also consists of Adam Waito (Telefauna), Jessie Stein (SS Cardiacs), and Jordan Robson-Cramer (Sunset Rubdown), the last of which Van Pelt met while opening for Sunset Rubdown. They recently completed their debut album, Five Roses, in the beginning of the year and it was released in May. Like the rest of Van Pelt's projects, anyone who lives anywhere remotely close to Montreal most likely already considers Miracle Fortress to be the "next big thing". Perhaps so, but American audiences and beyond have yet to catch up to another Graham Van Pelt project that is somehow flying below the radars of most indie circles. They have gone the typical route on their web site to say that the album will appeal to fans of My Bloody Valentine and the Beach Boys. While I do not doubt that Van Pelt and company are large fans of either band, the concept of Five Roses appears to be broader than their statement. For example, the first two tracks on Five Roses, "Whirrs" and "Have You Seen In Your Dreams", are soaked in reverb, harmonically layered backing vocals, and rapturously distorted guitar riffs. "Whirrs" is a guitar-based, atmospherically charged instrumental while "Have You Seen In Your Dreams" hammers out a repeating effective of droning keys to establish a haunting tone, causing both tracks to be more in the mold of Van Pelt's regard to My Bloody Valentine.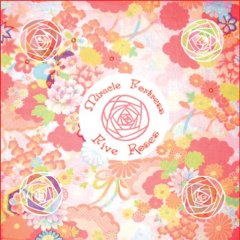 While the majority of tracks on Five Roses are epitomized by the stylistic trend of the first two track, songs in the form of "Next Train" and "Poetaster" embody characteristics of modern pop. While their blatant proposal of Beach Boys comparisons remains to be unseen, elements of extremely enjoyable pop shines through vaguely reminiscable hooks and fixated melodies. Acoustic key changes in the fantastic "Poetaster" are executed wholesomely, while the ambitiously enthralling vision of "Next Train" and "Blasphemy" incorporates synths and electric guitars for a trade of infectiously drawing melodies and admirable production. While every song on Five Roses remains to be far from conventional, the unpredictability contained in the majority of pieces makes it to be the most accomplished album of Van Pelt's understated career. Honestly, the only track that suffers on the entire album is the repetitiously dull "Fortune", a track that prefers a form of overused ambient atmosphere over actual substance. Whereas Van Pelt's previous projects suffered from a lack of focus and dexterity, Miracle Fortress is finally an accurate representation of his rising potential.
It is highly evident that the most avid fans of Five Roses will be those who have a broad taste in music, specifically in that of shoegaze and unconventionally captivating pop music. The exceptional closer, "This Thing About You", relays an extremely moving melody of untouchable romanticism, using the dreamy, drowsily enjoyable approach seen in other marvels like the busy integration of keys and guitars in "Have You Seen In Your Dreams" or the twinkling nature of "Hold Your Secrets To Your Heart". More recently, it would be easy to compare the ambitious nature of Miracle Fortress to the radiantly enjoyable diversity of The Besnard Lakes. With all the acclaimed press that the latter received, I believe that Miracle Fortress certainly deserves a comparable amount. Though it would be difficult for me to consider Five Roses a debut album considering Graham Van Pelt's admirable experience, this is certainly a release that shows intricately crafted poise and subtle musical beauty.
——————————————————————————————
Miracle Fortress – This Thing About You
[audio:https://obscuresound.com/mp3/mirfort-thi.mp3]
——————————————————————————————
Miracle Fortress – Have You Seen In Your Dreams

[audio:https://obscuresound.com/mp3/mirfort-hav.mp3]
——————————————————————————————
——————————————————————————————