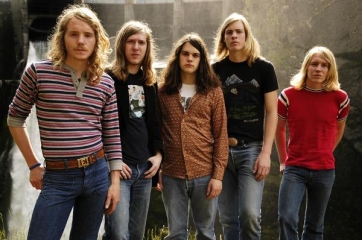 It is becoming increasingly difficult to find an actively successful band that originated in high school. With the limited social environment, educational pressures, and repetitive daily tasks, quality songwriting is rare to come by in students who have not yet reached college. Sure, every modern-day high school has its local music scene with kids in tight jeans and eyeshadow performing the latest gut-wrenching emo hits and, yeah, those types are easy to find. But that is hardly quality. Hell, that is not even worth the price of free admission alone. It is usually not until college where individuals blossom into quality songwriters, with the newly exposed social environment providing a more independent atmosphere through other respectable artists and various associates who actually have a decent taste in music, unlike the previous kids garnering for commercialized attention in high school. I suppose you could say that The Lonely H has defied the odds. Here they are, five kids fresh out of high school, and they already have a record deal, a debut album, and are set to embark on a national tour in July (after they graduate, of course). In addition, their 2006 debut, Kick Upstairs, received glowing reviews and the band has followed it up with no delay. Their second album, Hair, is set to be released on July 24th.
The Lonely H's big break came in 2004 when they finished in second place at Seattle's Experience Music Project. With the prizes consisting of gear and studio time, the young five-piece set to work on their debut album with the opportunity of a lifetime in tow. With sprawling hair down to their shoulders, tight clothing, and thin frames, it should come as no surprise that their biggest influences are the purebred rock 'n' roll stars of the past. Like their fellow contemporaries Kings of Leon, their admiration for prolifically stylistic frontman in the vein of Robert Plant or Freddie Mercury is highly evident. From the photo above, it even looks as if vintage Plant would slide right in there as well. If you think that is funny, take a look at the other picture blow. Looking a bit younger? Mark Fredson's vocals possess a form of arena-rock flavor that incorporates itself well with a squelching twang reminiscent of My Morning Jacket's Jim James. With the double guitar attack of Colin Field and Eric Whitman being further accompanied by bassist Johnny Whitman and drummer Ben Eyestone, the natives of Port Angeles, Washington, brings back what was genuine about rock 'n' roll. In addition to their concisely energetic guitar progressions and fixated rhythmic response, The Lonely H provide a plentiful array of hooks that was merely touched on in Kick Upstairs.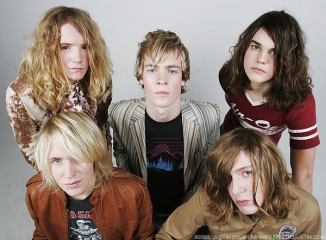 Hair represents a variety of different stylistic approaches, all within the realm of rock 'n' roll. The opener, "Just Don't Know", sounds like a traditional opener from The Lonely H, recalling the wholesome riffs with resounding vocals that made Kick Upstairs so impressive. Disregard the fact that The Lonely H were ages 16 to 18 when they recorded it. The album was quite impressive coming from any age. Not surprisingly, Hair is even better. It is surprising what an additional year of experience can do. The variation contained in their new album is quite exceptional, from the rapidly infectious "The Meal" to successive acoustic folk ballads like "Rollin'" and "All Hope". The chorus contained in "The Meal" is most likely poised to make it their debut single off of the album. It is an immediately likable three-minute rock song that touches on elements of alternative and grunge through guitar-oriented melodic shifts supplemented by Fredson's fitting utilization of keys. His vocals are just as admirable, transitioning between a fast-paced verse and a more comprehensible chorus with apparent ease. "Captain" sees more of the similar keys-guitar-rhythm approach, though this gem is supported by the excellent addition of brass. With Fredson's throwback organ-like effect on his keyboards makes the introduction a bit haunting, while the added brass proves to be yet another melodically enhanced charge. Songs like "Captain" and the exuberant "The Meal" never cause Hair to be a dull affair.
Considering that Hair primarily consists of songs ranging around three minutes, the epic "The Drought" may appear misplaced at first. Lasting over eight minutes, the initial impression may be that of a song overstaying its welcome. However, I must advise you to give this outstanding song a chance. It is rare for band that is known for structurally consistent rock songs to be able to pull off an enjoyably admirable song like "The Drought". Not only is the structure unpredictable and engrossing, but the instrumentation is just as impressive. Guitars, bass, percussion, a piano, and strings all play a vital role in one of the most impressive songs on the album. Field and Whitman demonstrate their guitar solos through precise solos while Fredson continues to implement his practiced key-work. Around the four-minute point, the band's approach in the song transitions to a livelier approach, mainly led by Fredson's excitable vocal impact and Eyestone's frantic percussion. While it would have been easy to separate "The Drought" into two separate songs at the mid-way point, both sections of the song overlap into one another nicely through expertly crafted structural intellect. Hair should receive a good deal of recognition when it is released in the midst of The Lonely H's tour in July. It is rare to see a bunch of lads who are not even old enough to drink show the rest of the rock 'n' roll industry how it should be done.
——————————————————————————————
——————————————————————————————
——————————————————————————————
——————————————————————————————