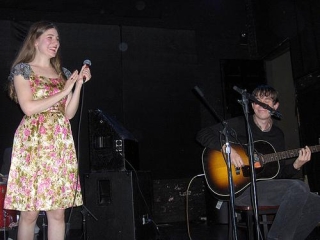 For fans of Becky Stark's self-produced modern operetta, "Bird Songs of the Bauharoque", it hardly came as a surprise when she hit it big with Lavender Diamond. Stark, the star of the widely acclaimed stage show, presented all the pizazz, dramatic flair, vocal ability, and stage presence that would be expected from a fledging indie-pop starlet. While Stark toured with her show across America in 2003, she distributed copies of her debut album, Artefacts of the Winged, throughout the tour, shining light on her artistic talents in more ways than one. By killing two birds with one stone, she was effectively exposing the nation to her talented array of expressively artistic passions. After moving to Los Angeles in 2004, Stark decided to focus more on her blossoming musical career, enlisting the help of guitarist Jeff Rosenberg, pianist Steve Gregoropoulos, and drummer Ron Rege, Jr. After releasing a few EPs under Lavender Diamond (most notably the impressive four-track EP, The Cavalry of Light), the four-piece signed to Rough Trade (UK) and Matador (USA), poising themselves for international success. Lavender Diamond released their full-length debut, Imagine Our Love, in May.
The most lasting impression that listeners of Lavender Diamond will gain is the exquisite vocals of Becky Stark. Classically trained and noticeably so, her voice sounds both beautifully frail and emotionally wounded. While the group's ample incorporation of reverbed acoustics, lush piano melodies, and exquisite string accompaniments remains fairly traditional in the vein of common indie-folk, it is Stark's vocals that resonate most distinctively in the summation of Lavender Diamond's amiable concept. Matador's site likens the group's sound to "nursery rhymes or church music", a comparison that rings true in both the melodic and lyrical approach of songs like the bouncy "Side of the Lord" or the catchy strums of "Here Comes One". Stark's beginnings as a vocalist actually date back to her childhood days as a member of her church's choir; hardly surprising. On the impressive Imagine Our Love, tracks like the ardent "I'll Never Lie Again" manage to blend elements of regret and morality, all while sounding impressively touching over delicate textures of instrumentation. While the chorus is a minimal but likable mixture of Stark's vocals, acoustic guitars, and piano, the chorus transcends into an orchestral development that tugs at the heart. The strings sound occasionally like the more classical works of Van Dyke Parks — without the pretentious guest vocalists, of course.
One of the most enjoyable songs on Imagine Our Love is the impeccably executed "Open Your Heart". Both charismatic and flavorful, the lively percussion in its first moments are a good indication of where the song is headed. Blatantly the most excitable track on an album that is primarily filled with delicate tunes focused on love lost or found, Stark displays his vocal diversity in "Open Your Heart" to the fullest extent. While it continues to complement on the approaches that made Lavender Diamond's previous efforts admirable with more fantastic string and piano compositions, it is Stark's vocal melody that shines the brightest. "Open your heart, tear it apart," she signs with near glee, echoing over the alluring sounds of her capable backing band. More sullen songs like "My Shadow Is a Monday" and "Find a Way" tend to work more off repetition than the upbeat numbers in the form of "Like An Arrow" and "Open Your Heart", detailing a formula that, while predictable, employs a fervent sensation through the sweet-natured vocal delivery of Becky Stark. Managing to recite influences both in pop and folk music, Lavender Diamond's debut album is a likable and airy affair that is rarely held up by hesitation. Like the talented Marissa Nadler, Becky Stark has the voice of an angel; an aspect that can carry a band to great heights on the feature alone.
——————————————————————————————-
Lavender Diamond – Open Your Heart
[audio:https://obscuresound.com/mp3/lavdia-ope.mp3]
——————————————————————————————-
Lavender Diamond – I'll Never Lie Again

[audio:https://obscuresound.com/mp3/lavdia-ill.mp3]
——————————————————————————————-
Lavender Diamond – Side of the Lord

[audio:https://obscuresound.com/mp3/lavdia-sid.mp3]
——————————————————————————————-