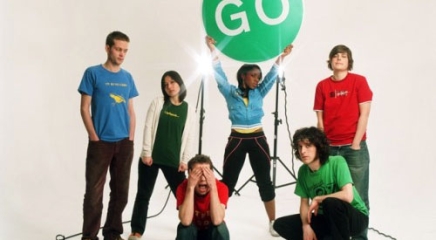 Cheerleader chants, infectious hip-hop, and irresistible dance-pop? Sounds like something that The Go! Team can handle with ease. As it turns out, their second album is more than a little proof of such energetic dexterity. Even at this early stage in their careers, it is arguably a career definer.
The Go! Team
Proof of Youth
(Sub Pop)
US release date: 11 September 2007
UK release date: 10 September 2007
My Review on PopMatters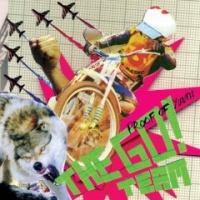 by Mike Mineo
Due to their heavily expansive sound, there have been dozens of creative comparisons applied to the Go! Team. With their suave implementation of horns, gleeful vocal techniques, and assorted samples, it's difficult to concisely pinpoint one genre when attempting to describe the six-piece from Brighton. Whether their diverse array of instrumentation reminds you of theme songs from '80s Saturday morning cartoons, a spunky take on vivacious cheerleader chants (as their name indicates), or any arbitrarily placed nostalgic pop culture reference from the past 40 years, one thing remains certain—there is no other contemporary artist quite like the Go! Team. Even with just one album under their belt, the Go! Team have established themselves as masters of pure stylistic innovation. After the immense success of Thunder, Lightning, Strike, it appears that in the group's second album, Proof of Youth, they have subtly made the transition to an even livelier, more accompanied sound; one that makes more prominent use of lead songwriter Ian Parton's hip-hop influences, while retaining the lovable elements of funk, bubblegum pop, and sample-led dance that made Thunder, Lightning, Strike so immediately memorable.
Though the Go! Team have displayed several components of hip-hop before in songs like "Bottle Rocket", lead vocalist/rapper Ninja was often found spurring incoherent rhymes over instruments that were more reminiscent of airy orchestral pop, including, but not limited to, horns, radiant keys, and even glockenspiels. The opening track on Proof of Youth, "Grip Like a Vice", offers a take on the genre that serves as more stereotypically accurate, with a vibrant rhythm section now leading the main beat over various loops engineered by guitars and keys. As usual, Ninja's delivery is spot-on and Parton's loops are utilized flawlessly, almost to the point where they are indistinguishable from actual instrumentation. Though the trademark horns make their entry during the infectious chorus, the majority of "Grip Like a Vice" sees its strength in the form of ceaselessly energetic verse; one that is lengthy and repetitive, but also actively engaging. Though the girl-power angle appears extraneous for the music's brisk nature, when Ninja churns out, "It's a woman's world, you gotta give it what you got", it is extremely refreshing compared to the era of sexually discriminatory hip-hop that floods the radio waves today. The blatant choice for the first single from Proof of Youth, "Grip Like a Vice" is an oddball fusion of '80s electro, early '90s hip-hop, and rhythmically-led dance, resulting in one of the catchiest tracks you are likely to hear this year.
While the vocals in Thunder, Lightning, Strike were generally consistent, with a marginal degree of hip-hop twists to please a wide range of listeners, Proof of Youth is an album exceedingly diverse on that front. In addition to the ceaselessly powerful vocals of Ninja and the recently recruited Kaori Tsuchida, the Go! Team have enlisted the aid of Marina Ribatski (Bonde do Role) and Elisabeth Esselink (Solex) to fill out various melodic cheering sections. The exceptional "Doing It Right" sees Tsuchida making her first appearance side-by-side with Ninja, both doing equally extensive duties on arguably the most infectious track on Proof of Youth. With Ninja taking control of the gritty verses, the transition to Tsuchida's easygoing, melodically proficient chorus is surprisingly smooth—especially considering that the only instrumental change over the animated shouts of sparkling keys and nippy guitars lies in the rhythm section.
The Go! Team's infatuation with simplistic repetition actually proves to be one of their strengths throughout the album, primarily due to the persistently energetic vocal accompaniments and various instrumental incorporations that fill the structures with whimsical ease. While the preliminary vocal melody found in the otherwise impressive "Keys to the City" is too similar to "Doing It Right" for its own good, redemption is found within the production values, where child-like chants and heavily involved instrumentation are blended immaculately together. While the hectic involvement in tracks like "Titanic Vandalism" and "Keys to the City" may prove intimidating to some, the ingenious production truly makes proper use of such weighty inclusions.
Oddly enough, the most noticeable vocal guest spot comes in the form of Public Enemy's leading man, Chuck D. Considering that Ian Parton has said (on more than one occasion) that Sonic Youth is a prime influence, it's somewhat fitting that Chuck D. is no stranger to indie-rock collaborations (and Sonic Youth in particular). Since appearing on Sonic Youth's wildly successful "Kool Thing" in 1990, Chuck D. has found a place in the hearts of hip-hop and indie-rock fans alike. His vocal appearance on "Flashlight Flight" nearly reaches the effectiveness of "Kool Thing", showing that age simply does not catch up to some MCs. Though he is less of a presence than he was in the late '80s, I dare you to find a 47-year-old that can rap with the same intensity. Fortunately, in "Flashlight Fight" he opts not to change his approach, delivering the same husky, angst-ridden rhymes which fans of Public Enemy have known and loved for over 20 years. The only difference is that, this time, he is accompanied by flurries of brass and high-pitched samples, with a chorus that resonates with the Go! Team's signatory cheerleading chants. Who would have known that Chuck D. and a cheerleading squad would go together so brilliantly?
On the lighter side of things, "Fake ID" is an absolutely charming attempt at internationally receptive punk-pop. Fusing together elements of Shibuya-kei and other forms of pop music that emphasize the word "cute", the vocals maintain a tinge of youthful innocence without gaining amateurism or a loss of credibility. While immediate comparisons will likely arise to an in-key version of Deerhoof's Satomi Matsuzaki, the track remains equally, if not more, reminiscent of Cibo Matto's more accessible tracks. That the vocals sound like they could be delivered by a child is part of the charm in "Fake ID". Between that and the masterfully executed trumpet solo found after the notably gripping chorus, it's hard to pick a favorite track from the album. It simply all works on Proof of Youth. If there is one thing that the Go! Team have constantly proven throughout their first two albums, it's that they remain sophisticated enough to incorporate amiable pop hooks over jovial instrumentation that, while sporadically overwhelming, are rarely dull or predictable. Not even the exclamation point in their name can sum up the genuine sentiment of youthful excitement that the Go! Team can stuff into one song.
——————————————————————————————
The Go! Team – Grip Like a Vice
[audio:https://obscuresound.com/mp3/goteam-gri.mp3]
——————————————————————————————
——————————————————————————————
——————————————————————————————