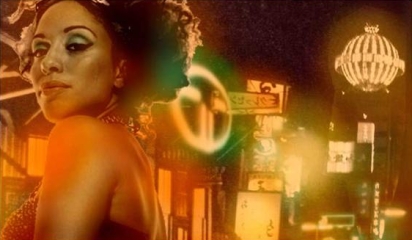 Working in the shadows of a prominent music figure can have both its perks and disadvantages. While such an environment could provide for a bountiful amount of experience and visionary knowledge, it can also create unavoidable comparisons that are imminent to appear in the occasional case of a singular future career. Until her solo career took flight in 2003, Martina Topley-Bird was widely considered to be nothing more than a featured vocalist in the albums of legendary British trip-hop and electronica artist Tricky (Adrian Thaws). Though her roles were vital in albums like Tricky's classic debut, Maxinquaye, and its unofficial follow-up, Nearly God, Topley-Bird was often overlooked by critics because of the other prominent names like Björk, Neneh Cherry, and Damon Albarn involved in Tricky's circulating production process. However, Tricky understood the importance of Topley-Bird's vocal effort and their romantic and musical relationship continued into the late '90s. With Topley-Bird's seductively entrancing vocals implemented in Tricky's delicately layered methods of production, Tricky became known as one of the most successful British producers and trip-hop artists of the '90s. After their relationship collapsed in 1998, Topley-Bird finally began her quest to create a singularly successful solo career for herself. For the following six years, she independently wrote dozens of songs for her upcoming solo album. When it was finally released in 2003, it was well worth the wait.
With Independiente Records seemingly well aware of Topley-Bird's illustrious past work with Tricky, they signed her almost immediately after hearing her initial solo demos. When her debut, Quixotic, was released in July of 2003, the British press fell head over heels in love. With acclaiming reviews pouring in rapidly, she found herself nominated for the illustrious Mercury Music Prize in that same year; a rare and admirable feat considering it was Topley-Bird's first album on her own. However, upon further inspection, it appeared that she was not working entirely independent after all. Though she was clearly the main force of Quixotic, both in terms of songwriting and melodic formation, she received some productive aid from her former collaborator, Tricky, on several tracks, signifying the fortunate continuation of a passionately successful musical relationship. While their relationship remains platonic, it was refreshing to see the two work together so productively again. Despite being an extremely solid album with glowing British reviews and a respectable Mercury nomination, Quixotic never really caught fire in the United States. It is a shame that music blogs were not more popular in '03 — she would have been all over the place. Palm Pictures attempted to re-release Quixotic to an American audience in 2004 (re-titled as Anything) but sales remained minimal. Though it would be easy to blame the exclusion of three original tracks from the Anything version, perhaps American audiences were just not ready for Topley-Bird's sound. However, with her new sophomore follow-up, I think this one is going to be impossible to miss.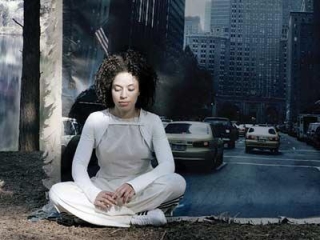 Seeing that Topley-Bird's newest release is scheduled to be put out early next year, The Blue God is the first album from 2008 that I have listened to. Though the upcoming year remains a few months away, The Blue God is sure setting the bar pretty damn high. This is the type of album that not only relies on flawless vocal power and melodic ability, but also the atmosphere that Topley-Bird is able to construct using her wildly emotive vocals in a variety of instrumental circumstances. Whether it be in the subtle hooks found within the minimalist electronica composition of the exceptional opening "Phoenix" or the brooding take on heavily reverbed '60s soul in "Valentine", Topley-Bird is confident and nearly impeccable in every musical aspect she is presented with. The stylistic diversity on The Blue God is absolutely astounding; a rare achievement that only a few albums per year are able to accomplish. We have heard contemporary artists like Grizzly Bear and Beach House succeed in similar throwback styles to "Valentine", but Topley-Bird's vocals provide for a unique experience that is both immaculately delivered and stylistically indefatigable, all while avoiding weighty overbearing tendencies. Even the simple piano-led pop songs like "Carnies", "Baby Blue", and the cutesy "Da Da Da Da" are pulled off with a distinctive goal in mind. Topley-Bird allows The Blue God to feel like a co. Despite the album being stylistically all over the place, her melodic grasp
To keep it somewhat concise, Topley-Bird's instrumental arsenal on The Blue God typically consists of subdued keys and synths, electric guitars, brooding strings, and electronic percussion. While such an ambitious approach would usually serve to provide many precautions for the average listener, famed American producer Danger Mouse does an expectedly excellent job in juggling Topley-Bird's industrious vision and presenting it in a form that is neither intimidating or overly involved. "Shangri La" is a fine example of this, presenting a song that is catchy, atmospheric, and vibrantly powerful through its flawless involvement of acoustics, strings, and eerily presented keys. Though it obviously has no other albums to compete with as of yet, I sincerely believe that The Blue God is going to be exposed as one of the best releases of 2008. I do not consider myself to be jumping the gun — The Blue God is just that impressive. Martina Topley-Bird is a singular talent that has finally broken free of collaborative comparisons, finding her own stylistic self in an album that exceeds even the harshest of expectations.
——————————————————————————————-
Martina Topley-Bird – Shangri La

[audio:https://obscuresound.com/mp3/mbird-sha.mp3]
——————————————————————————————-
——————————————————————————————-
Martina Topley-Bird – Valentine

[audio:https://obscuresound.com/mp3/mbird-val.mp3]
——————————————————————————————-
The download links for "Carnies" and "Valentine" were removed upon request of the artist.
Where do you go when you want to find a listing of music instrument lessons in your area?  What about Piano Lessons?  If you love art and music, you can find the nearest lessons near you via the internet.  You can even learn how to play the guitar through Guitar Lessons!  No matter where you are, the internet is the best locator for all of your art and music needs!