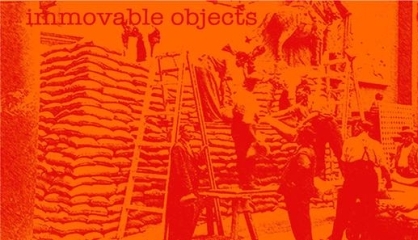 I wonder how Matt Gagin would react to being called an accidental child prodigy. Prodigy, with delight – but accidental? Well, his story is a unique one for sure. If I were a classic Greek playwright, I would call his tale an object of fate; a musician destined by the stars, right? After all, I do not know many other people whose ability to determine audible pitch was manufactured by an incident during a little league baseball game. Looking back now, it probably humors Gagin. His story goes something like this: At the age of eleven, Gagin was hit in the head with a baseball during a little league game. He collapsed into a nineteen hour coma, where doctors feared the worst. Instead of awakening with a harmful fallacy or never coming back to consciousness at all, he instead found that the collision to the head had caused an unique talent to unravel itself in the process. Nearly a month after the coma, while his mother was vacuuming in the adjacent room, Gagin recognized something different about the hum of the vacuum cleaner. Instead of noticing it as a generic sound that we, as human beings, have become gradually accustomed to, he recognized the musical aspect of it. "The vacuum is in F#," he proclaimed to his mother, who was as perplexed and concerned as any mother without a musical background would be. Little did he or his family know at the time, this singular talent would be a vital aspect of his bright future.
Already somewhat familiar with instrumentation before the baseball game of his life, Gagin's musical peak arrived once he hit his teens. Initially starting with the basics of clarinet at age 4, he knew how to proficiently play and compose music on the violin, guitar, piano, and drums by age 14. He struck up a fascination with hardcore punk music during his teen years, touring around his native San Diego area with several bands by his 19th birthday. Gagin describes this state in his life as a time of development and acquired experience, with several of his hardcore bands scoring minor label deals and fan followings. Despite the local success, he yearned for more, thus minimizing his interest in hardcore for a fondness in texturally-based indie-rock music that would draw more attention. "I felt like I wanted it to be more melodic and textural," he said of his future path. With this ideology in mind, he gathered a few of his best friends together in 1999 and formed his first "true" band, Waterline Drift. The five-piece lasted 5 years but broke up due to the members' separate desires to explore other projects. However, like the baseball hitting Gagin's skull, the break-up of Waterline Drift was a blessing in disguise, as it was the beginning of Matt Gagin's exceptional solo project, Immovable Objects.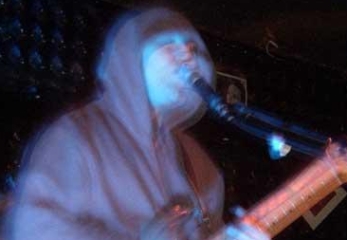 Immovable Objects represents, in a variety of ways, the newly discovered ambitiousness of Gagin. He is no longer in a band where members bitch and moan over silly antics and songwriting becomes a chore where all members have to agree. As much as he loved playing with his best friends in Waterline Drift, Gagin felt that it was time for an artistic change. "I wanted to do something where I played a lot of different instruments and creativity wasn't stifled by preconception or personality conflicts," he said. His motivation to start Immovable Objects was ignited after he took a job as a Director of Audio at a cable network. After becoming fascinated with the process of production, he purchased several components of recording gear and added a few instruments (particularly a Fender Rhodes) to his ceaselessly growing arsenal. Fourteen months later, he emerges from his studio with Immovable Objects' debut album, Hoping It Stays Just This Broken. It is one of those albums that makes you question: How the hell is this not receiving more recognition? Patience should prevail, as it is only a matter of time before the critics and fans catch up to this hidden gem.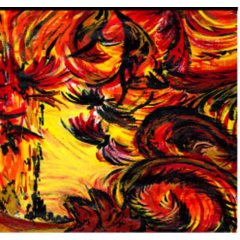 Without an eligible picture or official web site to his name, Matt Gagin remains an elusive character. His vocals are a domineering force all throughout Hoping It Stays Just This Broken, reaching various points of falsetto and transitioned tones throughout each song. It personally reminds me of a fluid mixture between Jónsi Birgisson, Brian Wilson, and Kevin Shields; three outstanding vocalists and songwriters, to say the very least. You do not have to listen far into the album to hear his vocals in top form, as one of the many strengths in the outstanding introductory track, "Raindrops in Morning Traffic", are Gagin's soaring vocals. It starts out simple enough, with a xylophone gleefully sliding its way against the subdued clicks of percussion and the reflective chords of a guitar. Gagin's lack of lyrical coherency is strongly reminiscent of Birgisson's work, being that the sheer power of his voice substitutes for any lyrical miscommunication that is incorporated. The chorus is a powerhouse of epic proportions, using a newly added bass and several guitar-based effects to create an illusionary atmosphere that rivals even the most astonishing moments of Sigur Rós. Despite all the strengths, Gagin's vocals remain the forefront factor. Along with his multi-instrumental flair and songwriting capabilities, it is this aspect that makes him a true talent. Translated, the song foreshadows an imminent walk home in a drunken stupor, symbolizing the regrets and fallacies that many individuals yearn for but can never seem to overcome.
Similarly to Daniel V. Snaith and his Caribou project, the electronically-minded Gagin incorporates elements of shoegaze, ambient pop, and psychedelia into his elaborate sound. A few more highlights in the fantastic (and oddly spelled) "Bad Judgement" are bursting with hooks, supplemented by a variety of subtly infectious synths that sound superb over Gagin's vocals and those of a female who gracefully accompanies him. I am reminded of The Flaming Lips at points, though there are also shades of My Bloody Valentine in the instrumentation that allows for a soothing experience. Additionally, "Summer is a Broken Heart" mixes up several electronic aspects with glittery pop to create a summery edge that fits extremely well in the middle of this expertly crafted debut. You do not need the title to hear the sunshine vibe either; his vocals do all the work there. The haunting instrumental "James Trent" and the powerful "Sheen" are highly demonstrative of more post-rock roots, though Gagin's grounded influences of shoegaze and ambient-pop are always never straying too far from the overall result. This, along with Gagin's natural talent, is one of the many reasons for this spectacle of an album. Superb pitch recognition or not, I am wholeheartedly impressed. Truth be told, I have yet to find a song on Hoping It Stays Just This Broken that I am dissatisfied with. This is truly one of the most enjoyable debuts of the year. It is also one of the most shamefully overlooked too.
——————————————————————————————
Immovable Objects – Raindrops in Morning Traffic
[audio:https://obscuresound.com/mp3b/immobj-rai.mp3]
——————————————————————————————
Immovable Objects – Bad Judgement

[audio:https://obscuresound.com/mp3b/immobj-bad.mp3]
——————————————————————————————
Immovable Objects – Summer is a Broken Heart
[audio:https://obscuresound.com/mp3b/immobj-sum.mp3]
——————————————————————————————